Event Information
Location
Corus Quay
25 Dockside Dr
Toronto, ON M5A 1B6
Canada
Description

The Toronto Animation Arts Festival International is pleased to announce the launch of Toronto's most highly anticipated animation pitching event - Pitch-A-Palooza 2014.
Now in our second year, TAAFI's Pitch-A-Palooza will welcome dozens of lucky writers and artists to pitch their next big idea to almost 30 industry leading production and broadcast executives on Friday, June 13th, 2014. This exhilarating speed pitching event puts you up front and center with at least three (3!) established broadcast and production development executives who are eager to hear your big animation idea!

And the list of executives continues to grow weekly! So get your animation ideas ready - the big time could be one pitch away this summer.
Confirmed executives include:
Christina Sang-St. Catherine

, Producer at

Nelvana
Leah Wolfson

, Production Executive with

YTV / Treehouse
Jillianne Reinseth

, Development Executive with

Nerd Corps
Natalie Dumoulin

,

Shaftesbury
Mike Drach

, Development Executive at

9 Story Entertainment
Tom McGillis

, President at

Fresh TV
Suzanne Wilson

,

TVO Kids
James Nadler

,

Guru Studio
Terry Tompkins

,

The Eggplant Collective
Simon Watts

, Executive Producer at

Pivotal Media
Andrea Gabourie

, Executive Producer at

Pivotal Media
Michelle Melanson

, VP Production and Development at

Radical Sheep
Shaleen Sangha

, Director of Development at

DHX Media
Joan Lambur

, Executive Producer at

Breakthrough Entertainment
Julie Stall

- VP Production -

Portfolio Entertainment
John May, Heroic Films
Mikos Perlus, Marblemedia
Mike Valiquette,

Director of Development -

Smiley Guy Studios
Martin Markle,

Executive Producer -

Markle Productions
Nancy Yeaman,

Director of Development -

Brainpower Studios
Travis Williams, VP Development - Mercury Filmworks
Natalie Dumoulin, Development - Shaftesbury
Shaleen Sangha, Director of Development at

DHX Media
PLUS! Sign up now to be enrolled in three PitchLab Sessions with Executive Producer Aron Dunn of Treason Media!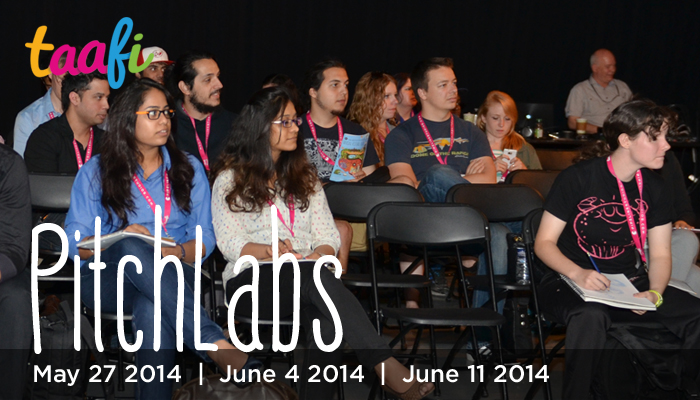 ---
For $149 your Pitch-A-Palooza pass includes:
Admission to Pitch-A-Palooza: Your Pitch-A-Palooza pass guarantees you at least three (3) one-on-one speed pitches with a development executive June 13th at Corus Quay.


Enrollment in TAAFI's PitchLabs: Our weekly pitching bootcamp for the uninitiated and the seasoned alike, starting May 27th at Corus Quay.
That's right! Your ticket not only includes face time with some of the biggest movers and shakers in the biz, but we're also going to help you get started and up to speed with our brand new PitchLab series every Tuesday from May 27th until June 11th!
Sessions include:
May 27th: Pitching 101, 201 and PhD + Storylabs. Get to the heart of what makes a great pitch and what to avoid with this in depth session.

June 4th: Development Executives, intimate and interactive

+ Storylabs

. Hear from leading development executives about their interests, their horror stories and ask questions about your own pitch.


June 11th: Practice makes Pitch Perfect. Join our esteemed mentors as they hear your pitch 1:1 and provide you feedback in advance of the big day!

Facilitated by the amazing Aron Dunn, Executive Producer for Treason Media, this exclusive series gets you all the hottest tips and tricks to help you hone your pitch with some of the best in the business, and well in advance of the big day. Join us every Tuesday evening starting May 27th as seasoned pros and development executives dish on all the things to say to get them excited, and all the things that make them go hmmm... followed by a fast paced StoryLab session to kick your ideas up to the next level!
But don't delay. This exciting event has limited tickets and at these prices and with these opportunities these suckers are going to go and they're going to go fast.
---
FAQs
What if I don't want to do PitchLabs or StoryLabs?
No problem, you can just skip that and do Pitch-A-Palooza on it's own. Please note that the ticket price is the same regardless.
I can't make it to PitchLabs as I'm out of town. What to do?
We are looking into recording the PitchLabs sessions for viewing online after the event, however this is not guaranteed.
I just want to do PitchLabs, not the pitching itself - I'm just not ready.
No worries! You can purchase the Pitch-A-Palooza ticket and choose to only attend PitchLabs this year if that suits you better.
What about refunds?
Due to the timing of PitchLabs refunds are available until May 26th, 2014. Tickets purchased after May 26th may be refunded before June 12th, 2014 providef the ticket holder does not participate in any PitchLab events. TAAFI reserves the right to refund after May 26th at our discretion.
Date and time
Location
Corus Quay
25 Dockside Dr
Toronto, ON M5A 1B6
Canada