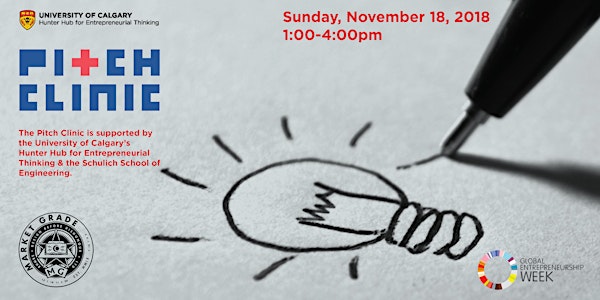 Pitch Clinic
When and where
Location
Engineering Block G (Room ENG 60) Schulich School of Engineering, University of Calgary 622 Collegiate Place Northwest Calgary, AB T2N 4V8 Canada
Description
For detailed info visit: www.pitchclinic.net

In the spirit of Global Entrepreneurship Week, we are hosting a Pitch Clinic sponsored by the Hunter Hub for Entrepreneurial Thinking's GEW Engagement Fund supported by Schulich School of Engineering and facilitated by Tyler Massie of Market Grade to end the week with a bang!

Want to learn what makes a good business pitch and how to structure it? Learn the basics, build your pitch, meet with our mentors and practice your skills.
The best pitches by U of C students will be invited to the Big Ideas Lab taking place November 30th & December 1st for a chance at $2,000 and direct support from the Innovation Reactor partners to help them move their projects forward.

Global Entrepreneurship Week is the world's largest celebration of the innovators and job creators who launch startups that bring ideas to life, drive economic growth and expand human welfare. During one week each November, GEW inspires people everywhere through local, national and global activities designed to help them take the next step in their entrepreneurial journey. These activities, from large-scale competitions and events to intimate networking gatherings, connect participants to potential collaborators, mentors and even investors—introducing them to new possibilities and exciting opportunities.
Please note, parking is free via Calgary Technologies/Innovate Calgary at 3553 31 St NW, Calgary, AB T2L 2K7 with a relatively quick walk over to the event.


Featuring Mentors:

Awais Ahmed, Commercial Account Manager, Royal Bank of Canada. LinkedIn.

Royal Bissell, Chief Product Officer, Nobal Technologies. Linkedin. @RoyalBissell
Elena Dumitrascu, Co-Founder, TerraHub - Industrial Blockchain | Executive Advisor, Innovate Calgary | Member, A100. Linkedin. @d2esync
Jeff Ehmann, Co-Founder & COO, MicroMech. LinkedIn

Dan Giurescu, Co-Founder, TerraHub - Industrial Blockchain | Member, A100. Linkedin.
Kari Gordon, Executive Director, Startup Calgary | Director, Ecosystem and Export Development, Calgary Economic Development. Linkedin. @KariGordon16
Kris Hans, Strategist, Market Grade | Instructor, University of Calgary & Mount Royal University. Linkedin. @KrisHans
Mark Hawkins, Founder, Rentfaster. LinkedIn.

Tyler Massie, Strategist, Market Grade. LinkedIn.
Sonny Shoker, Strategist, Market Grade.


More to be announced!
Thanks to our event sponsors!

Hunter Hub for Entrepreneurial Thinking
Market Grade
Schulich School of Engineering


Thanks to our promotional partners!

A100
Calgary Arts Development
Chic Geek
Fuse Collective
Futurpreneur
Innovate Calgary
Global Entrepreneurship Week Canada
Startup Calgary
TEC Edmonton
Trico Foundation
W21C



Connect with us on Twitter

@HunterHubYYC @MarketGrade @PitchClinic #PitchClinic
The Fine Print
By signing up for this event, you agree to this media release and IP protection details.



Awais Ahmed

Royal Bank of Canada

Commercial Account Manager

Royal Bissell

Nobal Technologies

Chief Product Officer

Elena Dumitrascu

TerraHub

Co-Founder

Jeff Ehmann

MicroMech

Co-Founder & COO

Dan Giurescu

TerraHub

Co-Founder

Kari Gordon

Startup Calgary

Executive Director

Kris Hans

Market Grade

Strategist

Mark Hawkins

Rentfaster

Founder

Tyler Massie

Market Grade

Strategist

Sonny Shoker

Market Grade

Strategist