Pittman McGehee - Paradox Of Love

Friday, 15 November 2013 from 7:00 PM to 9:30 PM (MST)
Event Details
In English, there is only one word for love. In Sanskrit there are 78. If it is possible to determine the sophistication of a culture by the number of words that exist for a concept, North Americans are painfully unsophisticated when it comes to love. In this lecture and workshop, J. Pittman McGehee, D.D., will delve deep into a discovery of the nature of love, exploring its diverse faces, its history, and defining its opposite. He will address both the healing and wounding nature of love, the greatest of contradictions that Jung called the "incalculable paradoxes of love." In these presentations, participants will discover what lies at the heart of Love and discover the ways in which the scientific and rational nature of the industrial revolution has created a society in which efficiency is highly valued, and Love, having its own inefficient economy, is not.
Dr. McGehee will provide participants with insight on the interpersonal and the intra-psychic dynamics of love, as well as its light and dark sides. Anyone who has ever been transformed or devastated by love and wants to understand the powerful emotion more deeply will welcome Dr. McGehee's insights and understanding.
Please note: Tickets will be available at the door (we can accept cash, cheque, Visa or MasterCard), but there will be a $5 surcharge. Buy your tickets in advance and save!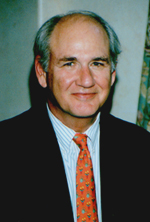 J. Pittman McGehee is an Episcopal priest and Jungian analyst in private practice in Houston, Texas. He is widely known as a lecturer and educator in the field of psychology and religion, as well as a published poet and essayist. He is the author of The Invisible Church: Finding Spirituality Where You Are (Praeger Press, 2008), Raising Lazarus: The Science of Healing the Soul (2009), and Words Made Flesh. His new book, The Paradox of Love (Bright Sky Press), will be available Nov. 1. Please visit Mr. McGehee's website for more information.
Logo image "Entropy Paradox" used by kind permission of Ana Gabriela Gatchalian.
When & Where

Parkdale United Church
2919 8 Avenue Northwest
Calgary, AB T2N 2T6
Canada

Friday, 15 November 2013 from 7:00 PM to 9:30 PM (MST)
Add to my calendar
Organizer
The Calgary Jung Society is a registered non-profit educational community of men and women who come together for discovery of self and the society in which we live. The Society has been active in Calgary since 1991. Our Mission is to nurture and support greater self awareness, creative expression, psychological insight, and well-being, using the framework that Carl Jung developed and that so many gifted psychologists and scholars have built upon.

Members of the Calgary Jung Society enjoy a discount on event tickets, and there are other benefits as well. To learn more about becoming a member, please visit our membership webpage.
Our Refund Policy - We understand, sometimes things happen you didn't see coming. If you need to change your plans, we can issue a refund for any Society event up to 48 hours before the event starts. If we need to cancel the event, or if we have made a mistake in processing your payment, we will issue a refund regardless of the date (and as soon as possible!).