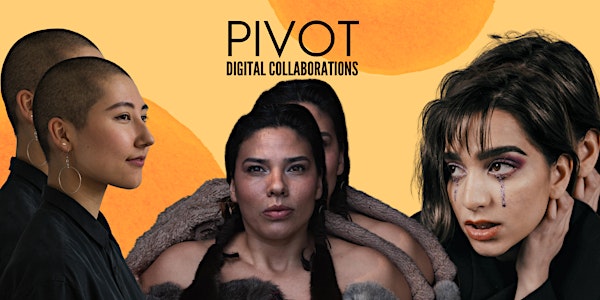 PIVOT: Digital Collaborations - Culminating Project Showing
Join us online for the culminating showing of our PIVOT: Digital Collaborations projects, and to learn more about the collaborative process.
About this event
FINAL ONLINE SHOWING: Culminating PIVOT Digital Projects
Friday DEC 16 @ 6PM  
PIVOT: Digital Collaborations was initiated to develop practices that encourage new digital works created by dance artists of colour. Recognizing that dance artists do not often receive sufficient media or digital support to shift their work from live performance to the digital realm, this project seeks to help artists of colour in their efforts to discover new approaches that engage digitally with more B.C. residents.
Join us for an online showing and sharing of the projects and the process behind them!
Featuring:
BETA बेटा 
Secwepemc (Secwepemcul'ewc), Ktunaxa, Sinixt Territory - Arts Revelstoke
Collaborators:
Nancy Lee - Volumetric Filmmaker and Mentor
Kiran Bhumber - Sound Designer
Alinar Daps - Videographer
Omar Rivero (Driftnote) - 3D Animation Artist
We are the Land & the Land is Us
Hiit'aGan.iina Kuuyas Naay - Skidegate Youth Centre  Haida Nation territory/Haida Gwaii
Collaborators:
Cameron Watts - Filmmaker
Deanna Peters/Mutable Subject - Website Designer
LEÑA Artist Research and Residency Centre & Active / Passive Performance Society
The LEÑA Artist Research and Residency Centre lies within the shared, asserted, and unceded traditional territories of the Lamalcha, Penelakut, and Huitson First Nations in addition to others with rights and responsibilities on and around what is now called Galiano Island. The island also lies within the shared, asserted, and ceded territories of the Tsawwassen First Nation.
Collaborators:
Bee Kent - Filmmaker
Sophia Mai Wolfe - Dramaturg
Bradley Kurushima - Musician/Composer
Find out more about the program and the projects here.
Organizer of PIVOT: Digital Collaborations - Culminating Project Showing
The roots of Dance West Network connect BC through dance. Our new name allows the work to reach even further by supporting our efforts to be more inclusive, to centre dance, to facilitate connections between communities and dance artists sharing vibrant practices and experience, and to create collaborations that work towards greater equity for historically excluded dance artists and audiences, offering opportunities for people from all over BC to learn about the arts, express themselves creatively and celebrate a shared humanity through dance. dancewest.net