Description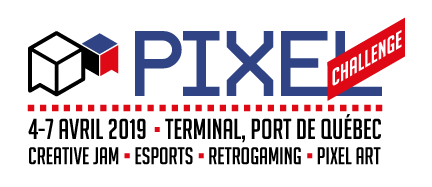 (Scroll down for English message)
Le Pixel Challenge est une compétition internationale de création d'animation, de jeu vidéo et de musique & conception sonore qui aura lieu du 4 au 6 avril à LE TERMINAL dans le port de Québec, où plus de 500 participants auront 48 heures pour briller et courir la chance de gagner des prix en argent.
Le Pixel Challenge de Québec est un événement important pour le développement des affaires et des ressources humaines pour les studios. C'est aussi l'occasion pour les futurs professionnels de côtoyer l'industrie.
Ce qui est inclus avec votre inscription :

1 t-shirt;

Repas, collations, café et boissons douces à volonté;

Massages sur chaise;

Salle de repos avec matelas confortables;

Et plein d'autres choses à être annoncées bientôt. Suivez-nous sur la page Facebook de l'évènement.
Pour plus de détails, cliquer ICI
MAIS CE N'EST PAS TOUT!
Pixel Challenge est aussi une gigantesque fête en l'honneur des jeux vidéo qui se tiendra les 6 et 7 avril:
Tournois de esports : Overwatch et Super Smash Bros

Rétrogaming pour les curieux et les nostalgiques

Pixel art pour toute la famille
Les billets pour les 6 et 7 avril sont disponibles en cliquant ICI (à venir)
N.B.: Si vous participez à la compétition de création numérique du Pixel Challenge, cela inclut un accès gratuit à ces activités.
======
Pixel Challenge is an international creative jam (Animation, Video Game and Music & Sound Design) that will take place from April 4th to 6th, at TERMINAL in Québec City's port. More than 500 participants, will have 48 hours to shine and win cash prizes.
Pixel Challenge is a major event for studios in terms of business and human resource development, and promises to be a great networking opportunity for aspiring professionals.
Included with your registration :

Meals, snacks, coffee and soft drinks at will;

1 T-shirt;

Chair massages;

Lounge with comfortable mattresses;

And many other things that will be announced soon. Don't forget to follow the Facebook event page.
From more details, click HERE
BUT THAT'S NOT IT!
Pixel Challenge is also a two day celebration in honor of video games on April 6 and 7:

Esports tournaments : Overwatch and Super Smash Bros

Retrogaming for the curious and the nostalgic minds

Pixel Art for the whole family
Tickets for the activities of April 6 & 7 are available by clicking HERE (not yet available)
N.B.: If you are registered for the creative jam, it includes a free access these activities.