Sales Have Ended
Registrations are closed
Merci! Thank you! ¡Gracias!
Sales Have Ended
Registrations are closed
Merci! Thank you! ¡Gracias!
Description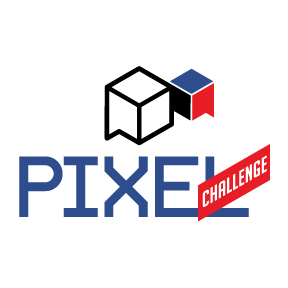 IMPORTANT
Pixel Challenge 2019 est reporté à une date ultérieure. Nous sommes désolés de ce contre-temps et nous vous tiendrons informé des développements futurs.
Pixel Challenge 2019 is postponed to a later date. We are sorry for this inconvenience and we will keep you informed of future developments.
(Scroll down for English message)
Le Pixel Challenge est une compétition internationale de création d'animation, de jeu vidéo et de musique & conception sonore qui aura lieu du 4 au 6 avril à LE TERMINAL dans le port de Québec, où plus de 500 participants auront 48 heures pour briller et courir la chance de gagner des prix en argent.
Le Pixel Challenge de Québec est un événement important pour le développement des affaires et des ressources humaines pour les studios. C'est aussi l'occasion pour les futurs professionnels de côtoyer l'industrie.
JEU VIDÉO - CHOISIR SA CATÉGORIE
C'est la majorité des membres de l'équipe qui détermine le choix de votre catégorie. Si la plupart des membres de votre équipe sont étudiants, ce sera la catégorie "ÉTUDIANT" même si vous n'êtes plus ou que vous êtes un amateur. Par contre, si votre équipe est surtout composée d'étudiants diplômés et/ou d'amateurs et que vous avez un étudiant, ce sera la catégorie "AMATEUR ET ÉTUDIANT DIPLÔMÉ" pour votre équipe. C'est l'équipe qui détermine votre catégorie. Tous les membres de l'équipe doivent s'inscrire sous la même catégorie.
JEU VIDÉO - PRO: Les indies et les employés-es des compagnies de jeu vidéo qui sont directement impliqués-es dans la création de jeux.
JEU VIDÉO - ÉTUDIANT: Étudiants-es d'un domaine en lien avec le jeu vidéo.
JEU VIDÉO - AMATEUR ET ÉTUDIANT DIPLÔMÉ: Pour les diplômés-es qui ne travaillent pas dans le domaine, pour ceux et celles qui travaillent dans le domaine mais qui ne sont pas impliqués-es dans la craétion de jeux, comme les testeurs et pour les personnes dont c'est un hobby, etc.
Ce qui est inclus avec votre inscription :

1 t-shirt;

Repas, collations, café et boissons douces à volonté;

Massages sur chaise;

Salle de repos avec matelas confortables;

Et plein d'autres choses à être annoncées bientôt. Suivez-nous sur la page Facebook de l'évènement.
Pour plus de détails, cliquer ICI
MAIS CE N'EST PAS TOUT!
Pixel Challenge est aussi une gigantesque fête en l'honneur des jeux vidéo qui se tiendra les 6 et 7 avril:
Tournois de esports : Overwatch et Super Smash Bros

Rétrogaming pour les curieux et les nostalgiques

Pixel art pour toute la famille
Les billets pour les 6 et 7 avril sont disponibles en cliquant ICI (à venir)
N.B.: Si vous participez à la compétition de création numérique du Pixel Challenge, cela inclut un accès gratuit à ces activités.
======
Pixel Challenge is an international creative jam (Animation, Video Game and Music & Sound Design) that will take place from April 4th to 6th, at TERMINAL in Québec City's port. More than 500 participants, will have 48 hours to shine and win cash prizes.
Pixel Challenge is a major event for studios in terms of business and human resource development, and promises to be a great networking opportunity for aspiring professionals.
VIDEO GAME - CHOOSING YOUR CATEGORY
It is the majority of the team members that decides your category. If most members of your team are students, even if you are not a student, it will be "STUDENT" category for you. On the other hand, if your team is mainly made up of amateurs or of sudents who have already graduated, even if you have an actual student with you, the category "AMATEUR & GRADUATE STUDENT" should be chosen. All members of your team MUST register under the same category.
VIDEO GAME - PRO: Indies and video game company empoyees that are directly working on video games.
VIDEO GAME - STUDENT: Students in a field directly linked to video games.
VIDEO GAME - AMATEUR & GRADUATE STUDENT: For the ones who have already graduated but are not working in the field, for the ones who are working in a studio but not involved in the creation of video games, like testers for example and for the ones to whom video game is a hobby, etc.
Included with your registration :
Meals, snacks, coffee and soft drinks at will;

1 T-shirt;

Chair massages;

Lounge with comfortable mattresses;

And many other things that will be announced soon. Don't forget to follow the Facebook event page.
From more details, click HERE
BUT THAT'S NOT IT!
Pixel Challenge is also a two day celebration in honor of video games on April 6 and 7:

Esports tournaments : Overwatch and Super Smash Bros

Retrogaming for the curious and the nostalgic minds

Pixel Art for the whole family
Tickets for the activities of April 6 & 7 are available by clicking HERE (not yet available)
N.B.: If you are registered for the creative jam, it includes a free access these activities.