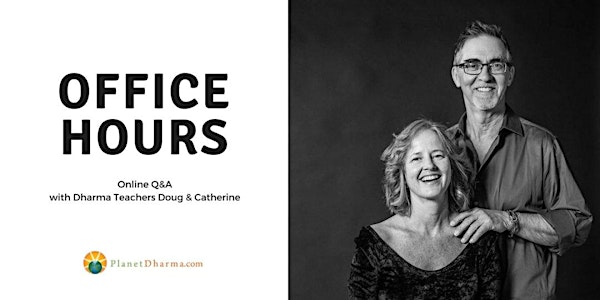 Planet Dharma Office Hour (March 29th, 2020)
Date and time
Sun, Mar 29, 2020 2:00 PM - 3:00 PM PDT
Refund Policy
Refunds up to 1 day before event
Eventbrite's fee is nonrefundable.
Description
Have a question you want to turn to the awakened mind? You have wisely come to the right place!
These live Office Hours with Doug and Cata Sensei are an opportunity to tune yourself to the Gurus, get invigorated by Sangha, and demonstrate to your subconcious that you are putting Dharma first.
Please note that registration closes at 9pm the Friday before the Office Hour. You can get ahead by registering in advance for many of the 2020 Office Hours here, by adding the Office Hours to your calendar, and by requesting that we send you reminder emails a week before at: registrar@planetdharma.com.
If you are attending Office Hours live and have a camera on your device, you will have the opportunity to be onscreen, and see others onscreen. If you are unable to attend live, you may register as a recording participant. A recording of the session is availbale for the week following the airing date.
These sessions are offered on the progressive and precious practice of dāna. Consciously cultivating dāna practice is a key pillar of our teaching and practice. For more information on the practice of dana we encourage you to visit the Planet Dharma website here.
---
Helpful Guideliness for Live Video Participants:
- Download the Zoom app if you have not already.
- Arrive 10 minutes early so you can be added to the call without disrupting the actual session.
- When you are not directly asking your question, make sure you are on mute and not distracting attention in any other way (eating, drinking, moving around etc.).
- Have a lightsource directed towards your face so everyone can see you. Please avoid being backlit.
- Come with a good question! And come with other Sangha (please register each individual separately)!
More details on how to attend, ask questions, and access the recording will be sent you in an Eventbrite Ticket once you have registered.
May our learnings together be of benefit for all beings.
About the organizer
Doug Duncan and Catherine Pawasarat both received lay ordination from Namgyal Rinpoche, and teach and train in the same tradition, emphasizing diverse explorations, self-awareness training and integration, with a focus on awakening in this lifetime.
Planet Dharma is universalist by design, Buddhist by background and humanitarian by nature. Doug and Catherine bring a combined experience of over 50 years of working with individuals and groups to realize transformative change in their lives. Focusing on self-actualization, social responsibility, economic sustainability and environmental integrity, we mentor beings to the greater freedom and compassion that leads to wisdom.