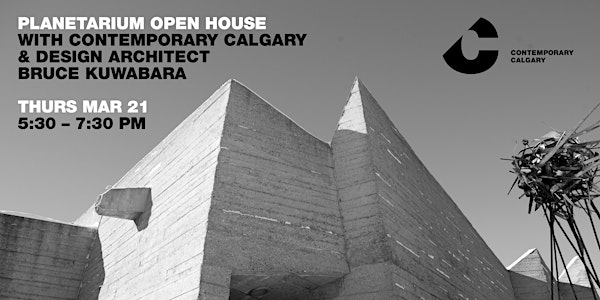 Planetarium Open House with Contemporary Calgary and Design Architect Bruce...
Location
Centennial Planetarium
701 11 St SW, Calgary, AB
Calgary, Alberta T2P 2C4
Canada
Description
On Thursday, March 21, join Contemporary Calgary and Design Architect, Bruce Kuwabara, inside the Centennial Planetarium to learn more about the transformation of this iconic Calgary landmark into a world-class destination for modern and contemporary art.
Upon arrival, you will be directed inside the dome for a short presentation by Contemporary Calgary and the Architect, and later invited to share your thoughts with us in a live exhibition and interactive survey. Salon Catering will provide refreshments and snacks.
Participants are asked to sign up for one of three presentation times at 5:45, 6:15 or 6:45 p.m. Reserve your seat as seating is limited.
We look forward to seeing you there!
SITE ACCESS:
Parking is available on site (CPA Lot 61) however access to the building is from 11 Street only, immediately across the street from the Downtown-West Kirby C-Train Station.
ABOUT THE ARCHITECT
Bruce Kuwabara, OC, OAA, FRAIC, AIA, RIBA
Partner, KPMB Architects
Bruce's belief in the power of architecture to implement social and civic change and to maximize cultural potential has earned him impressive recognition, including an Officer of the Order of Canada, the Royal Architectural Institute of Canada Gold Medal and the Ontario Association of Architects Lifetime Achievement Award. Exemplary projects include the recent success of the Remai Modern in Saskatoon, the Ottawa Art Galley, the Canadian Museum of Nature in Ottawa and the Gardiner Museum & Bell Tiff Lightbox, Toronto.
"I became an architect in order to be able to construct the kind of world that I wanted to be part of. I believe an art museum, like the experience of viewing art, can just as easily be an agent of change as it can be a window to quiet contemplation. The potential for Calgary here is huge."