Planning Cities for Climate Change: Lessons Learned through Energy Modeling...
Description
Planning Cities for Climate Change: Lessons Learned through Energy Modeling and Community Engagement

When: Wednesday, February 12, 2014 from 6:00pm to 8:00pm

Where: Room C300 - Theatre, UBC Robson Square, 800 Robson Street, Vancouver

Live Web Stream: http://pics.uvic.ca/events/live-webcast

Professors Ronald Kellett, Cynthia Girling and Maged Senbel are frequent collaborators in the Elementslab, a research group they formed inthe Centre for Interactive Research on Sustainability (CIRS) at the University of British Columbia to develop and apply sustainability-oriented research and tools for urban planning and design processes.
This UBC group joins Michael Wolinetz, Navius Research and SFU research associate, and Jeremy Moorhouse, School of Resource and Enviornmental Management (REM), SFU to share results of PICS social mobilization and sustainable communities research projects. Their talks will highlight lessons learned through development and exploration of community energy modeling and public engagement tools for municipal planning in climate change.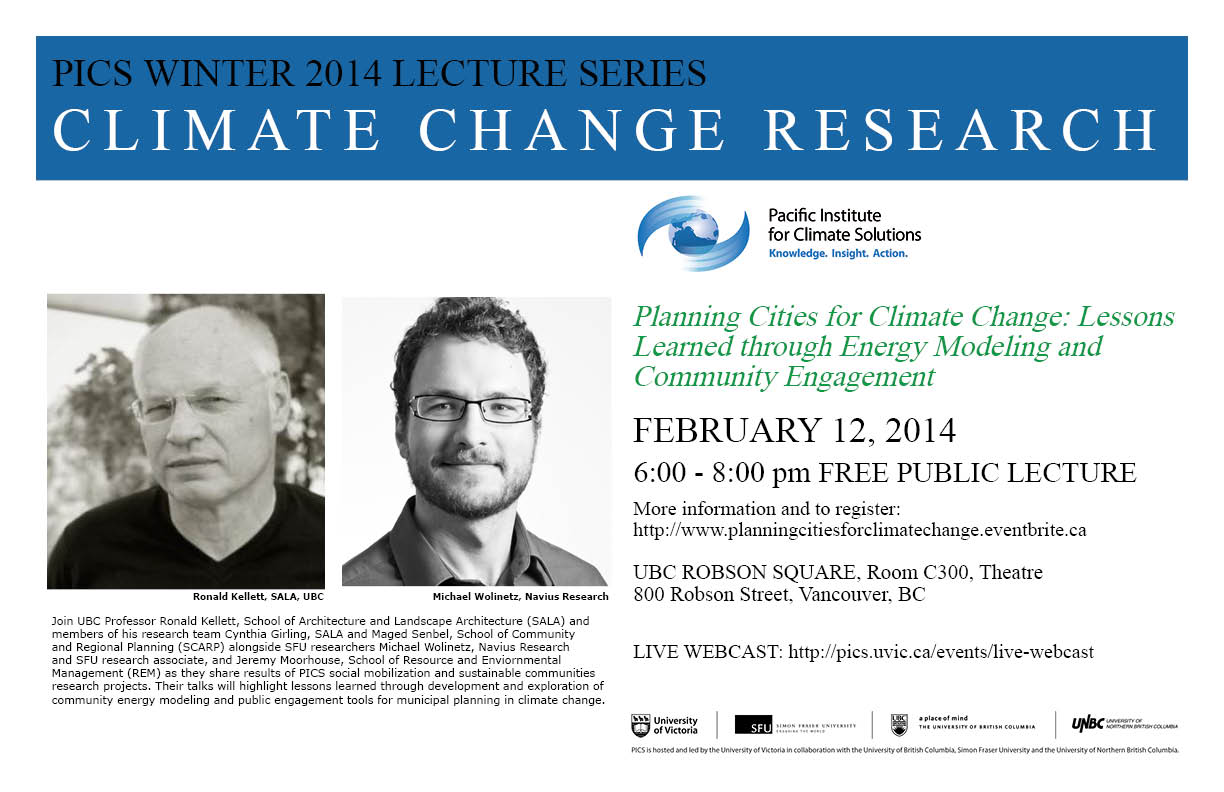 Ronald Kellett teaches environment and urban form courses and design studios in the School of Architecture + Landscape Architecture. His research develops interactive design and collaboration tools to generate, visualize, measure and compare urban design alternatives.
Cynthia Girling is Chair of the Landscape Architecture Program in the School of Architecture + Landscape Architecture. Her research focuses on sustainable neighborhood scale planning. She is co-author of 'Yard, Street, Park: The Design of Suburban Open Space' (with Kenneth Helphand, Wiley, 1996), 'Skinny Streets and Green Neighborhoods: Design for Environment and Community (with Ronald Kellett, Island Press, 2005) and elementsdb a web-based resource of urban land use case studies (also with Ronald Kellett).
Maged Senbel teaches urban design courses and studios in the School of Community and Regional Planning. His research examines the use of multi-media visualizations and performance measurements that make planning more accessible to both expert and non-expert audiences. His publications span topics in neighbourhood scale energy and GHG emissions, municipal climate change planning, youth engagement in climate change planning and leadership in sustainability planning.

Michael Wolinetz is the developer of the PICS funded CIMS Community Model. He is a consultant with Navius Research in Vancouver where he works to quantify and communicate the relationship between on between policy, economics, technology and the environment; and a Research Associate with the Energy and Material Research Gruoup (EMRG) at SFU. His professional work has involved the application of energy-economy models to the Metro-Vancouver area, numerous Canadian provinces, Canada and the United States. During this work, he has done extensive analysis into how emerging technologies and policies will shape energy use, greenhouse gas emissions and local air pollution from industry, transportation and buildings.
Jeremy Moorhouse is a Senior Analyst with Clean Energy Canada where he focuses on British Columbia's proposed liquefied natural gas (LNG) sector, as well as sustainable transportation, and renewable energy. He is a professional engineer with seven years experience improving the environmental performance of energy systems across Canada. He served as a technical analyst with the Pembina Institute between 2006 and 2011 before pursuing a masters degree in Resource and Environmental Management at Simon Fraser University. Jeremy has used the CIMS Community Model in his research on Metro Vancouver.

This is a free event, open to the public. Please register if you like so we have a sense of who and how many are attending and watching online. There is no need to bring a paper ticket with you.
We hope that you can make it, either in person or by accessing our webcast.
For more information contact:
Nastenka Calle
SFU Program Coordinator, PICS
n_calle@sfu.ca | www.sfu.ca/climatechange | www.PICS.uvic.ca
Sara Muir-Owen
UBC Program Coordinator, PICS
sara.muir-owen@ubc.ca | www.sustain.ubc.ca | www.PICS.uvic.ca