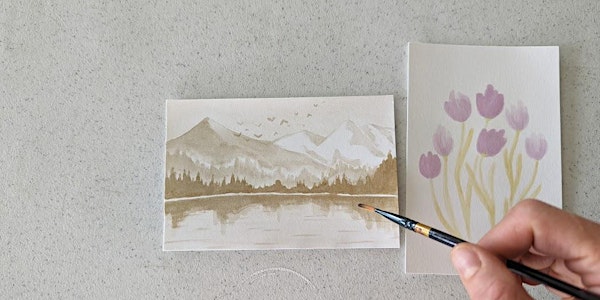 Plant-Based Paint Making//Fabrication de peinture à base de plantes
Explore Downsview Park through a free nature program. Explorez le Parc Downsview dans le cadre d'un programme nature gratuit.
When and where
Location
Discovery Centre 70 Canuck Ave Toronto, ON M3K 2C5 Canada
About this event
Plant-Based Paint Making (Thursday August 25, 2022)
Plant-Based Paint Making will take place indoors at The Discovery Centre at 70 Canuck Ave tonight, NOT at the Orchard Pavilion due to weather.
Nature is full of colours and they're not just nice to look at!
Did you know that photosynthesis, pollination, and seed dispersal are all impacted by the colour of plants? Or that humans have harnessed natural pigments to use in dyes and paints from as far back as 40,000 years ago? From hidden ecological functions to sources of creativity, these hues are cool for all sorts of reasons!
Join us at Downsview Park as we dive deeper into the importance of nature's colours and how we can use them as a creative outlet. We'll talk about pigments, make some watercolour paints, and do some painting!
All ages and art abilities welcome.
___________________
Participants under the age of 16 must be accompanied by an adult.
Pets are not permitted at this program. Service animals are always welcome.
Please note that this session will be held only in English.
Our Education programs are proudly supported by TD Friends of the Environment Foundation.
-----------------------------------------------------------------------------------
Downsview Park has and will continue to follow all public guidelines related to COVID-19. The health and safety of our staff and participants is our top priority. Please note that as guidelines change, we may need to adapt our programming. Any changes will be communicated as early as possible.
-------------------------------------------------------------------------------------
Fabrication de peinture à base de plantes (Jeudi 25 août)
La fabrication de peinture à base de plantes aura lieu à l'intérieur du Centre de découverte, 70 avenue Canuck ce soir, et PAS au Pavillon du verger en raison de la météo.
La nature regorge de couleurs qui ne sont pas seulement belles à regarder! Saviez-vous que la photosynthèse, la pollinisation et la dispersion des graines sont toutes influencées par la couleur des plantes? Ou que les humains utilisent les pigments naturels dans les teintures et les peintures depuis aussi longtemps que 40 000 ans? Que ce soit parce qu'elle a des fonctions écologiques cachées ou parce qu'elle est source de créativité, la peinture à base de plantes est intéressante pour une foule de raisons!
Joignez-vous à nous au Parc Downsview pour découvrir l'importance des couleurs de la nature et les manières de les utiliser pour créer. Nous parlerons pigments, fabriquerons des peintures à l'aquarelle et ferons de la peinture!
Les activités sont destinées à un public de tout âge et de tous les niveaux artistiques.____________________
Les participants de moins de 16 ans doivent être accompagnés d'un adulte.
Les animaux domestiques ne sont pas autorisés dans le cadre de ce programme. Les animaux d'assistance sont toujours les bienvenus.
Veuillez noter que cette session sera uniquement en anglais.
La Fondation TD des amis de l'environnement est fière de commanditer nos programmes éducatifs.
-----------------------------------------------------------------------------------
Le Parc Downsview a suivi et continuera de suivre toutes les directives de la santé publique relatives à la COVID-19. La santé et la sécurité de notre personnel et de nos participants sont notre plus grande priorité. Veuillez noter qu'au fur et à mesure que les directives évolueront, nous devrons peut-être adapter notre programmation. Nous nous assurerons cependant de toujours vous communiquer tout changement dans les plus brefs délais