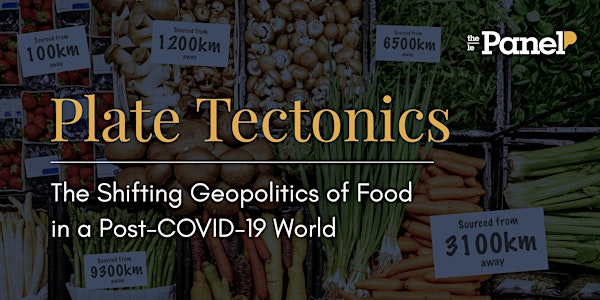 Plate Tectonics: The Shifting Geopolitics of Food in a Post-COVID-19 World
Join thePanel on December 3rd for our first ever virtual event where we will discuss the impacts of COVID-19 on the global food network.
Refund Policy
Contact the organizer to request a refund.
Eventbrite's fee is nonrefundable.
About this event
Food. Its production and distribution over time illustrates a remarkable story of modern advancement in science, industry and trade. Its cultural importance, around the world, also cannot be understated – keeping us connected to each other and to our roots, no matter how far away. For these reasons, we have come to recognize and rely on vast supply chain networks to feed our rising global population and to deliver products to our increasingly multicultural pantry shelves.
Today, the COVID-19 pandemic has challenged our modern food landscape. With borders and businesses closed, this complex system of distribution channels has been upended, leaving us to consider what is still on the table. Important questions around what we eat and where it's made are being re-imagined – with greater consideration for food security risks and a growing consumer sentiment to shop and support local.
As governments look to build domestic capacity across all industries in light of market uncertainty, thePanel is interested in the shifting geopolitics of food in a post-COVID-19 world. Is this a lasting move away from the globalization of food? Or a momentary deviation from the dominant trend? Does this shift threaten the gains we've seen from our current system? And how should our policymakers respond? Join us in considering what the next chapter will mean for Canadian farmers, small and big business, as well as the everyday consumer.
---
2020's Panel Event will be taking place virtually on Zoom.  Though we are saddened to not be able to meet with you in person, we are excited to bring you a new experience.
We've partnered with HUMANCONTACT Inc., a creative events agency, to bring you a carefully curated virtual experience that is engaging, interactive and inspiring. This isn't your typical webinar. 
A Zoom link along with additional details and instructions to join the virtual event will be sent to all ticket holders prior to December 3rd.
---
Event Agenda
6:30 PM - Virtual Mixology Class
7:00 PM - Welcome Remarks & Panel Discussion 1
7:30 PM - Break(out) Sessions
7:45 PM - Panel Discussion 2 & Closing Remarks
8:15 PM - Optional Open Networking
8:30 PM - End of Event
---
Our speakers include:
Mercedes Stephenson, Ottawa Bureau Chief at Global News
Gisèle Yasmeen, Executive Director at Food Secure Canada
Pradeep Prabhala, Partner at McKinsey Centre for Agricultural Transformation
Nadia Theodore, Senior Vice President, Global Government & Industry Relations, Maple Leaf Foods
---
All proceeds from this event will be donated to the Ottawa Food Bank.
---
Thank you to our generous sponsors:
Microsoft
Manulife
Intuit Inc.
RBC Royal Bank
Norman Paterson School of International Affairs
Canadian International Council
And to our event partner:
HUMANCONTACT Inc.