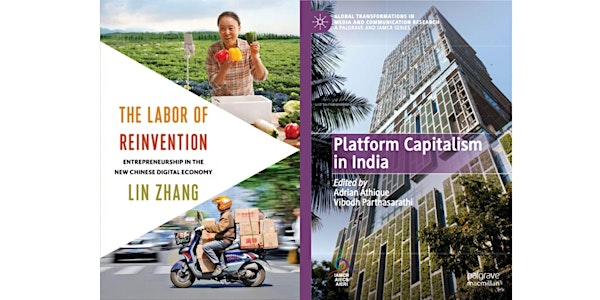 Platform Capitalisms: Featuring Adrian Athique & Lin Zhang
The Platform Lab's first event of 2023: Adrian Athique & Lin Zhang will discuss platform capitalisms!
When and where
Date and time
Wed, Feb 15, 2023 2:00 PM - 4:00 PM PST
About this event
Welcome to The Platform Lab's first event of 2023!
Our guests Adrian Athique and Lin Zhang, both leaders in their fields, will join us via Zoom to discuss their latest research on platform capitalism(s) from non-Western perspectives, expanding our existing frameworks for platform analysis.
Adrian Athique — Digital Emporiums: Platform Capitalism in India
Taking the historical example of the emporium, this talk attempts to situate India's emerging platform economy within the historical evolution of market exchange in the subcontinent. I argue that the market systems constituted by media platforms are, like all markets within a true economy, significantly dependent upon their interaction with other markets. From this wider perspective, we can trace the platformisation of economic exchanges within portals that allow value capture at the transactional level. By emphasizing the evolutionary processes at work in the platform economy, this talk also seeks to emphasise how India's digital economy is being shaped by pathways established within the distinctive economics of its media systems.
Lin Zhang — Theorizing Platform Capitalism from China
What are the challenges we face and insights we might gain when we theorize platform capitalism from a non-Western perspective? Drawing on my experiences of analyzing the global platform economy at the intersection of platform studies and China/Asian studies, this talk discusses two major tensions in platform studies and one common media-perpetuated myth about Chinese platform economy, which also offer opportunities for theoretical and methodological innovation and empirical richness. That is, the tensions between exploring transnational linkages and delineating regional and local path dependency, between analyzing platform technological affordances/properties and the thick description of locale/cultural/industry specificity, and the myth of authoritarianism vs. democracy (or all that the Chinese state does to its platform economy is bad). I will address these three tensions/myths using cases from my own works and other recently published exemplary scholarship to provide some food for thought for the ongoing conversation about de-westernizing platform studies.
--------------------------------------------
Adrian Athique is currently based at the School of Communication and Arts, University of Queensland. His career research has addressed the culture, sociology and economics of the media, especially in Asia. Alongside over forty articles and chapters, Adrian is author of The Multiplex in India (2009, Routledge, with Douglas Hill), Indian Media (2012, Polity), Digital Media and Society (2013, Polity) and Transnational Audiences (2016, Polity). Adrian has also edited a number of recent volumes on media and digital economies, including The Indian Media Economy (2018, 2 Vols, OUP with Vibodh Parthasarathi and SV Srinivas), Digital Transactions in Asia (2019, Routledge, with Emma Baulch) and Platform Capitalism in India (2020, with Vibodh Parthasarathi).
Lin Zhang is an Assistant Professor of Communication at the University of New Hampshire. Her research centers on information capitalism, platform studies, and intersectionality, focusing on China and ethnic Chinese people in a global, comparative context and in spaces of transnational encounters. She is the author of The Labor of Reinvention: Entrepreneurship in the New Chinese Digital Economy (Columbia University Press, 2023).