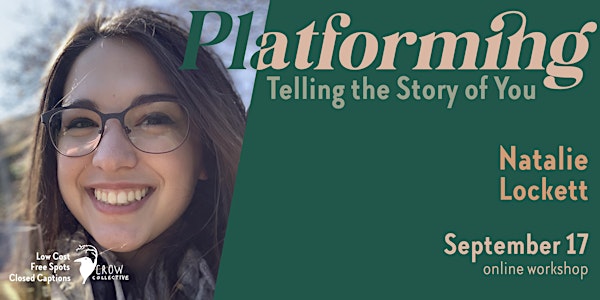 Platforming: Telling the Story of You
For writers: design and build an online presence that works for - not against - you.
About this event
What will be covered in this workshop?
Need a website? Wanna start a blog or podcast? Where do you get a logo? How do you pitch yourself as a guest on another creator's platform?
Gone are the days of the reclusive author. Writers today are faced with a "many hats, only one head problem". We're asked to not only create, but become an expert at marketing, produce content like an influencer, and be in every place at once so we never miss out on a networking opportunity. On top of actual personhood, the to do list is enough to make the muse call in sick.
In this interactive workshop, we'll discuss the importance of person-first platforming–choosing networking strategies that grow you as both an artist and a brand without stealing your joy.
Together, we'll work through a Presence Plan, breaking down how to focus your energy, set boundaries, and generate evergreen content on your chosen platform.
Participants will leave with an individualized profile and checklist to help them take their next steps (or leaps!) toward presence over digital pollution.
Who is teaching this workshop?
Natalie "Nat" Lockett is an author, writing coach, and podcaster of autistic and witchy proportions. Her podcast, Write Away with Nat & PJ has welcomed guests like Charlie Jane Anders, Erin A. Craig, Bob Eckstein, and many more. She writes horror adjacent fantasy in adult and YA, and her nonfiction work has been featured in Brevity Blog, HerStry, and Across the Margin. Her fiction is represented by Tara Gonzalez at Erin Murphy Literary Agency.
In 2021, Nat started Rogue Mentor, a program committed to providing resources to writers, as well as flexible, accessible, and inclusive mentorship opportunities throughout the year.
Nat lives in Wyoming with her husband, a zoo of pets, and her beloved rock collection. When not writing she can be found running a small marketing company and trying to convince herself to switch to decaf.
When does this workshop happen?
September 17, Saturday: 8 AM PDT / 11 AM EDT / 4 PM BST / 8:30 PM IST (see below for time zone map)
How long is this workshop?
Two hours.
How is this workshop presented?
This workshop is online, live, and interactive. Participants are encouraged (but not required) to keep their video cameras on, as online events are much more fun when we can all see each other. We'll gather on Google Meet, which is very similar to Zoom and has built-in closed captioning. You will receive the link two days before the workshop.
Will this workshop be recorded?
No, this workshop will not be recorded.
Are there more workshops?
You bet! Just click here to see the Crow Collective workshops open for registration.
Do you have a mailing list?
Yes - click here to sign up for my free, biweekly mailing list.
Do you have a podcast?
Yes - your favourite writing game is now a daily podcast. I'll give you a word every thirty seconds, and you include that word in the sentence you're writing. It's that simple. Click here to come play!
What is the Crow Collective?
Crow Collective workshops are by the writing community, for the writing community. The prices are low so they are more accessible, and there are two free spots (if needed).
Why can't I access the ticket button using the Apple Eventbrite app?
This is a decision on Eventbrite's part. You should be able to access the ticket button using the website instead. If you're still having troubles, feel free to get in touch.