Description
http://platformization.net/
Date: Tuesday October 9, 2018
Time: 10am-5pm EDT
Place: HW305, UofT Scarborough Campus(3rd floor of the Humanities Wing, see Red Star)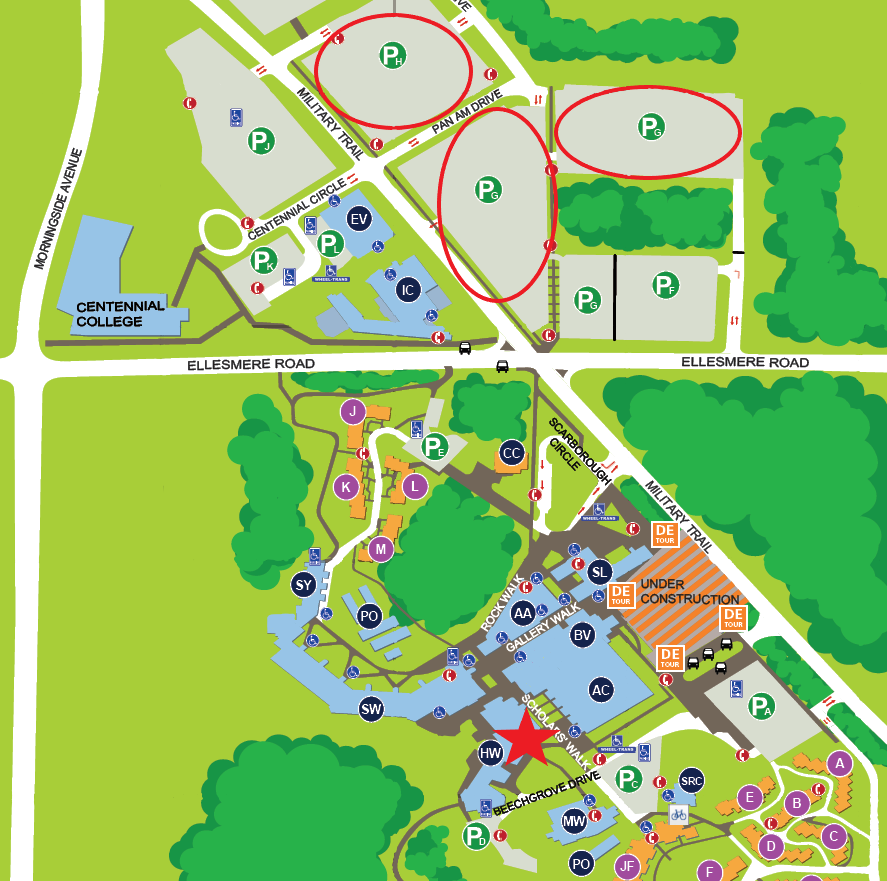 **If driving: Park in one of the circled lots(Lots G, H), then exchange the ticket given at the gate for an exit voucher at registration.**
This 1-day conference explores the platformization of cultural production against the backdrop of wider transformations in the technologies, cultures, and political economies of digital media.
Platformization describes the process by which major tech companies—GAFAM (Google, Apple, Facebook, Amazon, and Microsoft) in the West, and the so-called "three kingdoms" of the Chinese internet (Baidu, Alibaba, and Tencent) in Asia—are reconfiguring the production, distribution, and monetization of cultural products and services. During this day we explore how the platformization of cultural production unfolds in a non-US context.
Program
10am Welcome

10:30 Keynote 1. Prof Charles Davis - Platformization of Cultural Production and Canadian Cultural Policy

11:30 Coffee break

11:45 Media/Policy roundtable moderated by Dr. Ira Wells on Platformization in a Canadian context

12:45 Lunch

2pm Keynote 2. Prof Stuart Cunningham - Platforms, politics, and precarity with Chinese characteristics

3pm Coffee break

3:15 pm Keynote 3. Prof José van Dijck - How can European societies guard public values in an online world?

4:15-5pm Refreshments
Keynote 1 – Prof Charles Davis (Ryerson University) – Platformization of Cultural Production and Canadian Cultural Policy
Since the 1930s, Canada has used the domestic broadcasting system as a major vehicle to attain cultural policy objectives, and the policy framework has successfully adapted to waves of change in content distribution technologies. However, the transition from a linear broadcasting to a digital media policy framework is proving to be more challenging to national cultural policy objectives than earlier transitions. The Canadian media ecosystem is partitioned into a regulated domestic 'walled garden' and a lightly-regulated digital sphere. The question of what are the effective political, legal, and operational bases for national jurisdiction over digital cultural content distribution on transnational Internet-based platforms remains unsettled. In this talk I will discuss challenges in bringing digital platforms into domestic cultural policy, illustrating with the recently-announced Creative Canada Policy Framework and its reception.
Keynote 2 – Prof Stuart Cunningham (Queensland University of Technology) – Platforms, politics, and precarity with Chinese characteristics
This presentation examines China's live streaming industry through a creator-centric critical media industries studies perspective. 422 million users of live-streaming platforms represent more than half of the Internet user base in China. Live streamers enjoy a greater degree of economic stability and opportunity than their Western online creator counterparts due to China's advanced ecommerce platform integrations but this is offset by the greater precarity they face around the cultural politics of live streaming. In a rapidly-scaling Chinese middle-class consumption culture, Chinese livestreamers ride marketing imperatives directing consumers to cross-integrated ecommerce platforms. The industry has been fueled by cultural shifts, notably increasing gender inequality as women have migrated to urban settings to service-based labor opportunities coupled with increased access to high-speed and affordable mobile technology by rural and lonely men. These conditions have contributed to a gendered performativity across these platforms that has empowered female streamers appealing to the emotional needs and limited relationship opportunities of rural men. Across a highly competitive and rapidly evolving landscape of live and recorded video platforms, Chinese live streamers foster improvisational content, engage in mediated intimacy and synchronous interactivity to aggregate and engage fan communities and build and sustain their media businesses. But these streamers are subject to an ever-increasing level of state regulatory restraint that signals the return of ideology designed to "proactively mold online expression and behavior" (Yang 2014, 109). The presentation examines conditions placing China's live streamers as central focal points in the increasing tensions between the cultural politics and economic ambitions of digital China.
Keynote 3 – Prof José van Dijck (Utrecht University) – How can European societies guard public values in an online world?
Online digital platforms, which are overwhelmingly American-based and operated, have penetrated every sector of Western-European societies, disrupting markets and labour relations, circumventing institutions, and transforming social and civic practices. This lecture concentrates on the position of European (private and public) interests vis-à-vis the interests of an American online ecosystem, driven by a handful of high-tech corporations (Google, Apple, Facebook, Amazon, Microsoft) that have become global data mining companies. The emerging 'platform society' involves an intense struggle between competing ideological systems and contesting societal actors—market, government and civil society—raising important questions like: Who is or should be responsible and accountable for anchoring public values in a platform society? Public values and the common good are the very stakes in the struggle over the platformization of societies around the globe. At the heart of the online media's industry's surge is the battle over information control: who owns the data generated by online social activities? Particularly in the European context, governments can be proactive in negotiating public values on behalf of