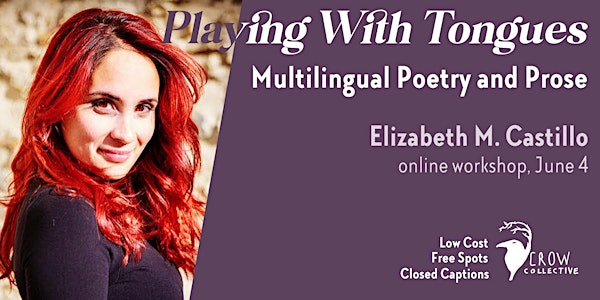 Playing With Tongues: Multilingual Prose and Poetry with Elizabeth Castillo
Creating authentic, meaningful, and multilingual poetry and prose.
About this event
What will be covered in this workshop?
An exploration of how to include other languages in your writing in a meaningful and authentic way. How to feel confident using a language that isn't your first, or third, or even fifth; and what multilingual writing can do for you and your poetry or prose. Elizabeth is also offering free feedback on one piece of multilingual writing created during the workshop to each participant.
Who is teaching this workshop?
Elizabeth M Castillo is a British-Mauritian poet, writer, indie-press promoter, and a two-time Pushcart Prize nominee. She lives in Paris with her family and two cats, where she writes a variety of different things, in a variety of different languages, and under a variety of pen names. In her writing Elizabeth explores the different countries and cultures she grew up with, as well as themes of race & ethnicity, motherhood, womanhood, language, love, loss and grief, and a touch of magical realism. She has a degree in Modern Languages, & the History & Politics of Latin America, and is working on her Masters on Education & International Development. Her writing has been featured in publications and anthologies in the UK, US, Australia, Mexico and the Middle East. Her bilingual, debut collection "Cajoncito: Poems on Love, Loss, y Otras Locuras" is for sale on Amazon. You can connect with her on Twitter and IG as @EMCWritesPoetry.
When does this workshop happen?
June 4, Saturday, 7 AM PDT / 9 AM EDT / 2 PM BST / 6:30 PM IST
How long is this workshop?
Two hours.
How is this workshop presented?
This workshop is online, live, and interactive. Participants are encouraged (but not required) to keep their video cameras on, as online events are much more fun when we can all see each other. We'll gather on Google Meet, which is very similar to Zoom and has built-in closed captioning. I will send you the link for the workshop two days before it begins.
Will this workshop be recorded?
No, this workshop will not be recorded.
Are there more workshops?
You bet! Just click here to see the Crow Collective workshops open for registration.
Do you have a mailing list?
Yes - click here to sign up for my free, biweekly mailing list.
Do you have a podcast?
Yes - your favourite writing game is now a daily podcast. I'll give you a word every thirty seconds, and you include that word in the sentence you're writing. It's that simple. Click here to come play!
What is the Crow Collective?
Crow Collective workshops are by the writing community, for the writing community. The prices are low so they are more accessible, and there are two free spots (if needed).
Why can't I access the ticket button using the Apple Eventbrite app?
This is a decision on Eventbrite's part. You should be able to access the ticket button using the website instead. If you're still having troubles, feel free to get in touch.