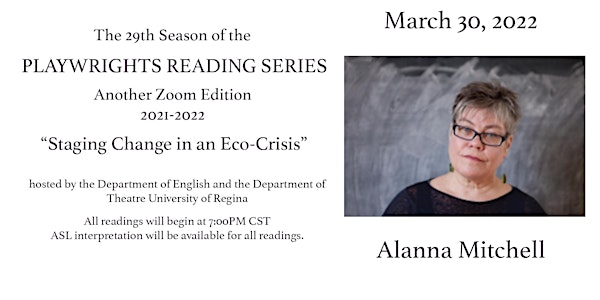 PLAYWRIGHTS READING SERIES - Alanna Mitchell
The 29th Season of the PLAYWRIGHTS READING SERIES "Staging Change in an Eco-Crisis" featuring Alanna Mitchell
About this event
The 29th Season of the PLAYWRIGHTS READING SERIES - Another Zoom Edition
2021-2022
"Staging Change in an Eco-Crisis"
Hosted by the Department of English and the Department of Theatre University of Regina
March 30 , 2022
All readings will begin at 7:00PM CST
ASL interpretation will be available for all readings.
Presented with the support of the Canada Council, Centre for the Study of Script Development, City of Regina, Playwrights Guild of Canada, and the Saskatchewan Writers Guild.
The 29th season of the Playwrights Reading Series will feature writers whose work has tackled one of the most politically and emotionally charged crises of our times—and arguably the history of our planet. Scientific reports have repeatedly warned about a climate emergency and demonstrated the role that human beings are playing in climate change and the degradation of the environment. Advocates have pleaded for change in our approach to the environment and politicians have responded with commitments and targets that have mostly not been met. The crisis continues to deepen—a global crisis requiring collective change at local and personal levels. What role can artists play in change? In particular, what role can playwrights and the theatre play in effecting change, especially in the context of the double crisis of pandemic and climate change? How and why have playwrights responded to the climate crisis? From a dramaturgical and theatrical perspective what are the writing tactics and approaches that they are using to respond to the environmental crisis to engage and motivate audiences?
These are the questions playwrights will be asked to address as they read from their work and talk about why and how they are 'staging change in an eco-crisis.' Thanks to zoom, once again this year's series will not only generate a local discussion around our playwrights and their work, but also draw in national and international audiences as well.
March 30, 2022
Alanna Mitchell
Alanna Mitchell is a journalist, author and playwright who grew up in Regina. She mainly writes about science, including in freelance articles for The New York Times, Maclean's Magazine and Canadian Geographic Magazine. She has done fieldwork with scientists on all six continents and many parts of the global ocean, findings from which she has put into her five non-fiction books and two plays. In 2014, with the help of artistic directors Franco Boni and Ravi Jain, she turned her book Sea Sick into a one-woman play that she performs and has toured it around the world. She is currently in the midst of a 12- city tour across Europe, Canada and the United States. Her American premiere is next week (April 7, 2022) at Stanford Live Theater in California. The tour is organized by The Theatre Centre, Toronto. Photo credit: Chloë Ellingson.