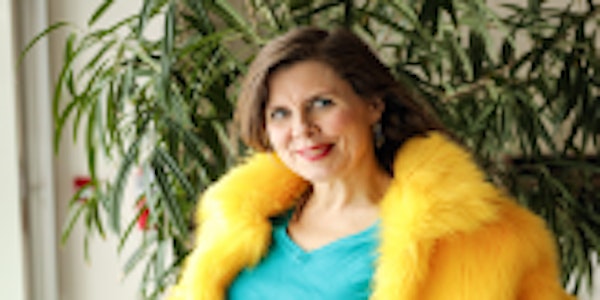 Playwrights Reading Series- Debbie Patterson
A reading by Winnipeg playwright, composer, director, and actor Debbie Patterson.
About this event
The 30th Season
of the
PLAYWRIGHTS READING SERIES
On Zoom
2022-2023
"Staging Alternative Narratives"
hosted by the
Department of English and the Department of Theatre
University of Regina
All readings will begin at 7:00PM CST.
All readings will be supported by an ASL interpreter.
Debbie Patterson is a Winnipeg playwright, composer, director and actor. She trained
at the National Theatre School of Canada and under the former Artistic Director of the
Popular Theatre Alliance of Manitoba (PTAM). She has also been a member of the
Playwright's Unit and served as Artistic Associate for Prairie Theatre Exchange.
Patterson's plays include Zoom Lens, How it Ends (Playwrights Canada Press), Sargent
& Victor & Me, Candy From a Baby, and Molotov Circus, which was nominated for the
Harry Rintoul Award and the Susan Smith Blackburn Prize. Her plays for young
audiences, which are adaptations of Robert Munsch stories, have been widely produced
across Canada. Her musical Head, about the final days of Anne Boleyn, was produced
in 2006 by Shakespeare in the Ruins to a completely sold-out run.
As a founding member of Shakespeare in the Ruins (SIR), Patterson served two terms
as Artistic Chair of the company. She has also acted in over twenty of their productions
(including roles as Titania and the Nurse in Romeo and Juliet), directed six productions
(including Taming of the Shrew, Midsummer Night's Dream and Macbeth), and
composed music for four productions. She was the first physically disabled actor to play
Richard III in a professional Canadian production. Her other directing credits include Breaking Up is Hard to Do for Rainbow Stage,
Becoming Dr. Ruth for Winnipeg Jewish Theatre, Saint Joan for Theatre by the River
and The Crackwalker for Sweet and Salty Collective.
Patterson has served as the Carol Shields Writer in Residence at the University of
Winnipeg, the Playwright in Residence for Theatre Projects Manitoba and the Theatre
Ambassador for Winnipeg's Cultural Capital of Canada celebrations. She also
coordinated and delivered a project to provide free weekly drama classes to clients of
the Winnipeg Harvest Foodbank.
She has twice been shortlisted for the Ontario Arts Foundation's Gina Wilkinson Prize,
and as a recipient of the United Nations Platform for Action Committee's Activist Award
(2015) and the Mayor's Making a Mark Award (2017), she is a proud advocate for
disability arts through her work as the Artistic Director of Sick + Twisted Theatre.