Description
WE ARE PLEASED TO INVITE YOU TO AN EVENING WORKSHOP ON GRANT WRITING.
AT PLAZA WE BELIEVE IN THE POWER OF COMMUNITY. WE PROVIDE WORKSHOPS IN ORDER TO BRING WOMEN TOGETHER TO EXERCISE AND MAINTAIN THEIR MENTAL WELLNESS THROUGH COLLABORATION IN A SAFE SPACE. WE ARE NOW ASKING ALL OF YOU TO COME TOGETHER ONCE AGAIN IN OUR BIGGEST COLLABORATION YET. WE HAVE DECIDED TO CHANGE OUR JULY WORKSHOP TO "PAY WHAT YOU CAN" WHERE ALL PROCEEDS WILL GO TOWARDS KOSI MODEKWE'S FUNERAL FUND. KOSI WAS ALWAYS SO HAPPY/HUMBLE WHENEVER WE CROSSED PATHS AND HE WILL FOREVER BE REMEMBERED THAT WAY❤️ANYTHING HELPS DURING THIS TRYING TIME. PLEASE KEEP HIS FAMILY, FRIENDS AND LOVED ONES IN YOUR PRAYERS
** WORKSHOP ATTENDANCE IS NOT REQUIRED TO DONATE
https://uk.gofundme.com/in-memory-of-kosi-modekwe
JOIN US ON JULY 18TH FROM 6-9PM AS WE WELCOME GUEST SPEAKERS TIA GORDON REPRESENTING FACTOR CANADA AND GRANT WRITER/RECIPIENT DOMANIQUE GRANT TO DISCUSS UPCOMING DEADLINES, SUBMISSION DO'S AND DON'TS AND USEFUL TECHNIQUES/ADVICE FOR APPLICANTS!
Tia Gordon is a creator and writer. After ventures in journalism, broadcasting and public relations that concentrated on Toronto's ever-growing hip hop culture, Tia joined FACTOR during Summer '16 as the Office Coordinator. She took on the role of Outreach Assistant in 2017 to create more space in the Canadian music industry for all genres. Tia enjoys getting all the adlibs right while rapping her favourite songs and welcomes unsolicited mixtapes to her email.
Domanique Grant is a successful grant writer and recipient, singer/songwriter and award winning artist with an expertise in interactive entertainment for youth audiences. Her drive and talent to create immersive music experiences has landed her several corporate clients including the Olympics.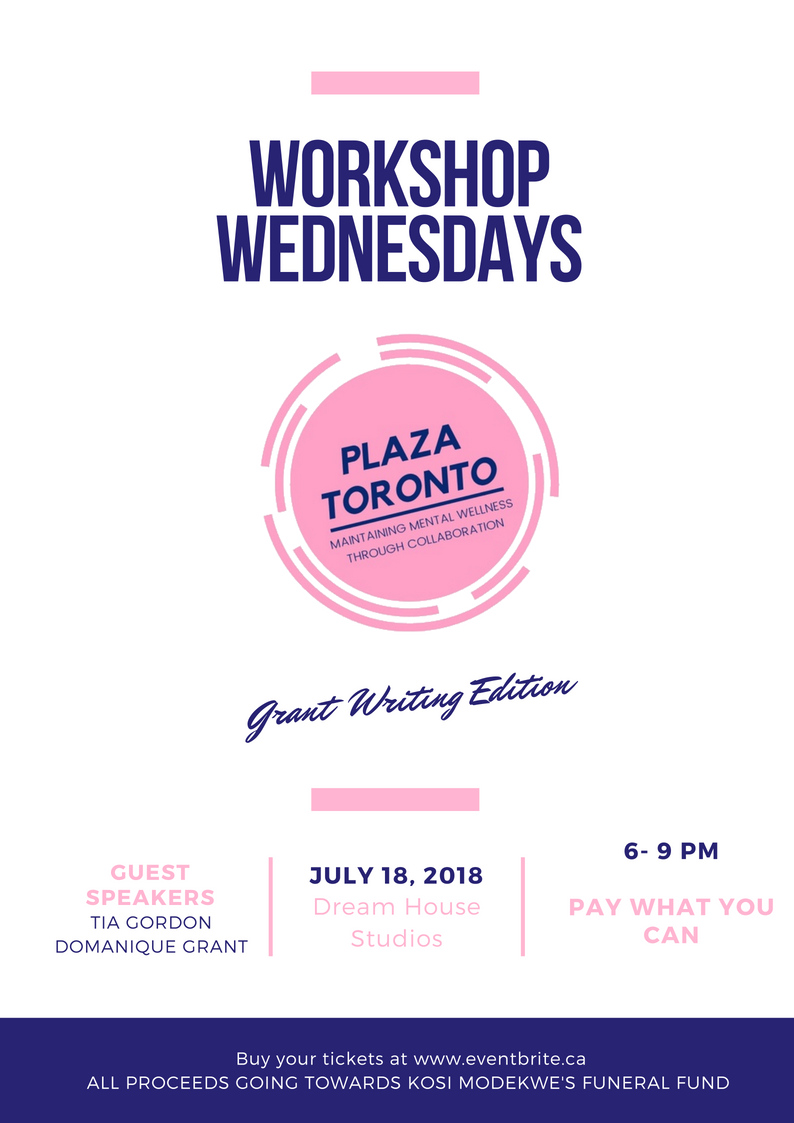 For all volunteer opportunities and additional inquiries
contactplazatoronto@gmail.com