Please join us for our Action Canada 2014 Fellows' Public Policy Presentations. Scroll down for more information

Friday, 7 February 2014 from 8:45 AM to 2:30 PM
Event Details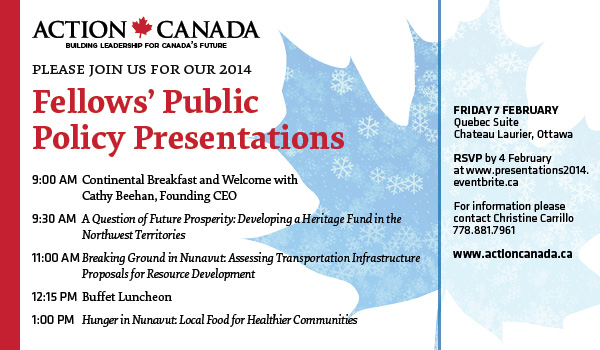 A Question of Future Prosperity:  Developing a Heritage Fund in the Northwest Territories
On April 1, 2014 the transfer of responsibilities from the Government of Canada to the Government of the Northwest Territories (GNWT) will come into effect.  Through the Devolution Agreement, the GNWT will capture a percentage of resource royalty revenues.  New legislation in 2012 was passed for the creation of a Heritage Fund for the territory to serve as a mechanism to transfer a portion of resource revenues collected today to be saved for future generations. Based on research of international best practices and engagement with the GNWT, our taskforce presentation will provide recommendations for the implementation of the Heritage Fund to achieve stated objectives to benefit GNWT citizens of today and tomorrow. 
Breaking Ground in Nunavut: assessing transportation infrastructure proposals for resource development
Nunavut has extensive mineral deposits including gold, silver, and iron ore.  This underground wealth contrasts with Nunavut's dependence on the federal government for financing 91% of its budget. Its resources are difficult to access and the territory struggles to develop its mining potential.
 The lack of transportation infrastructure is one of the major barriers to leveraging resource development for the long term prosperity of Nunavut.  This challenge will require massive investment to overcome.  But who should pay?  Under what conditions?
 Our report, Breaking ground in Nunavut: assessing transportation infrastructure proposals for resource development, unpacks the complexity of assessing and financing transportation infrastructure proposals in Nunavut.  Building on analysis of stakeholder interviews, historical parallels and in-depth case studies, our report offers a clear, three-step process as a tool for assessing transportation infrastructure proposals.
Hunger in Nunavut: Local Food for Healthier Communities
In Nunavut, a kilo of celery can cost $10. Over 70% of Inuit preschoolers live in families that have trouble accessing enough affordable, nutritious food, and the number of families that have difficulty accessing food is triple the rate for Canada as a whole. In short, there is a serious problem in Nunavut that threatens individual and community health. While the situation is complex, one positive change can be made today. Helping the people of Nunavut access more local food – such as caribou and arctic char – is one way to tackle this problem in a way that is both nutritionally beneficial and culturally appropriate. Contrary to popular belief, a diet based on food harvested locally in Nunavut is nutritionally complete and has significant health benefits. The consumption of local food in Nunavut can be increased if improvements are made to hunting capacity, food processing and distribution, and the accessibility of local foods. In consultation with Northern individuals and organizations, this Task Force report makes recommendations to help achieve these goals and ultimately improve food security in Nunavut.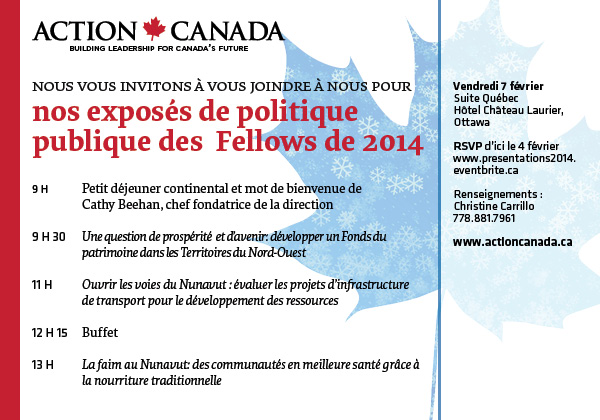 Prospérité et avenir: développer un Fonds du patrimoine dans les Territoires du Nord-Ouest
Le 1eravril2014, letransfert des responsabilitésdu gouvernement duCanada au gouvernementdes Territoires duNord-Ouest (GTNO) entrera en vigueur. Grâce à l'entente de dévolution, leGTNO va capturerunpourcentage des revenusde redevances des ressources. Une nouvelle législationa été adoptéeen 2012pourla création d'unFonds du patrimoinedu territoireafin de servir demécanisme pourtransférer une partiedes revenus des ressourcescollectéesaujourd'hui pourêtre épargnépour les générations futures. Basée sur la recherchedes meilleures pratiques internationaleset notre dialogue avec le GTNO, la présentation de notregroupe de travailformulera des recommandationspourla mise en œuvred'un Fonds du patrimoinepour atteindre les objectifsfixés, pour le plus grandbénéfice des citoyensdu GTNOd'aujourd'hui et dedemain.
Ouvrir les voies du Nunavut : évaluer les projets d'infrastructure de transport pour le développement des ressources
Le Nunavut possède de vastes gisements de minéraux, y compris de l'or, de l'argent et du minerai de fer. Cette richesse souterraine contraste avec la dépendance du Nunavut sur le gouvernement fédéral pour le financement de 91% de son budget. Ses ressources sont difficiles d'accès et le territoire lutte pour développer son potentiel minier. 
 
Le manque d'infrastructures de transport est l'un des principaux obstacles au développement des ressources pour la prospérité à long terme du Nunavut. Pour surmonter ce défi, il faudra des investissements massifs. Mais qui doit payer? Dans quelles conditions?
 
Notre rapport, « Ouvrir les voies du Nunavut : évaluer les projets d'infrastructure de transport pour le développement des ressources », explore la complexité de l'évaluation et des propositions de financement d'infrastructure de transport au Nunavut. S'appuyant sur l'analyse des entrevues avec les intervenants, sur des parallèles historiques et des études de cas approfondies, notre rapport propose un processus en trois étapes définies comme outil pour évaluer les propositions d'infrastructure de transport.
La faim au Nunavut: des communautés en meilleure santé grâce à la nourriture traditionnelle
Au Nunavut un kilo de céleri peut coûter 10 $. Plus de 70 % des Inuits d'âge préscolaire vivent dans des familles qui ont des difficultés à accéder à suffisamment d'aliments nutritifs à prix abordable. Le nombre de familles qui ont des difficultés à accéder à la nourriture est trois fois plus élevé au Nunavut que dans l'ensemble du Canada. En bref, il s'agit d'un problème grave au Nunavut qui menace la santé individuelle et communautaire. Bien que la situation soit complexe, un changement positif peut être initié aujourd'hui. Aider les gens du Nunavut accéder à une nourriture plus locale - comme le caribou et l'omble chevalier - est une façon de s'attaquer à ce problème d'une manière à la fois bénéfique sur le plan nutritionnel etb culturellement appropriée. Contrairement à la croyance populaire, un régime basé sur des aliments récoltés localement au Nunavut est nutritionnellement complet et présente des avantages importants pour la santé. La consommation d'aliments locaux au Nunavut peut être augmentée si des améliorations sont apportées à la capacité à chasser, à la transformation et à la distribution alimentaire, ainsi qu'à l'accessibilité des aliments locaux. En consultation avec les individus et les organisations du Nord, ce rapport du Groupe de travail formule des recommandations pour aider à atteindre ces objectifs et, finalement, améliorer la sécurité alimentaire au Nunavut.
Have questions about Please join us for our Action Canada 2014 Fellows' Public Policy Presentations. Scroll down for more information?
Contact Action Canada
When & Where

Fairmont Château Laurier
1 Rideau Street
Quebec Suite
Ottawa, Ontario K1N8S7
Canada

Friday, 7 February 2014 from 8:45 AM to 2:30 PM
Add to my calendar
Organizer
Action Canada is Canada's premier leadership program. A non-partisan multi-sector fellowship, Action Canada is building a valuable network of leaders. Centered around regional conferences and teamwork projects, Fellows examine historical and current issues, hone leadership skills, and produce public policy reports. Upon completing the fellowship year, they join our network of outstanding leaders dedicated to Canada's future.