Event Information
Location
Fairmont Château Laurier
1 Rideau Street
Laurier Room
Ottawa, Ontario K1N 8S7
Canada
Description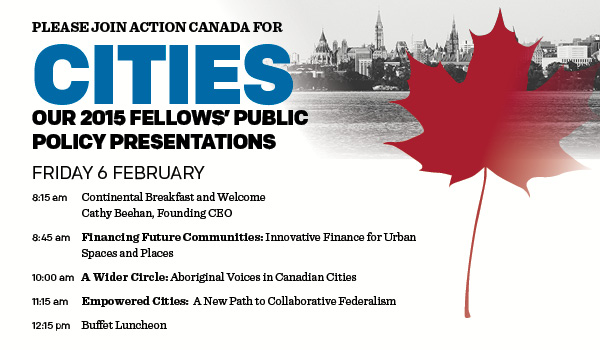 8:45 am Financing Future Communities: Innovative finance for urban spaces and places
What would major Canadian cities be without their parks, bike paths, recreation areas, plazas and other publicly owned spaces? These urban spaces and places are the 'hubs' around which communities organize. They provide a sense of identity, belonging and inclusion, which can improve physical and mental health, social cohesion and creative expression. Urban public spaces increase quality of life, which attracts a diverse array of skilled human capital to major Canadian cities. As such, the successful development of urban places and spaces is key to the continued development and expansion of strong communities and globally competitive Canadian cities.
Canadian municipalities today face tight budgets. As municipalities battle to allocate scarce resources to an ever increasing diversity of infrastructure projects, attention to urban spaces and places often takes a backseat to more intensive infrastructure projects such as roads, bridges, water and sewers.
In response to increased municipal financial constraints numerous stakeholders, including the governments, citizen groups, individuals, NGO's and private sector partners, are developing new and innovative finance mechanisms to fund urban spaces and places, including: Crowdfunding, community bonds, municipal bonds and hybrid instruments. Innovative finance tools have the potential to provide greater funding for urban public space development; however, more research and understanding on these tools in needed to guide policy action and stakeholder engagement in all orders of government.
Our report addresses the issues above by presenting information on these innovative finance tools, stakeholder engagement, and the policy framework needed at the municipal level. We provide concrete examples for specific policies at the municipal, provincial and federal level that could support the adoption and use of these innovative finance tools.
10:00 am A Wider Circle: Aboriginal voices in Canadian cities
Half of Aboriginal peoples in Canada live in urban centres. Yet, many urban non-Aboriginal Canadians are unaware of their presence. The Urban Aboriginal Peoples Study has shown that there is a basic tension in the hearts and minds of Canadians in regards to where urban Aboriginal peoples fit in the Canadian mosaic. This tension touches all sectors of our society and engages all orders of government.
Achieving reconciliation between Aboriginal peoples and non-Aboriginal Canadians is critical to the country's future prosperity and to the dignity of all citizens. Major cities are the places where Canadians increasingly build lives and forge relationships. As a result, there is a role for municipalities in advancing the reconciliation agenda.
This report explores the role that cities can play in engaging Aboriginal perspectives in policies that impact urban life.
11:15 am Empowered Cities: A new path to collaborative federalism
In 1867, Canada was largely rural. Almost 150 years later, Canadian cities are home to most citizens and drive most of the economy. Their relations with provincial and federal governments, however, are still shaped by 19th century realities.
In recent years, the mayors of Canada's major cities have been demanding more collaboration, more powers and more money to address the complex challenges they have been facing. Although the approach and details vary, all demands are based on the need for recognition of the key role Canada's big cities play for the country. This recognition would transform the power dynamics and the consultation practices between the three orders of government.
To achieve this, Canada needs a sweeping culture change in municipal governance and intergovernmental relations and a more collaborative federalism.
The report brings forward recommendations to strengthen the leadership of Canada's big cities within the federation and to improve collaboration between the three orders of government.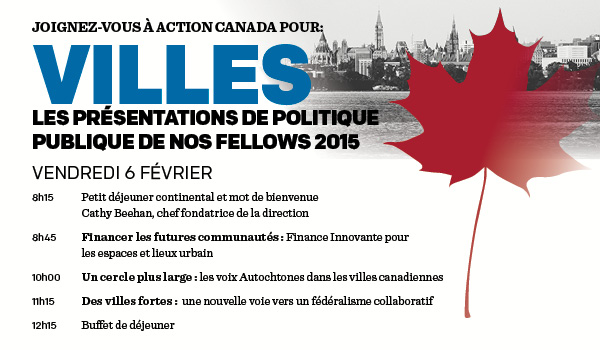 8h15 Financer les communautés de demain : mécanismes de financement novateurs pour les espaces et lieux urbains.
Que seraient les grandes villes canadiennes sans leurs parcs, pistes cyclables, aires de loisirs, esplanades et autres espaces publics? Ces espaces et lieux urbains sont les plaques tournantes autour desquelles les communautés s'organisent. Ils permettent de développer des sentiments d'identité, d'appartenance et d'inclusion qui contribuent à améliorer la santé physique et mentale, la cohésion sociale et l'expression créative. Ils contribuent en outre à une meilleure qualité de vie, ce qui attire un capital humain à la fois qualifié et diversifié vers les grandes villes canadiennes. De ce fait, l'aménagement réussi des lieux et des espaces urbains est déterminant pour la poursuite du développement et de l'expansion de collectivités dynamiques et de villes canadiennes compétitives au niveau mondial.
Aujourd'hui, les municipalités canadiennes sont confrontées à des budgets serrés. Elles se démènent pour répartir leurs ressources limitées entre un éventail de plus en plus grand de projets d'infrastructure et l'attention est souvent détournée des espaces et lieux urbains au profit de projets d'infrastructure plus intensifs comme les routes, les ponts, l'eau et les égouts.
Pour s'adapter aux contraintes financières grandissantes des municipalités, de nombreuses parties prenantes, y compris les gouvernements, des groupes de citoyens, des particuliers, des partenaires du secteur privé et des ONG conçoivent de nouveaux mécanismes de financement novateurs pour aménager les espaces et les lieux urbains. Ces mécanismes incluent le sociofinancement, les obligations communautaires et municipales et des instruments hybrides. Ils ont un potentiel considérable pour la revitalisation et l'aménagement d'espaces publics urbains. Cependant, ces outils doivent être davantage étudiés et mieux compris pour orienter le travail sur les politiques et la participation des parties prenantes à tous les ordres de gouvernement.
Notre rapport traite des questions ci-dessus en présentant de l'information sur ces instruments de financement novateurs, sur la participation des parties prenantes et sur les politiques nécessaires au niveau municipal. Nous donnons des exemples concrets de politiques spécifiques aux niveaux municipal, provincial et fédéral qui pourraient fournir des arguments pour le recours à ces instruments de financement novateurs.
10h00 Un cercle plus large : les voix Autochtones dans les villes canadiennes
La moitié des autochtones du Canada vivent dans les centres urbains. Pourtant, de nombreux Canadiens non-autochtones en milieu urbain ne sont pas conscients de leur présence. L'étude des peuples autochtones en milieu urbain a démontré qu'il existe une tension fondamentale dans les cœurs et les esprits des Canadiens en ce qui concerne la place des peuples autochtones en milieu urbain dans la mosaïque canadienne. Cette tension touche tous les secteurs de notre société et interpelle tous les ordres de gouvernement.
La réconciliation entre les peuples autochtones et les Canadiens non-autochtones est essentielle à la prospérité future du pays et à la dignité de tous ses citoyens. De plus en plus, les grandes villes sont les lieux où les Canadiens construisent leurs vies et entrent en relation. Par le fait même, les municipalités ont un rôle à jouer pour ce qui est de faire progresser la réconciliation.
Ce rapport explore le rôle que les villes peuvent jouer dans l'engagement des perspectives autochtones dans les politiques qui ont un impact sur la vie urbaine.
11h15 Des villes fortes : une nouvelle voie vers un fédéralisme collaboratif
En 1867, le Canada était principalement rural. Près de 150 ans plus tard, les villes canadiennes hébergent la majorité des citoyens et sont le moteur de presque toute l'économie du pays. Pourtant, leurs relations avec les gouvernements provinciaux et fédéral sont toujours modelées par les conditions qui prévalaient au 19e siècle.
Depuis quelques années, les maires des grandes villes canadiennes réclament plus de collaboration, plus de pouvoirs et plus d'argent pour relever les défis complexes auxquels ils sont confrontés. Bien que ces demandes varient sur le plan de la démarche et des détails, elles sont toutes fondées sur le besoin de reconnaître le rôle prépondérant que jouent les grandes villes pour l'ensemble du pays.
Pour réussir cet objectif, le Canada doit amorcer un changement de culture profond sur le plan de sa gouvernance municipale et de ses relations intergouvernementales. Le pays doit adopter un fédéralisme collaboratif.
Pour ce faire, le rapport avance des recommandations pour renforcer le leadership des grandes villes au sein de la fédération et rendre la collaboration entre les trois ordres de gouvernement plus efficace et satisfaisante pour toutes les parties concernées, et pour tous les Canadiens et Canadiennes.
Date and Time
Location
Fairmont Château Laurier
1 Rideau Street
Laurier Room
Ottawa, Ontario K1N 8S7
Canada