Description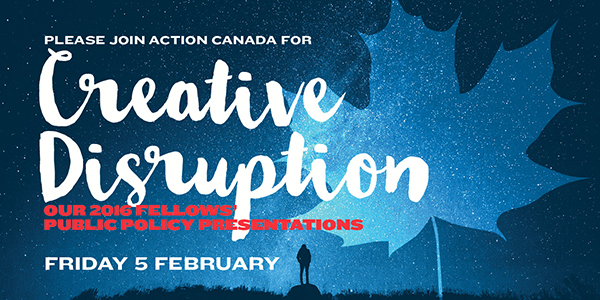 8:15 am - Continental Breakfast and Welcome
8:45 am - Barriers to Belonging: Paving a Smoother Path to Immigrant Inclusion
10:00 am - Open Innovation in Canada: Reinventing Collaboration
11:15 am - Our Groundwater, Our Future: From Data to Innovation
12:15 pm - Buffet Luncheon
This event is free. Please pre-register.
---
Barriers to Belonging: Paving a Smoother Path to Immigrant Inclusion
There are currently 1.6 million permanent residents in Canada. These newcomers are central to the economic, social and political fabric of the country. Yet these recent immigrants continue to face considerable challenges to participating in the full spectrum of Canadian life. If Canada does not tackle these challenges, our economy and our communities will suffer. There is a pressing need for new approaches. Join us for the release of our report: Barriers to Belonging – Paving a Smoother Path to Immigrant Inclusion, and participate in a public dialogue around recommendations concerning the design of smarter services, building bridges to employment and strengthening the political engagement of recent immigrants.
Open Innovation in Canada: Reinventing Collaboration
With innovation happening at an ever-increasing pace, the best companies recognise that they can no longer depend solely on internal resources to be at the cutting edge. Collaboration with outside partners, big and small, is essential to develop new products and services, as well as to find new ways of doing business. Yet many Canadian companies are lagging in the innovation race because they are not adopting a collaborative approach. How can we facilitate transfers of expertise between organisations, which would not traditionally partner with each other? How can Canadian innovators work together to build on each others' strengths? One solution is Open Innovation: a collaborative strategy which allows the transfer of knowledge and expertise, both intra- and intersectorally, between different companies and organizations. Federal and provincial governments must act boldly to create the right environment for open innovation to occur. This requires eliminating misconceptions about open innovation through information; providing the right support system, in the form of advice and money, so that partnerships may be established; and ensuring that the intellectual property regime facilitates and protects collaboration.
Our Groundwater, Our Future: From Data to Innovation
Canada perceives itself as water rich but in reality nobody knows just how much we have, or how quickly we're depleting it. Groundwater, water found under the earth, remains largely uncharted. Groundwater is a vital source of drinking water for millions of Canadians and is used extensively by our biggest industries. Population growth, climate change and industrial demand are putting stress on Canada's water resources. If we hope to ensure the availability of water resources in the future, Canada must ensure that its supply and demand are held in balance. Groundwater has long been an unknown resource. Lying beneath the surface it has not been comprehensively mapped nor its use monitored. Canada is a laggard in this respect. The lack of data on the size and renewal rate of vital aquifers hinders innovation and the development of smart public policy related to how groundwater is managed in Canada. At Our Groundwater, Our Future, we'll discuss the tools needed to take control of our water future, and ensure our groundwater is available for generations to come. Drawing on domestic and international best practice we will present recommendations for governments to collaboratively collect, share, and utilize groundwater data to enable innovation in sustainability and industry.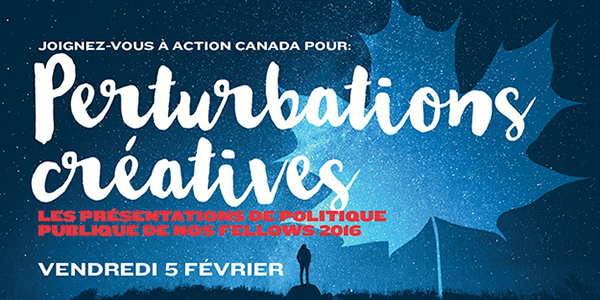 8 h 15 - Petit déjeuner continental et mot de bienvenue
8 h 45 - Obstacles à l'appartenance : Paver la voie pour une inclusion plus harmonieuse des immigrants
10 h 00 - Innovation ouverte : Réinventer la collaboration
11 h 15 - Notre eau souterraine, notre avenir : Passer des données à l'innovation
12 h 15 - Buffet de déjeuner
Il s'agit d'un événement gratuit. Veuillez vous inscrire à l'avance
---
Obstacles à l'appartenance : Paver la voie pour une inclusion plus harmonieuse des immigrants
Le Canada compte actuellement 1,6 million de résidents permanents. Ces nouveaux arrivants sont essentiels à l'économie, à la politique et à la structure sociale du pays. Pourtant, ils continuent à rencontrer des obstacles considérables qui les empêchent de participer pleinement à la vie canadienne. Si le gouvernement ne cherche pas à relever ces défis, notre économie et nos communautés en souffriront. De nouvelles avenues doivent à tout prix être explorées. Nous vous invitons à vous joindre à nous pour la présentation de notre rapport, Les obstacles à l'appartenance : Paver la voie pour une inclusion plus harmonieuse des immigrants, et à participer à un dialogue public sur des recommandations pour la conception de services plus pratiques, un meilleur accès à l'emploi et un engagement politique accru des nouveaux immigrants.
Innovation ouverte : Réinventer la collaboration
L'innovation connaît une croissance exponentielle, ce qui amène les meilleures entreprises à reconnaitre qu'elles ne peuvent plus compter uniquement sur les ressources internes pour être à la fine pointe de l'économie. La collaboration avec des partenaires extérieurs, petits et grands, est essentielle pour développer de nouveaux produits et services, ainsi que pour trouver de nouvelles façons de faire des affaires. Pourtant, de nombreuses entreprises canadiennes sont à la traîne dans la course à l'innovation parce qu'elles n'adoptent pas une approche collaborative. Comment pouvons-nous faciliter les transferts de savoir-faire entre des organisations qui ne collaborent habituellement pas? Comment les innovateurs canadiens peuvent-ils travailler ensemble pour tirer parti de leurs forces respectives? Une solution : l'innovation ouverte, une méthode de collaboration qui permet le transfert du savoir-faire et des connaissances, au sein des secteurs mais aussi entre eux, entre les différentes entreprises et organisations. Les gouvernements fédéral et provinciaux doivent faire preuve d'audace et créer un environnement propice à l'innovation ouverte. Il faut pour cela contrer les idées fausses avec de l'information; apporter le système de soutien qui convient, sous forme de conseils et d'argent, afin de permettre la formation de partenariats; et veiller à ce que le régime de propriété intellectuelle facilite et protège la collaboration.
Notre eau souterraine, notre avenir : Passer des données à l'innovation
Le Canada se voit comme riche en eau mais, en réalité, personne ne sait combien nous en avons ou à quelle vitesse nous épuisons nos réserves. On ne sait que peu de choses sur notre eau souterraine. Celle-ci est une source cruciale d'eau potable pour des millions de Canadiens et nos industries s'en servent beaucoup. Avec l'augmentation de la population, le changement climatique et les besoins de l'industrie, les ressources en eau du Canada sont fortement sollicitées. Si nous voulons faire en sorteque des ressources en eau soient encore disponibles à l'avenir, le Canada doit veiller au maintien d'un équilibre entre l'offre et la demande. On a ignoré longtemps l'existence de l'eau souterraine. Cachée sous terre, elle n'a pas été cartographiée et son utilisation n'a pas été surveillée. Le Canada est à la traîne dans ce domaine. Le manque de données sur la taille et le taux de renouvellement des aquifères, pourtant essentiels, freine l'innovation et l'élaboration de politiques publiques intelligentes en matière de gestion de l'eau souterraine au Canada. Lors de Notre eau souterraine, notre avenir, nous discuterons des outils nécessaires pour prendre le contrôle de notre eau souterraine et faire en sorte que les générations futures puissent en profiter. En nous inspirant des meilleures pratiques nationales et internationales, nous présenterons des recommandations pour les gouvernements, pour qu'ils collectent, partagent et utilisent ensemble des données sur l'eau souterraine afin de favoriser l'innovation en matière de durabilité et d'exploitation par l'industrie.