ACLA/CAAL's upcoming symposium focuses on plural pedagogical approaches in digital spaces!
About this event
We would like to invite you to an upcoming ACLA/CAAL online symposium on October 13, 2021 (Wednesday) at 1:00-2:30 PM (Toronto time).
This free symposium brings together scholars working on the application of plural pedagogical approaches (e.g., plurilingualism, translanguaging, trans-semiotizing, multimodality) in digital environments. It showcases research conducted nationally and internationally with language teachers and learners in different languages and digital environments.
A Zoom link will be sent to participants on the morning of the event.
1. Trans-semiotizing in the Eco-social System of Online Language Teaching
Angel M. Y. Lin & Qinghua Chen (Simon Fraser University)
Online language teaching plays an increasingly important role in language education, especially during the COVID times. Despite the diversity of online research, not much research has focused on the dynamic meaning co/making processes in online teaching and learning. This presentation reconceptualizes online language teaching and learning from the perspective of eco-social systems. Drawing on translanguaging and trans-semiotizing, multimodal meaning making across time scales, and frame analysis, we argue that online language teaching and learning involves activities happening at different time scales and engages various meaning-making resources, while maintaining a coherent frame of the virtual learning environment.
The presentation will be done in English with some Chinese.
2. Languaging through Online Plurilingual Action-oriented Scenarios: Teachers' Perception and Involvement
Enrica Piccardo (OISE/University of Toronto)
Our culturally and linguistically plural societies call for real-life oriented approaches able to boost the languaging process across diverse linguistic repertoires. This presentation reports data from a large project which involved nearly one hundred teachers of four languages in the region of Lombardy (Italy). After the sudden mandatory switch to online learning due to COVID-19 teachers who used plurilingual action-oriented scenarios developed in the Linguistic and Cultural Diversity Reinvented (LINCDIRE) project reported a strong increase in their students' motivation and engagement. The notion of plurilingual action-oriented scenario will be discussed together with its potential in language education.
The presentation will be done in French and English with some Italian and German.
3. Engaging Language Learners' Full Linguistic Repertoires through Plural Pedagogical Approaches in Digital Spaces as Counter-Narratives to Address Real-World Problems
Shelley Taylor (Western University)
Technology is now available to link people, information and digital supports; it is also available for educators to orchestrate instruction that enables language learners to reframe meta-narratives about their linguistic and cultural knowledge and needs. These same meta-narratives can have a drip-down effect into the socioeducational "spejlbilleder" that learners encounter in schooling. This talk outlines the rationale for plural pedagogical approaches in digital spaces to challenge damaging (spejlbilleder) representations, an initiative currently underway, and preliminary results regarding how such initiatives can meet learner needs. Though plural approaches have been under-explored, they are needed to address real-world problems.
The presentation will be done in French and English with some Danish.
4. Enacting Plurilingual Pedagogy in Digital Spaces and in Different Languages
Angelica Galante (McGill University)
Several studies show that translanguaging and plurilingual pedagogies engage students' resources for meaning-making, but little is known about how these approaches can be enacted in digital environments and the extent to which they enhance language learning. This presentation shows results of two research projects: the Plurilingual Shift with pre-service ESL teachers in a teacher education program in Canada, and PluriDigit with in-service teachers and learners of English, Spanish, French, and Arabic in an NGO in Brazil. Plurilingual pedagogy in digital spaces – VoiceThread and Zoom – will be explored along with an examination of the semiotic resources that can best support language learning.
This presentation will be done in English with some Spanish, French and Portuguese.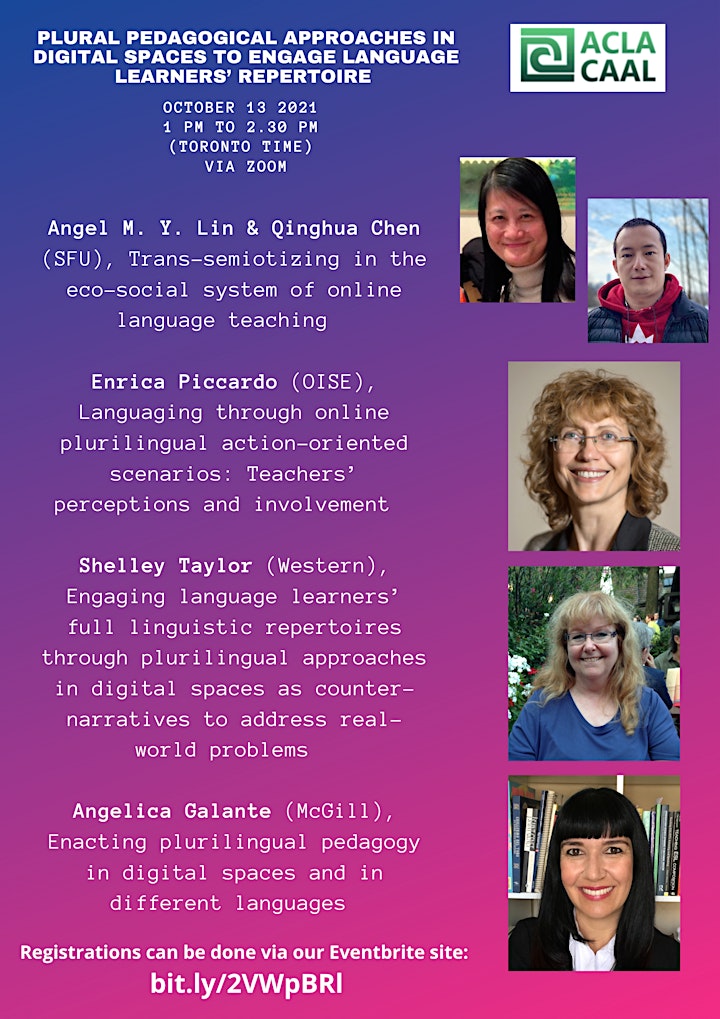 Organizer of Plural pedagogical approaches in digital spaces