PMI Disciplined Agile Lean Scrum Master (DALSM)-2 Day Workshop-Edmonton
About this Event
As a team leader you strive to be more agile and help your team be more productive.
To succeed, you need an agile mindset, combined with leadership and team management skills. At the same time need to do so within the context of your organization and its culture. The new Disciplined Agile Lean Scrum Master (DALSM) training and certification provides tools and strategies to help you lead an agile team, influence people, and remove impediments. Using real-world agile strategies, you will learn how to tailor your team's Way of Working (WoW) to optimize productivity and continuously improve.
Upon completion of this workshop, you will be prepared to become DALSM certified.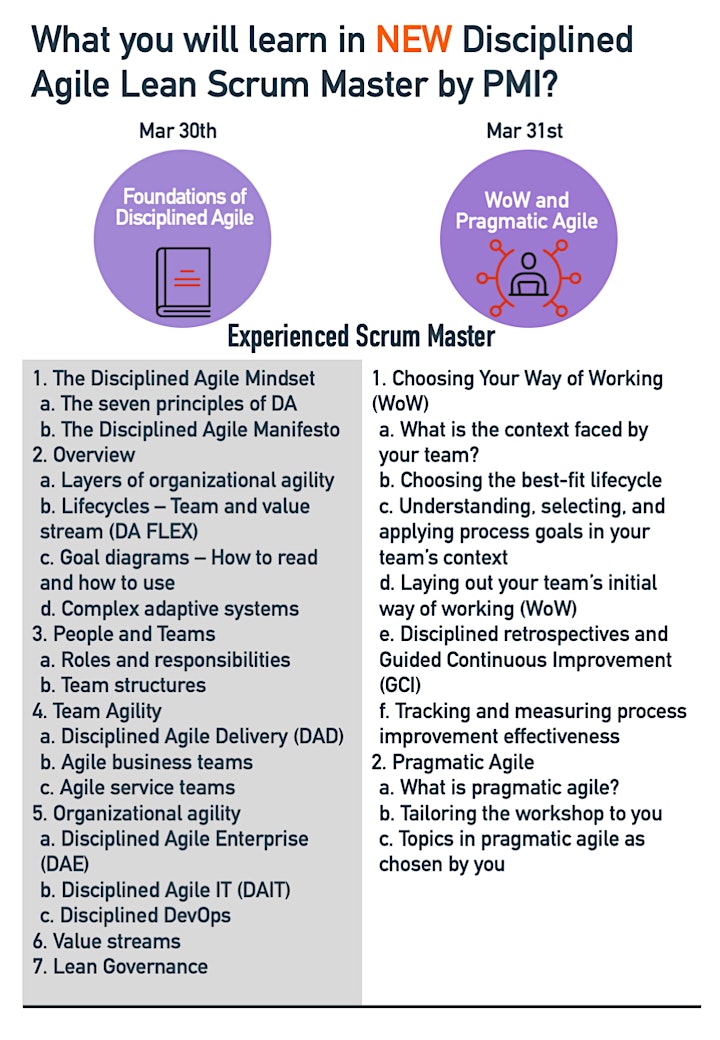 This 2-day course includes:
One year PMI DA Member Subscription - ($50 US value)
The DA Agilist title from PMI DA
One DALSM Test Voucher - (good for 30 days after course certificate sent after course) – ($500 US value)
A PMI DALSM Certificate for attending the course - About DALSM certification, you write the exam which is online and can be done on your own computer or work computer to get the PMI DALSM Certification (not the certificate for attending the course that comes with the course after you have attended).
Student Workbooks - included ($50 US Value)
Choose your WoW book - ($50 US Value)
Exercise materials (pens, paper, cards, stickies, others)
"The digital economy is forcing us to be fast and flexible while delivering continuous value." – Brent Reed, Founder, TACTEC
Workshop Logistics
Topics:
Primary:Agile
Secondary:Disciplined agile, scrum master, lean, fundamentals, Kanban
Level: Intermediate (Practitioner of Agile with Scrum, Lean or SAFe)
Length: Two days depending on your background – 14 hours of classroom time plus breaks
We reserve the right to change date, venue or cancel event in case of unforseen circumstances or small number of attendees. We will provide full refunds in case of event cancellations or date changes.
Tickets are non-refundable however they are fully tranferable to another person.