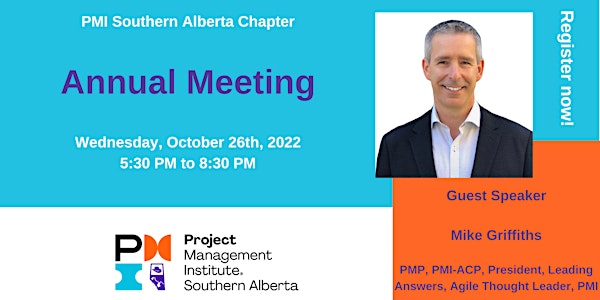 PMI SAC Annual Meeting
PMI-SAC Annual Meeting
When and where
Location
Fort Calgary 750 9 Avenue Southeast Calgary, AB T2G 5E1 Canada
Refund Policy
Contact the organizer to request a refund.
About this event
All members are welcome to attend our Chapter Annual Meeting. Over dinner the results of the Board Election and your Board for 2023 will be revealed.
The agenda will be as follows:
Time Event – Wednesday October 26, 2022
5:30 – 5:40 Call Meeting – Welcome President's Message
5:40 – 6:40 Guest Speaker- Mike Griffiths
Presentation: "Hybrid Agile, Stepping Stone or Quicksand?"
6:40 – 6:55 PMISAC General Presentation
6:55 – 7:10 Annual/Financial Report Presentation
7:10 – 7:25 Elections Result Announcement
7:25 – 7:30 Closing meeting adjourned
Mike's presentation and bio:
How do you feel about hybrid agile – mixing agile approaches with non-agile approaches? Can it be useful sometimes, or is it the path to compromise and failure? (A great way to separate agile purists from pragmatists is to ask them what they think about hybrid agile.)
In this session, we will separate agile blends from non-agile hybrids. Then explore case studies of failures and success stories, examining patterns of problems and success factors. Topics include:
• Left-to-right agile adoption vs right-to-left implementation
• The Genius of the "And" vs. the Tyranny of the "Or"
• Hybrid models (switchover, sandwich, encapsulation)
• Case studies in success, failure and regression
• Red flags, anti-patterns, and warning signs to stop
• Further resources and case studies to learn from
To quote Ron Jefferies, "Agile isn't any damn thing," so come find out what breaks it and if we can preserve it with the combination of non-agile elements.
Speaker Bio
Mike Griffiths is a project management author, trainer, and consultant working for the Project Management Institute (PMI.) Prior to joining PMI, Mike was involved in the creation of DSDM in 1994 and served on the board of the Agile Alliance. He co-founded the PMI Agile Community of Practice, and was part of the steering committee that created the PMI-ACP credential. Mike was chair for the PMI Agile Practice Guide and has been a contributor to the PMBOK Guide since the 3rd Edition. He was co-chair for the PMBOK Guide 7th Edition.