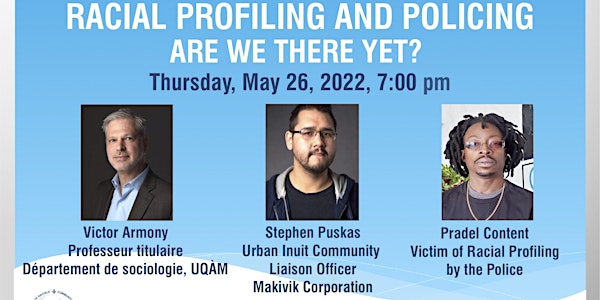 Policing and Racial Profiling in Montreal: Are We There Yet?
Policing and Racial Profiling in Montreal : Are We There Yet?
About this event
As part of its Communities United for Racial Equality (CURE) project, the Institute for Research and Education on Race Relations (IRERR) is inviting members of the English-speaking Arab, Asian, Black, and Indigenous communities in the Greater Montreal Area to participate in our forum on Policing and Racial Profiling.
This forum aims to serve as a platform to share the community experiences of Indigenous and racialized English-speaking communities, assess community needs, and identify concrete solutions to end racial profiling within public institutions in Quebec.
It will also provide an opportunity to hear from and discuss with experts specializing in the issues of racial profiling and public security.
This forum is open to the general public, but it would particularly interest:
-Indigenous communities
-Racialized English-speaking communities
-Community organizations dedicated to tackling systemic racism and racial profiling
THEMES TO BE DISCUSSED:
- State of affairs of policing and racial profiling in Montreal
- Improving access to and relations with police services
- Public participation in shaping policing priorities and services, and the appointment of police chiefs
- Collection of race-based data to better document and help solve the problem.