Policy IGNITE! Presents: Canada in the Digital World Edition / Canada dans...
Sales Have Ended
Ticket sales have ended
Thanks for joining us for the Policy Ignite! Global Edition.
Sales Have Ended
Ticket sales have ended
Thanks for joining us for the Policy Ignite! Global Edition.
Description
We are pleased to be partnering with FWD50 (Canada's Digital Government Conference) for the digital edition of Policy IGNITE!
Join us for an evening of exploration on the good, the bad and the ugly of Canada's digital future. Digital tools are creating new challenges as well as potential policy solutions for persistent issues that affect the public good. Our IGNITE! presentations will explore a number of critical issues around making government digital, and new ways of using digital to augment the public good.
Policy IGNITE!'s tagline is "Enlighten us, but make it quick." In keeping with this tag line, the Ignite presentation format consists of 20 PowerPoint slides set to auto-advance every 15 seconds. That means each presentation lasts exactly five minutes.
Our full programme will be available mid-October, but we'll share some sneak peeks of keynote speakers as they come in. This event will feature networking, drinks and snacks before and after the main event.
DOORS OPEN at 6pm for Networking and Snacks
The IGNITE! begins at 7pm and finishes at 9pm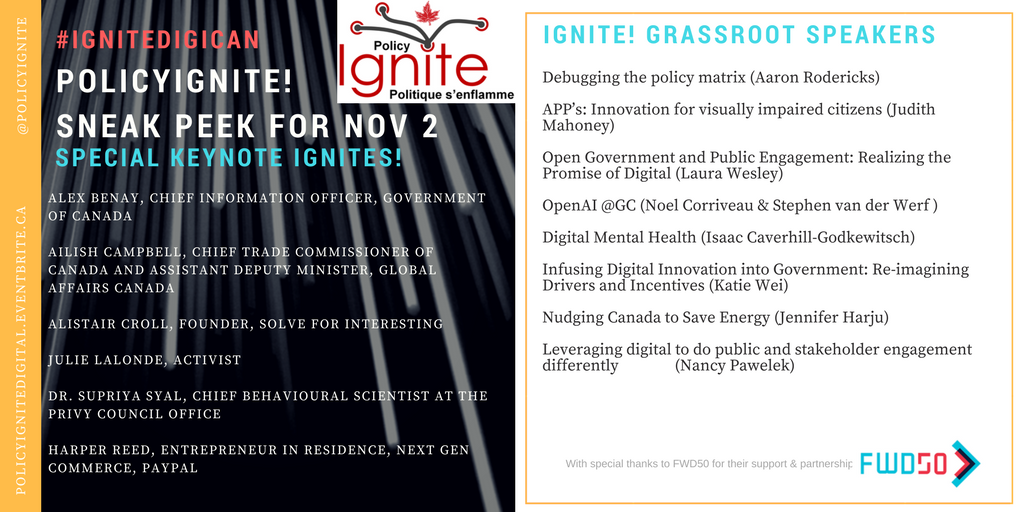 ---
Nous sommes heureux de nous associer à FWD50 (Conférence sur le Gouvernement Numérique) pour cette édition de La Politique S'enflamme!

Rejoignez-nous pour une soirée d'exploration sur le bon, le mauvais et le laid de l'avenir numérique du Canada. Les outils numériques créent de nouveaux défis ainsi que des solutions politiques potentielles pour des problèmes persistants affecter le bien public. Notre présentateurs exploreront des problèmes essentiels pour rendre le gouvernement numérique et les nouvelles façons d'utiliser les outils numériques.

Le slogan est « Enlighten us, but make it quick » (« Éclairez‑nous, mais faites vite »). Dans l'esprit de cette thématique, la présentation doit compter 20 diapositives en format PowerPoint, et une nouvelle diapositive doit s'afficher automatiquement toutes les 15 secondes. Chaque présentation durera donc 5 minutes exactement.

Notre programme complet sera disponible à la mi-octobre, mais nous partagerons un petit aperçu des conférenciers principaux à leur arrivée. Cet événement mettra en vedette des réseaux, des boissons et des collations avant et après l'événement principal.

Tout le monde dans la communauté de la Politique S'ENFLAMME! peut obtenir 15% de réduction de tous les passages à FWD en accédant à https://www.eventbrite.ca/e/fwd50-2017-tickets-3815797152?discount=PIGN15 Ou entrez PIGN15 à la caisse.