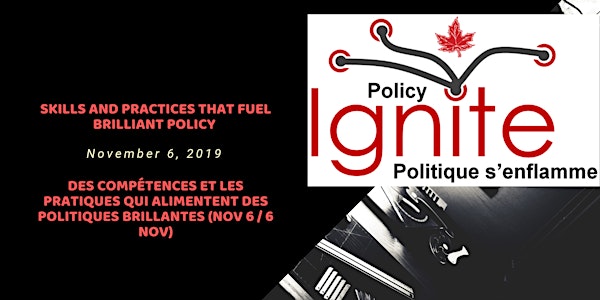 Policy Ignite! skills and practices / Politique s'enflamme: des compétences
Skills and practices that fuel brilliant policy / Des compétences et les pratiques qui alimentent des politiques brillantes (Nov 6 / 6 Nov)
When and where
Location
Aberdeen Pavilion at Lansdowne Park 1000 Exhibition Way Ottawa, ON K1S 3W7 Canada
Refund Policy
Contact the organizer to request a refund.
Eventbrite's fee is nonrefundable.
About this event
Get your tickets to the next Policy Ignite on November 6th
For our Fall 2019 event in partnership with FWD50, Policy Ignite! is doing something a little different. To implement brilliant ideas, policy innovators need to draw on an ever-diversifying set of skills and practices. Instead of focusing on brilliant policy ideas, we'll feature speakers sharing the top skills and best practices they have used to work on brilliant policy in Canada. From data science to innovation management to consultations and networking for influence, we'll feature a blend of past Ignite! Speakers, FWD50 presenters, and experts from the GoC of Canada and beyond sharing their "secret sauces" around how they've used these skills and practices in their work - and how you could too.
If you have a suggestion for a speaker you would like to hear from on their skills or best practices, a skill we should find a speaker for, or if you would like to potentially be invited to share a skill or best practice, please email us at policyignite@gmail.com with your idea before Monday, October 21, 2019.
Get your ticket to hear great talks and meet other policy innovators. Policy Ignite events frequently sell out - so secure your spot now to make sure you are not disappointed. Tickets are transferrable but non-refundable.
-------------------------------------------------------------------------
Achetez vos billets pour la prochaine édition de Policy s'enflamme le 6 novembre
Pour notre événement d'automne 2019 avec FWD50, Politique s'enflamme! fait quelque chose d'un peu différent. Pour mettre en œuvre des idées brillantes, les innovateurs de politiques doivent s'appuyer sur un ensemble de compétences et de pratiques de plus en plus diversifié. Au lieu de nous concentrer sur des idées politiques brillantes, nous présenterons des conférenciers partageant les compétences de pointe et les pratiques exemplaires qu'ils ont utilisées pour travailler sur des politiques brillantes au Canada. De la science des données à la gestion de l'innovation, en passant par les consultations et la création d'influence en réseau, nous présenterons un mélange de conférenciers Ignite! passés, des présentateurs de la FWD50, et des experts du gouvernement du Canada et d'ailleurs partagent leurs «secrets» en expliquant comment ils ont utilisé ces compétences et ces pratiques dans leur travail - et comment vous pourriez aussi.
Si vous souhaitez suggérer un orateur sur ses compétences, une compétence pour laquelle nous pouvons trouver un orateur, ou si vous souhaitez potentiellement être invité à partager une compétence ou une pratique exemplaire, veuillez nous envoyer un courrier électronique à policyignite@gmail.com avec votre idée avant le lundi 21 octobre 2019.
Obtenez votre billet pour entendre d'excellentes presentations et rencontrer d'autres innovateurs en matière de politique. Les événements Policy Ignite se vendent complètement souvent. Assurez-vous de réserver votre place dès maintenant pour ne pas être déçu. Les billets sont transférables mais non remboursables.