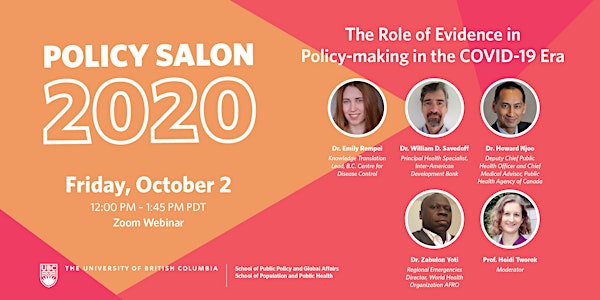 Policy Salon: The Role of Evidence in Policy-making in the COVID19 Era
Learn about the role of evidence in policy-making and how evidence is communicated and reported during the COVID-19 pandemic
By UBC School of Public Policy and Global Affairs
Date and time
Fri, Oct 2, 2020 12:00 PM - 1:45 PM PDT
About this event
2020 Policy Salon: The Role of Evidence in Policy-making in the COVID-19 Era
*This webinar is part of the 2020 Policy Salon on the theme, "The Importance of Good Governance in the COVID-19 Era, from the Local to the Global." It is intended for UBC students, faculty, staff, and alumni only. The Zoom link will be provided upon registration.
Don't miss this session with health specialists and policymakers from Canada and around the world as they share their perspectives on the role of evidence in policy making and how evidence is communicated and reported during the COVID-19 pandemic.
Speakers:
• Emily Rempel, Knowledge Translation Lead, B.C. Centre for Disease Control
• Dr. Howard Njoo, Deputy Chief Public Health Officer and Chief Medical Advisor, Infectious Disease Prevention and Control Branch, Public Health Agency of Canada
• William D. Savedoff, Principal Health Specialist, Inter-American Development Bank
• Dr. Zabulon Yoti, WHO Regional Emergencies Director, World Health Organization AFRO
Moderator: Professor Heidi Tworek (SPPGA; History)
Bios:
Dr. Emily Rempel is a Knowledge Translation Lead at the BC Centre for Disease Control. She works with local and national governments on public engagement, social research and knowledge exchange. Recently, she led the BCCDC misinformation research strategy and is part of the provincial COVID-19 knowledge translation and data teams. Beyond government work, her research interests include public & policy engagement, public health, social research and critical data studies.
Dr. Howard Njoo is the Deputy Chief Public Health Officer at the Public Health Agency of Canada and directly supports the Chief Public Health Officer (CPHO) in providing public health advice, speaking to Canadians and representing the Agency in a variety of domestic and international fora. In addition, Dr. Njoo is the Chief Medical Advisor to the Vice President for the Infectious Disease Prevention and Control Branch and is the federal co-chair of the Communicable and Infectious Diseases Steering Committee reporting to the Public Health Network Council in Canada. Dr. Njoo has worked at all three levels of the federal system of government in Canada as a public health physician and medical epidemiologist, as well as continuing to practice as a front line clinician in infectious diseases for close to thirty years.
William D. Savedoff is Principal Health Specialist at the Inter-American Development Bank. Dr. Savedoff works on questions related to improving the accessibility and quality of social services in developing countries. His primary expertise relates to improving the provision of services through changes in institutions, organizations, contracting and evaluation. Dr. Savedoff has worked on these issues in many settings, first as an Associate Researcher at the Instituto de Pesquisa de Economia Aplicada (Rio de Janeiro) and later as an economist at the Inter-American Development Bank (Washington, DC), the World Health Organization (Geneva), and as a Senior Fellow at the Center for Global Development (CGD – Washington, DC). He has published books and articles on labor markets, health, education, water, corruption, aid effectiveness and housing, including "What Should a Country Spend on Healthcare?"; Governing Mandatory Health Insurance; and Cash on Delivery Aid.
Dr. Zabulon Yoti, WHO Regional Emergencies Director – WHO AFRO, is a public health veteran with over 22 years' experience in clinical and public health practice. He is best known for his leadership in coordinating public health preparedness and response to disease outbreaks, natural and man-made disasters. Dr. Yoti has provided direct policy guidance to several African countries in responding to disease outbreaks and complex health emergencies. Dr. Yoti, from Uganda, works in the World Health Organization Emergencies Programme in the African Regional Office (AFRO) based in Brazzaville, Congo where he is the Acting Regional Emergency Director and Technical Coordinator. From June 2014 to December 2015, Dr Yoti was re-assigned as part of WHO AFRO surge deployment for Ebola response in the West African Region with responsibility of providing technical leadership and coordination of the outbreak response. From November 2014 to December 2015, he was the WHO Deputy Head of Office for Sierra Leone where he successfully led WHO's team and partners in responding to the Ebola Outbreak in Sierra Leone. Dr. Yoti has also published extensive academic papers on emerging infectious diseases in general, Ebola Virus Disease in particular, and the implications of emergency preparedness and response on global health security. Dr Yoti qualified as a Medical Doctor in Uganda in 1997. He holds a Master's degree in Public Health (majoring in Communicable Disease Control), a Post-Graduate Diploma in Tropical Medicine and Health (DTM&H) and a Certificate in Health Emergencies in Large Populations from the University of Pretoria, South Africa.
Moderator's Bio:
Dr. Heidi Tworek is Associate Professor of History and Public Policy with the School of Public Policy and Global Affairs and the Department of History at the University of British Columbia. Her research brings a historical sensibility to policy discussions, particularly around communications and international organizations. She has briefed or advised officials and policymakers from multiple European and North American governments on media, democracy, and the digital economy.
Disclaimer: Please note that by using the Eventbrite service, your information will be stored on the Eventbrite server, which is located outside Canada. If you do not wish to use this service, please email joelle.lee@ubc.ca directly to register. Thank you.
Co-hosted by: The School of Public Policy and Global Affairs (SPPGA) and the School of Population and Public Health (SPPH), UBC
About the organizer
As an interdisciplinary hub for innovation and learning, the UBC School of Public Policy and Global Affairs (SPPGA) draws on the expertise of UBC institutes, research centres and faculties, and invites collaboration with local and global communities.
Researchers, policy makers and aspiring change makers come here to explore local and global issues, find policy solutions and change the world for the better.
The School of Public Policy and Global Affairs was founded in 2017 at The University of British Columbia Vancouver campus and is located on the traditional, ancestral, and unceded territory of the xʷməθkʷəy̓əm (Musqueam) people.