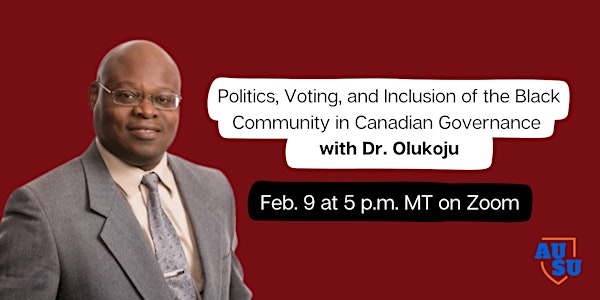 Politics, Voting, & Inclusion of the Black Community in Canadian Governance
Discussing politics, voting, and inclusion of the Black community in Canadian governance, come listen to Dr. Olukoju.
Date and time
Thu, Feb 9, 2023 4:00 PM - 5:00 PM PST
About this event
Join us on February 9, 2023, at 5 p.m. MT on Zoom as we celebrate Black History Month with Dr. Olukoju from Athabasca University as he discusses Politics, Voting, and the Inclusion of the Black Community in Canadian Governance.
Dr. Sunday Akin Olukoju has been tutoring at AU since 2011. He first received his Ph.D. in Public Policy and Administration before earning a second in Theology. He is happily married to Rev. (Dr.) Deborah Olukoju and they are blessed with two young sons. In addition to being an ordained minister, Dr. Olukoju volunteers in his local community of Winnipeg South as the Secretary of the South Winnipeg Community Centre. He works closely with his local City Councillor and Member of Parliament, and he and his wife recently received an award for community leadership from MP Terry Duguid.
Questions? Email ausu@ausu.org.
About the organizer
AUSU exists to serve its student membership and enhance their AU undergraduate experience. They support students through various online programs and services including community and wellness initiatives like their monthly AUSUnights Virtual Student Social events.