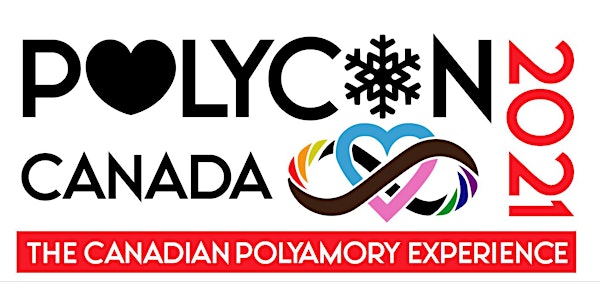 PolyCon Canada 2021: A Virtual Un-Conference
The Canadian Polyamory Experience
Refund Policy
Refunds up to 1 day before event
Eventbrite's fee is nonrefundable.
About this event
The Canadian Polyamory Advocacy Association warmly invites you to join us for Polycon Canada, a virtual unConference, Nov 20-21st, for a weekend of exploring the diversity of the consensually-non monogamous experience in the colonial lands known as Canada.
With a focus on supporting BIPOC, LGBTQ+ and other marginalised voices, this event is an unconference, meaning that YOU get to have a say in deciding the shape of it.
Conference features:
KEYNOTE SPEAKERS
Kim TallBear (Sisseton-Wahpeton Oyate) (she/her) is Professor and Canada
Research Chair in Indigenous Peoples, Technoscience, and Society, in the Faculty of Native Studies, University of Alberta. She is the author of Native American DNA: Tribal Belonging and the False Promise of Genetic Science. In addition to studying genome science disruptions to Indigenous self-definitions, Dr. TallBear studies colonial disruptions to Indigenous sexual relations. She is a regular panelist on the weekly podcast, Media Indigena. You can follow her research groups at https://indigenoussts.com/ and at https://re-lab.ca/. She tweets @KimTallBear and @CriticalPoly. You can also follow her monthly posts on her Substack newsletter, Unsettle: Indigenous affairs, cultural politics & (de)colonization, https://kimtallbear.substack.com.
Clementine Morrigan
My name is Clementine Morrigan and I'm a writer. I'm the writer behind the zine series Fucking Magic, and the zines Love Without Emergency, Fuck the Police Means We Don't Act Like Cops to Each Other, Fucking Crazy, and Fucking Girls. I also wrote the books You Can't Own the Fucking Stars and The Size of a Bird. I'll be releasing three new books this year: Trauma Magic, Sexting, and Fucking Magic. I have been writing and publishing for more than 20 years and have many more projects on the way. I am also a podcaster as one half of the podcast Fucking Cancelled and I'm the creator the popular Trauma Informed Polyamory workshop. I teach other online workshops like Bisexual Girls with Baggage and Disorganized Attachment Is a Fucking Trip. I am an ecosocialist, an anarchist, an abolitionist, an opposer of cancel culture, a trauma educator, a sex educator, a person living with complex ptsd, a sober alcoholic, a polyamorous bisexual dyke, and a proud dog mom to Clover "the dog" Morrigan. For more of my work check out clementinemorrigan.com.
PANEL DISCUSSIONS
Creating Inclusive Spaces in Polyamorous Community
With Eva Dusome, C J Jackman Zigante, and Jenny Yuen.
Eva Dusome is an equity advocate who supports concepts surrounding restorative justice and mediation in complex situations. Her facilitation platform, professionally and community based, focuses on decolonizing relationships through non-monogamy with Polyamorous Living in Toronto, elevating awareness of gender diversity, kink and sexual freedom of expression, essential mental health support, access to basic self-care routines, (dis)ability and accommodation supports, all with a trauma-informed, intersectional lens. She actively challenges the current dominant paradigm of westernized society by offering perspectives that are rare and unorthodox.
Eva is a mixed race two-spirit genderfluid queer living with disabilities. They strive to experience their relationships through the tenets of relationship anarchy. She lives on her ancestral lands of the Anishinaabe, Haudenosaunee and Mississaugas of the Credit in Head of the Lake, Treaty No. 14 territory. Pronouns: Fluid // They / Them | She / Her
~
Credited Actor Entertainer Artist & Designer, C J Jackman Zigante is 61 years old, young at heart, with good enough genes to lie about her age, but choosing not to. She is a Lifestyle & Sex-Positive Advocate and LGBTQ+2 BIPOC Rights Activist. Proudly and openly Bi-Poly. Happily ensconced in a seven-year closed triad with her husband of nearly 28 yrs, Len, and entering into the 7th year with wifey Tabby, who joined the family in 2014.
Then as if that weren't enough, just to show they meant business and are in it for the long haul. C J Len & Tabby made it hand-fast official on June 24th, 2019. The three of them, along with their fur-babies Basil & Ginger, reside happily, in beautiful Maple Ridge, BC.
~
Jenny Yuen is an award-winning news reporter, who covers a wide variety of local, provincial and national stories, and has written for the Toronto Sun, Now Magazine, and CBC Radio. She currently works in communications, is a proud poly partner, and lives in Toronto with her family. Jenny is the author of Polyamorous: Loving and Living More.
UNCONFERENCE SESSIONS
Unconferences are a way to gather and learn where we de-centralise the idea of 'expertise' and instead seek to learn from our collective knowledge as a group. You don't have to be a polyamory expert, write a polyamory blog, or be a local group facilitator to volunteer to run a session!*
Participants who registered before Nov 10th were able to pitch their ideas for sessions, and participants registered prior to Nov 11th voted on the topics they were most interested in!
Read more about Unconferences here.
CONFERENCE SCHEDULE:
[all times given in Pacific Time]
SAT Nov 20th
10-10:30 am
Welcome, Orientation & Land Acknowledgements
10:30-11:30
KEYNOTE: Dr Kim TallBear
11:30-12:30
How Do We Date Now?
Polyamorous Myth Busting
12:30-1:30
Solo Polyamory 101, 201, 301
Jealousy & Insecurity
1:30-2pm
BREAK
2pm-3pm
Legal considerations and protections for polyamorous families with children
Fat & Polyamorous
3pm-4pm
Creating Inclusive Spaces in Polyamorous Community: PANEL DISCUSSION
Sun Nov 21st
10-11am
Grief in Polyamory
Emotional Labor Distribution in Polyamorous Networks
11am-12noon
Disability Rights & Oppression in Polyamory
Unpacking family hierarchy in a nuclear family society
12-1pm
KEYNOTE: Clementine Morrigan
1-1:30pm
BREAK
1:30-2:30pm
Social Resilience in Canadian Polyamorous Families
Young Adults & The Cultural Shift towards Polyamory
2:30-3:30pm
Future of Advocacy for Polyamory in Canada
3:30-4pm
Feedback & Conference Wrap Up
Participation Opportunities
Unconferences rely on the participation of attendees to make them happen! We're looking for volunteers to help us with creating post-conference transcripts, translations (English to French and French to English), and organizing the materials post conference for our archives. Please let us know if you're interested in helping out with this by emailing us at info@polyadvocacy.ca
SWAG
We've got specially designed swag available for purchase! Pick up your own polycon touque, coffee mug, or t-shirt to commemorate this event and show off your polyamory pride year round!
BUT WAIT! THERE'S MORE!
When you purchase a ticket for Polycon Canada, you'll have the option of your ticket purchase counting towards an annual membership with the CPAA.
Why is this awesome?
Because the CPAA is a registered society that is dedicated to advocating for the rights of polyamorous individuals in Canada. We promote legal, social, political, and institutional acceptance and support of polyamory. Advancing the interests of the polyamory community in Canada is important to us and we strive to stay on the pulse of the important issues our community is facing today.
The CPAA played a key role in the 2011 ruling in the BC Supreme Court that recognised polyamory is not included under the anti-polygamy laws, a ruling which has helped pave the way for subsequent family court rulings and more. Most recently, we ran a campaign to include polyamory as a relationship status in the national census.
As a member of the CPAA, you get to be part of the work we do, and you'll be eligible to participate in the annual AGM being held Sun Nov 28th!