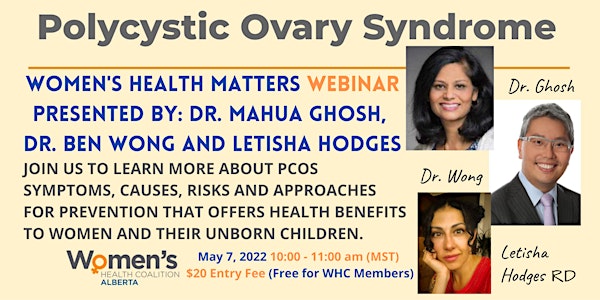 Polycystic ovary syndrome (PCOS). Symptoms Causes and Risks
A multi-disciplinary health expert panel will help to unravel the complexities of PCOS. As a kickoff to Women's Health Week.
Refund Policy
Contact the organizer to request a refund.
Eventbrite's fee is nonrefundable.
About this event
Polycystic ovary syndrome (PCOS). Symptoms Causes and Risks
Dr. Ghosh, Dr. Wong and Letisha Hodges will share their expertise on condition management and updates on current research that is identifying young women, with PCOS, at risk of developing T2 Diabetes.
Who should attend
• Women, young women, and parents concerned about menstrual health, PCOS, and risks of obesity
• Healthcare professionals who want to learn more about PCOS
• Women's health stakeholders that want to drive new conversations for better health outcomes
Dr. Ghosh is the lead investigator of the Polycystic Ovarian Syndrome and T2 Diabetes research collaboration at the University of Alberta. She is the Program Director of the adult endocrinology subspecialty resident training program. She launched an Educational Complex Type 2 Diabetes/Metabolic Clinic and serves on the Canadian Society of Endocrinology and Metabolism. She successfully advocated to incorporate transgender medicine as an Objective of Training for endocrinology for the Royal College of Physicians and Surgeons of Canada (RCPSC). She is working on the new RCPSC Accreditation Standards in CPD activity for endocrinologists. She is also a member of the Program Planning Committee for Diabetes Canada.
Dr. Wong joined the Regional Fertility Program staff in August of 2004 as a staff reproductive endocrinology and infertility specialist. He is current a Clinical Assistant Professor of Obstetrics & Gynaecology at the Cumming School of Medicine at the University of Calgary. Dr. Wong completed his M.D. degree at the University of Alberta in 1996. Following completion of his medical school, he decided to pursue specialty training in obstetrics and gynaecology at the University of Calgary. He received his certification in Obstetrics and Gynaecology at the Royal College and Physicians and Surgeons of Canada in 2001. He subsequently did a fellowship in the subspecialty at the Jones Institute for Reproductive Medicine, Eastern Virginia Medical School, Norfolk, Virginia, USA
Letisha Hodges is a Dietitian with a special interest in Polycystic Ovarian Syndrome and building healthy relationships with food. She has been helping people reach their nutrition goals since 2010 and has been a Registered Dietitian since 2015 after graduating with a Bachelor of Science in Nutrition & Food Science | Dietetics Specialization from the University of Alberta. Since then, Letisha has worked in a variety of clinical settings such as ICU, psychiatry, gastrointestinal, pediatrics, HIV, and weight management/bariatric surgery. Her passion for helping women now comes from her personal struggle with gut health issues, chronic fatigue, and fat loss while battling an unhealthy relationship with food.
____________________________________________________________________________________________
About The WHC
Mission
The Women's Health Coalition is committed to creating a movement to speak openly, learn and engage with purpose to address menstrual reproductive and sexual health through all the ages and stages.
Vision
The right support and treatment at the right time for improved quality of life, improved health outcomes, and better lived experiences.
Mandate
The Women's Health Coalition will take a leading role in engaging and informing community stakeholders, healthcare professionals, industry and government to challenge traditional thinking, address gender bias, and improve health outcomes for women facing menstrual, reproductive and sexual health challenges.
The Women's Health Coalition is a network of:
Women who have faced health challenges
Professionals who care for women
People who care about women and women's health
Businesses and Associations committed to women's health
We will fulfill our mandate by:
CONNECTING WITH WOMEN to understand their health journey: Engage women of diverse backgrounds to provide testimony of unique experiences in Alberta's health system to validate priorities identified for system change and empower women to own and guide their health experience.
ENGAGING THE HEALTHCARE COMMUNITY for system improvement: Work with healthcare professionals, educators, and stakeholders to explore opportunities to improve women's gynecological health.
ADVOCATING for policy and systemic change: Establish relationships and credibility with provincial and federal governments to raise awareness and advocate for policy and system change to support patient access, choice, and address gender equity.