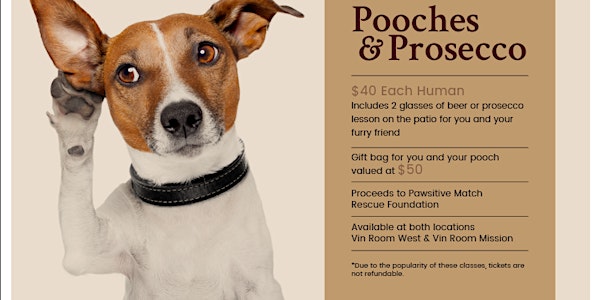 Pooches and Prosecco- Vin Room Mission
When and where
Location
2310 4 St SW 2310 4 Street Southwest Calgary, AB T2S 1X2 Canada
Description
Puppies and Prosecco - Training Classes on the Patio
Presented by Vin Room and Dogma Behaviour & Education Centre
Join us on our patio for a private group training class for you and your dog. All ages and sizes of dogs welcome. Ticket price of $40 for each human. Includes 2 glasses of wine, beer or prosecco, lesson on the patio for you and your furry friend, a bag of goodies worth of Neals Yard Remedies, Dry Cleaning by Dave, Champion Foods, Doodle Dogs, Bon a Pet Treat Bakery, and Momentum Health. Due to the popularity of these classes, tickets are not refundable. Due to the popularity of these classes, tickets are not refundable.
Net proceeds from these classes will be donated to Pawsitive Match Rescue Foundation.
How to make the best of your puppies and prosecco afternoon
- up-to-date on vaccinations
- people and dog friendly dogs only
- please bring small treats for training your dog
- no choke chains, prong or shock collars or retractable leashes
- please bring a 4-8' leash
Upcoming Classes


July 21st: urbanK9s

Our life in the city is full of many things that can be scary or confusing for our dogs. It is easy for us to forget how different our urban world is for our dogs and how stressful it can be. At dogma, our focus is creating the ideal urbanK9s of tomorrow; well-mannered and confident dogs we can take anywhere. This session will focus on key concepts and skills and share ways to help your dog better understand our city-life so that you can develop them into an ideal urbanK9.
August 11th:

Canine Mensa


Is your dog a genius? Mental stimulation is just as important, and often much more tiring, than physical stimulation but can be challenging for owners to keep these exercises fun. Come prepared to be amazed by how intelligent our dog's truly are as they learn to identify colors, count, solve puzzles, and use their senses in unconventional ways!
August 25th: Stress-Free Handling

Visits to the vets or groomers can be stressful on our dogs and they do not need to be. By taking the time to introduce some simple handling skills, we can prepare our dogs for the vet and/or groomers. This interactive and informative session will demonstrate some stress-free handling skills to make the vet clinic and grooming salon a fun experience. It can be done, and your vet/groomer will thank you for attending this session! Take the stress away for you and your dog.
September 8th: Ask the Trainer!

Did you know that most behavior problems in our dogs are normal dog behavior for them? Many of the challenges we have with our dogs are preventable or can be easily changed. During this information-packed session, our trainers will share with you some key concepts to help you effectively prevent and change behavior problems with your dog. Be sure to bring your questions as we will take the time to answer and help you resolve any challenges you may be having!