Description
POP-UP & COWORK II
Join Work Place and Hervana for a day of focus mixed with a dash of social. Bring yourself and whatever you need to be productive and we'll provide fuel in the form of coffee, spot on Wifi and an inspirational space to get stuff done. Each event presents an optional and informal Q&A with a guest entrepreneur and social hour, for those looking to mix and mingle with fellow freelancers and entrepreneurs. For the second instalment we invite Co-founder and Designer Lucy Gregory of Salt Design Co. to chat to you about community building- how Salt Design Co. create a successful strategy to engage online to methods for producing awesome real-world events.
SCHEDULE
9am - 9.30am / Arrive and set-up shop
9.30am - 10.30am / Coffee and Q&A with Lucy Gregory of Salt Design Co.
10.30am - 4.30pm / Cowork alongside fellow freelancers and entrepreneurs
4.30pm - 5.30pm / Social Hour
---
Pop-up & Cowork is a collaboration between Work Place and Hervana, currently taking place at 163 W Pender St. The series aims to open up alternative working environments and networks to the pop-up coworking community. The event first and foremost aims to provide a safe and accepting space. You can join this event without fear of feeling discriminated or left out. (If at any time you do feel harassed or uncomfortable, let us know and we'll sort that S*it out!) *Please note, this event is for everyone regardless of gender identification*
---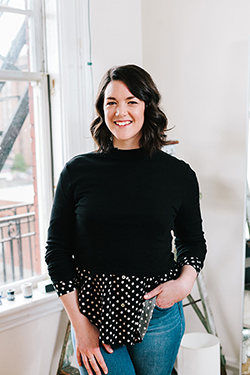 Lucy Gregory of Salt Design Co.
A versatile visual designer based in Vancouver, merging experience in photography, textiles, graphic design and social media. Lucy has a passion for connection and communication and is the voice of Salt Design Co.