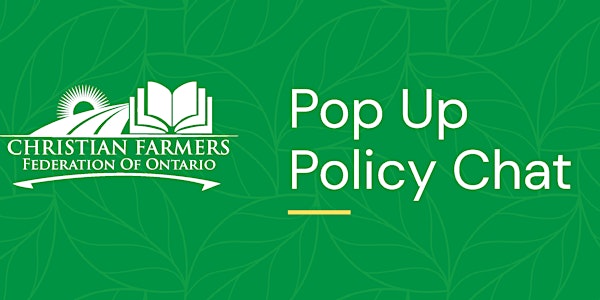 Pop-Up Policy Chat: Accessing Large Animal Vetrinarians
Join fellow CFFO members to discuss Accessing Large Animal Veterinarians and help create solutions.
About this event
Accessing Large Animal Veterinarians
How is the ongoing large animal veterinarian shortage impacting doing business on your farm?
We're interested in getting member feedback about challenges farmers are facing and ideas for solutions.
Presentations:
Dr. Sara Epp, University of Guelph on "Examining Need, Capacity, and Barriers to Accessing Food Animal Veterinary Services in Underserved Areas of Rural Ontario"
Darby Wheeler, Beef Farmers of Ontario on BFO Large Animal Veterinarian Working Group
Discussion to follow, including invited representatives from Northern Producer Animal Health Network.
Questions or comments, please contact Suzanne Armstrong, Director of Policy & Research, at suzanne@christianfarmers.org.