Sales Have Ended
Ticket sales have ended
Tickets for this event are no longer on sale.
Sales Have Ended
Ticket sales have ended
Tickets for this event are no longer on sale.
Putting the "live" in delivery, Theatre SKAM delivers the show to you!
About this event
This summer, Theatre SKAM's Pop-Up Theatre returns to Victoria! Written and performed by four emerging artists, Pop-Up shows are 15 engaging minutes of fun, light-hearted skits brought to you on the back of our pick-up truck. Our aim is to bring you the spirit and excitement of live theatre right to your doorstep.
Pop Up shows are popular for birthday parties, community events, family nights (all shows are family-friendly), or get togethers with friends. Now that we've gotten your attention, all you need to do is choose between whichever program description tantalizes you the most!
SHOWS
Hearty Stew
Stories to put a warm glow in your heart. Featuring a decades-old feud between two wacky rivals, a musical about the minor inconveniences of Covid, a search for happiness, and siblings finding a way to cope after a loved one passes away. Play titles: Life Can Be a Musical, Skydancers, Choosing Light, Teddy.
Dine n' Dash
For the adventurous, and those who aren't afraid to dive into the unknown! Featuring kittens, diving boards, a tax collector, and a mystical quest. Play titles: The Great Escape, Diving Lessons, Sir Harold, Selene Versus the Darkness.
Mystery Meat
Who knows what the cafeteria has in store for you today! But we can ensure you it'll be a tasty comedic treat. Featuring construction workers, an office crush, and Detective Sheryl Holmes. Play titles: A Well-Constructed Compliment, (Also Me)et Cute, The Last Case.
Hot Wings with a side of Ranch
So spicy, they're almost on fire. Can you handle the heat? Pick this one if a deserted island, romance, and hints of smoke entice you.  Play titles: The Sixth Scent Brothers, La Paloma Magica, Stranded.
One ticket = one booking for a 15-minute show
for an audience of one to a maximum of 50. For back-to-back shows, please register as two separate tickets.
You will be asked to choose a general time slot within which your delivery will happen. Your exact show time will be emailed to you no later than 24 hours before we pop up! If you would like to request an exact time, please do so in the notes section of the booking.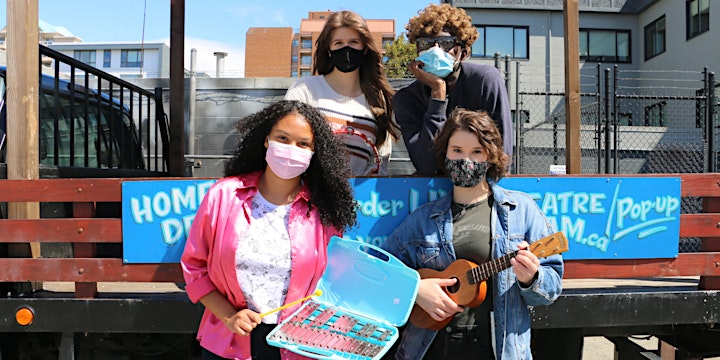 POP-UP SHOWS ARE BY DONATION
You pay what you want: if you would like to see a show for free, that's a-okay. Our donation suggestions are:
$20 - covers fuel
$60 - covers actors wages
$100 - what we think the show is worth
>$100 - pays it forward for someone else
Cash donations are accepted (contactless) on site. You can always book for free, or for $20, invite friends and encourage them to bring donations.
If you prefer a charitable tax receipt, or if your guests wish to contribute, you can give through our CanadaHelps link at www.skam.ca/pop-up.
SPACE REQUIREMENTS
The Pop-Up Truck needs a relatively flat space of 30 feet/two car lengths to park with six metres between audience members and performers. Audiences must follow current health orders. For questions, please email popup@skam.ca.
We currently serve Victoria, Oak Bay, Esquimalt, Saanich and View Royal.