Get to know some of the biggest players in the mid-Vancouver Island Marine Sector, and find out what opportunities are waiting for you!
About this event
PORT CONNECT, co-presented by the Nanaimo WorkBC Centre and the Port of Nanaimo, is thrilled to be back for its third year! This is your chance to hear from leaders from the regional Marine Sector, and to learn about career opportunities, upcoming projects, and insights about the future of this vibrant industry.
Companies featured will include:
10:00am - BC Ferries - Dana Tremblay
10:30am - BC Vehicle Processing Centre - Ryan McGillis
11:00am - DP World (Dubai Ports) - Pamela Ellison
11:30am - Herold Engineering - George Hrabowych
12:00pm - Seamor Marine - Robin Li
12:30pm - Seaspan Ferries - Rocky Minhas
1:00pm - WCMRC (Western Canada Marine Response Corporation) - Chris O'Malley
1:30pm - Port of Nanaimo - Rodney Grounds & Patrick Belanger
Starting at 10am, the Marine Sector video interviews will be published to the WorkBC Nanaimo Facebook Page (https://www.facebook.com/WorkBCNanaimo/) and within the Event Page on Facebook (https://fb.me/e/1RImgoAVM).
If you're not able to join at the time of the videos, don't worry! The videos will remain on our Facebook page, so tune in when you can.
If you'd prefer not to use Facebook, please send an email to p.mcgee@gthiringsolutions.ca, and I'll make sure you're sent direct links to view the Port Connect videos tomorrow.
Thank you, and we look forward to having you join us for Port Connect 2020!
Peter McGee.
Community Engagement Manager
Nanaimo WorkBC Centre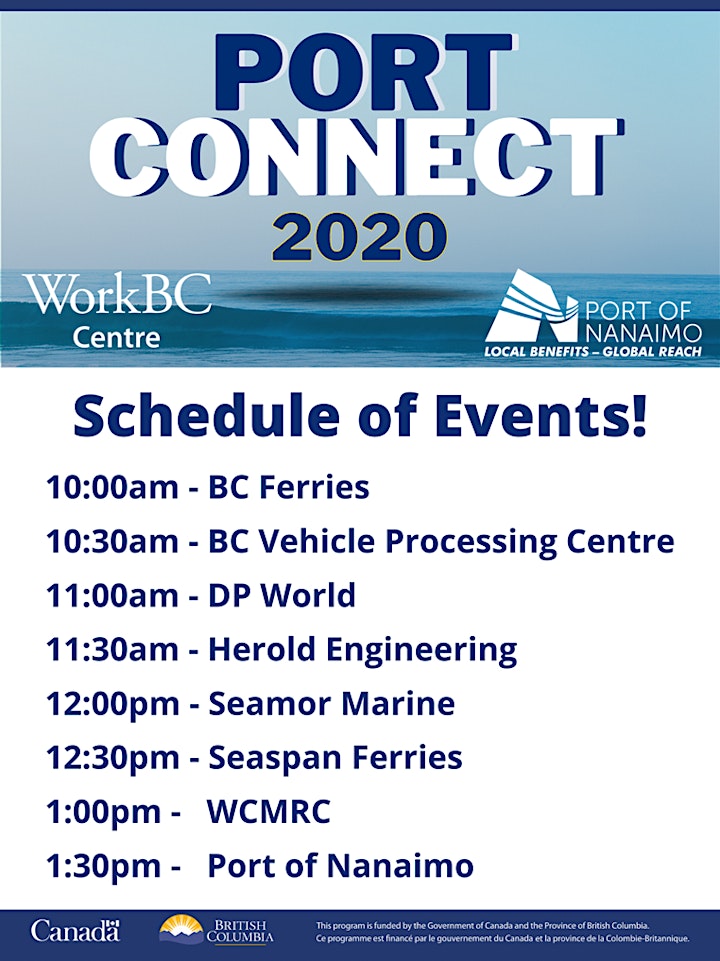 Organizer of Port Connect 2020
WorkBC Centres are here to help you find your next job. Access job search resources, employment planning, skills assessment, training, work experience placement and more. Get started using online services or visit your local WorkBC Centre today.
Visit https://www.workbc.ca/Employment-Services/WorkBC-Centres.aspx for more information and to find your nearest WorkBC Centre.