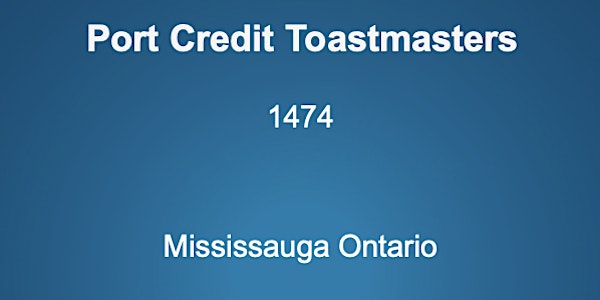 Port Credit Toastmasters Monday evening Meetings guests are always welcome!
Are you ready to practice public speaking, improve your communication and build leadership skills?
About this event
What's in it for you?
Improved communication
Toastmasters will give you the skills and confidence you need to effectively express yourself in any situation. Whether you are a mature manager, student, young professional, career advancer or looking to make an impact in your community, Toastmasters is the most efficient, supportive, enjoyable and affordable way of gaining great communication skills. You'll improve your interpersonal communication and be more persuasive and confident when giving speeches.
Build leadership skills
While some are born confident, charismatic leaders, others must work to develop their leadership skills. Through Toastmasters, you'll gain the practice to become the leader and speaker you want to be. You will also sharpen your management skills, become a better negotiator, gain trust and inspire your team. Learn to be decisive!