Description
{français ci-dessous}
On Saturday, May 11th join us for a garden party experience, right in our studio! Free entrance gets you a chance to tour the studio where our products are made, make yourself a DIY party hat, shop our sample sale, and grab snacks and a beverage in the studio "garden" we will have set up just for you. Held the day before Mother's Day, this is a great opportunity to pick up a little gift, too. This event is open to the public, and we'd really like to see all of Dot & Lil nation come out and have a great time.
We are also offering a VIP ticket option this time around, which entitles you to a special fragrance consultation. You will choose from some of our key fragrance notes to create a custom scent, and leave with a 5ml vial of it just for you. VIP ticket holders also receive a VIP gift and 10% off any showroom or sample purchases.
See you there! Please share the event and let us know on Facebook how excited you are!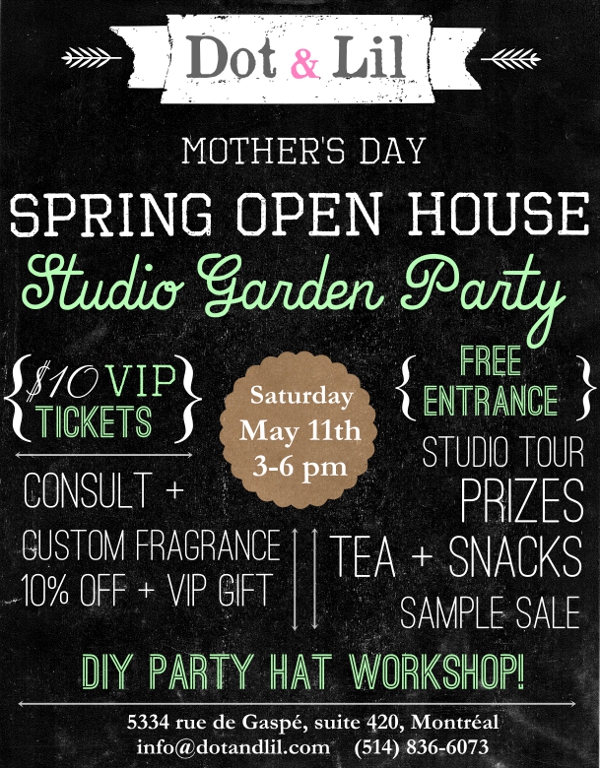 --
Le samedi 11 mai, joignez-vous à nous pour une expérience 'Garden Party', à l'intérieur de notre atelier! L'admission générale inclue une visite de l'atelier où nos produits sont fabriqués, un atelier de fabrication de chapeau de fête (mignon!), vente d'échantillons, et breuvages + bouchées dans notre "jardin" qu'on aura installée juste pour vous! Comme ce sera le jour avant la fête des mères, c'est aussi l'opportunité parfaite de choisir un petit cadeau pour maman. Cet événement est ouvert au public, alors on espére voir tous les fans Dot & Lil!
On offre également une billet VIP pour cet événement, qui inclue une consultation pour une fragrance sur mesure et une bouteille de 5ml de votre création spéciale. Le billet VIP vous donne aussi un 10% de rabais sur tous vos achats d'échantillons ou de la collection normale.
On se voit à l'atelier le 11 mai! S'il vous plait partager l'événement et dites nous sur Facebook que vous y serez!