Event Information
Refund policy
Contact the organizer to request a refund.
Eventbrite's fee is nonrefundable.
Art Intensives Camp is designed to accelerate learning & creative growth with personal guidance from an Artist!
About this event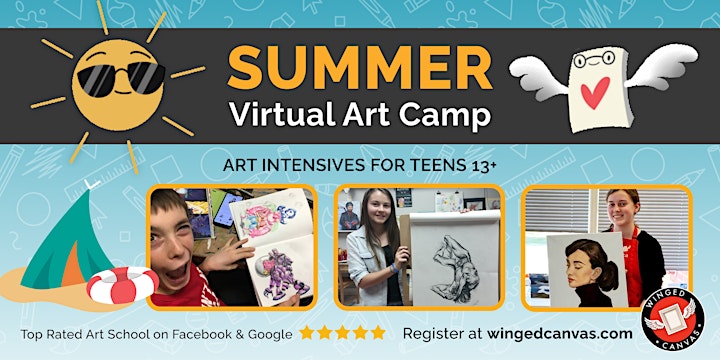 🧑 This is a drawing and painting program suitable for those who want to expand their skillset in capturing realistic faces and portraits, under the guidance of figurative artist Fei Lu. Students will learn facial proportions and realistic drawing fundamentals such as value, shading, skin tones, and painting techniques such as colour mixing, brushwork, glazing, blending and layering.
Try a variety of media, such as pencil, coloured pencils, pen, watercolour, acrylic, oil, or digital! Demonstrations will be done in pencil, coloured pencil, acrylic and digital.
📆 Mon August 23 - Fri August 27, 2021 | Full Week: 5 Day Camp (15 hours total)
🕚 Daily Schedule: Morning & afternoon sessions 11am-3pm EDT/EST
11:00am - 12:30pm EDT/EST
1 hour Lunch Break
1:30 - 3:00pm EDT/EST
👩‍🏫 Lessons: Drawing Facial Proportions, Value / Monochromatic Portrait, Skull Studies, Skin Tones, Step by step portrait
📁 Projects: Realistic portrait in pencil, caricature in coloured pencil, painting in acrylic / oil, one open subject painting of your choice.
🎨 Materials:
Acrylic or Oil Paints:
Simple Palette: White, Black, Brown, Primary Yellow, Red and Blue OR
Expanded Palette: White, Black, Burnt Sienna, Burnt Umber, Cadmium Red, Alizarin Crimson, Cadmium Yellow, Yellow Ochre, Ultramarine Blue, Phthalo Blue
Canvases x 2 (8 x 10" or larger)
Brushes: 1" Large Flat, 1/2" Medium Flat, Medium Round, Small Round.
Palette (or wax paper taped on table / on clipboard)
Palette knife
Paper towels or rags
Drawing paper
Pencil and Eraser
Coloured Pencils
Optional: Watercolour
Students may also work digitally!
Check our website for more info (& related camps: Figure Drawing, Landscape Painting, Digital Painting, Illustration)
Signing up for multiple camps? Register on our website for a discount!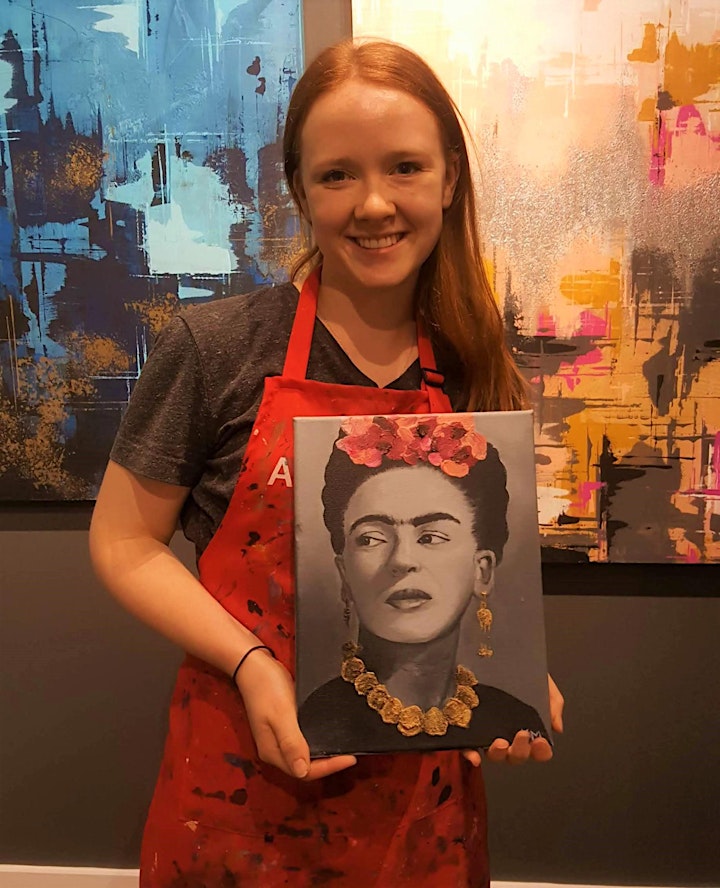 Frida Kahlo Portrait Painting by student
Equipment for Virtual Art Classes:
For the best experience, we recommend connecting to our virtual Art Intensives Camp with a webcam and mic so our teacher may provide instant live feedback. 💻 Students without a webcam or mic may participate through the chat function, and get individual feedback online through Google Classrooms. See How Virtual Learning Works!
Date and time
Location
Refund policy
Contact the organizer to request a refund.
Eventbrite's fee is nonrefundable.
Organizer of Portrait Painting (13+) Art Intensives for Teens
Winged Canvas is a visual arts school specializing in virtual art programs and art mentorship. Our instructors are professional illustrators, designers, and animators with a passion for teaching. We host virtual art parties, corporate events and custom workshops for schools. We also design art resources for classrooms, and provide free art tutorials on our YouTube channel, helping teachers and homeschoolers access quality visual arts education from home.
We ❤ Art Nerds! Winged Canvas is an online community for art nerds around the world ☻. We are dedicated to nurturing creativity and artistic skills because we believe art is essential to humanity.
☞ Wingedcanvas.com | ✉ hello@wingedcanvas.com