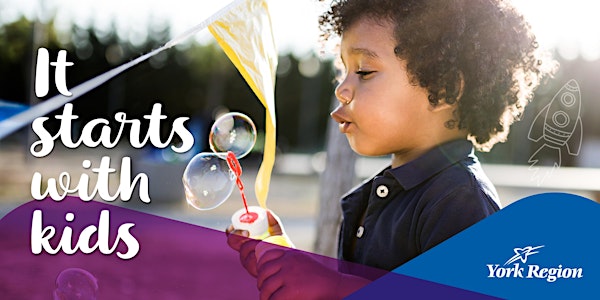 Positive Early Childhood Education (PECE) - Coach Accreditation
Join the Positive Early Childhood Education (PECE) Coach Training Program for Supervisors working in York Region.
About this event
PECE Program
Powered by Triple P Positive Parenting Program
The Positive Early Childhood Education (PECE)Coach training is delivered in 4 half day sessions, followed by a pre- accreditation and accreditation session.
Center directors, lead teachers or supervisors complete virtual training, where they learn the content and the consultation skills necessary to support educators using the online PECE modules. See below for additional program details.
Participants are required to attend all sessions, please see below for training dates and times:
Training: May 31, June 2, 7 & 9, 2022
9:00 A.M. - 12:30 P.M.
Pre-accreditation: June 28 & 29
9:00 A.M. - 12:30 P.M.
Accreditation (attend one of the following): July 5 OR 12
Half day session
This session will be facilitated via Zoom and you will receive a link before the session takes place.
About the Program:
The Positive Early Childhood Education (PECE) Program is a professional learning program aligned with the world-renowned Triple P – Positive Parenting Program®. The PECE Program seeks to enhance the skills of early childhood educators, with tools to have a positive impact on the development of children in their care. This ultimately promotes children's academic development, social competence and self-control, and enhances educator/child relationships as well as communication with colleagues and parents.
This proven program has been shown to reduce workplace stress and increase job satisfaction for happier workplaces with the benefits of successful and consistent teamwork in the Early Learning and Care Sector.
The evidence-based program is based on research about what works to have a calm and positive atmosphere in early learning settings (including home-based). The online PECE course is a professional learning program designed to promote positive self-regulation and social competencies in children while fostering strong educator/child relationships as well as those with colleagues and parents.
About the Presenters:
Dr. Shawna Lee & Dr. Geraldine Lyn-Piluso
Shawna and Geraldine are accredited Triple P/PECE trainers and Professors in the School of Early Childhood Education at Seneca College. Shawna is the primary PECE researcher and has delivered training and presentations about PECE across Canada, and internationally (including Australia, China, UK, US and Germany). Shawna and Geraldine were both involved in research using PECE at Seneca College and Shawna has been involved in research with the Region of York – Early Intervention Services in a pilot project with PECE, resulting in the current full implementation of PECE in Inclusion Support Services.
For more information about this program please visit http://www.peceprogram.net/ or email Contact.canada@triplep.net
Please note that this professional development opportunity may be eligible for reimbursement of time through workforce funding. If you have any additional questions about Workforce Funding, please email workforcestrategy@york.ca
Alternatively you can email capacitybuilding@york.ca
York Region Children's Services