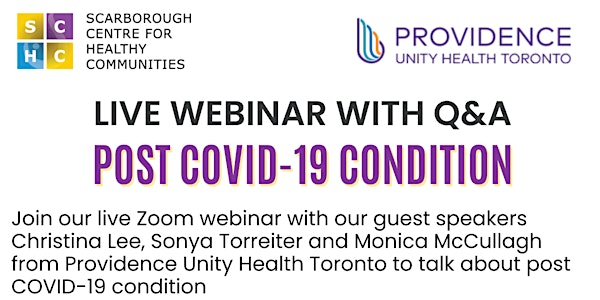 Post COVID-19 Condition
Join us to learn about Post COVID-19 Condition: What it means and how to avoid it!
About this event
Post COVID-19 condition sometimes called Long COVID or Long Haul COVID refers to physical or psychological symptoms that persist more than 12 weeks after getting COVID-19.
This live webinar experts from Unity Health Toronto - Providence Healthcare will talk about
o The Unity Health Toronto Outpatient Post-COVID Condition Rehabilitation Program
o Definition of Post-COVID Condition
o Common symptoms associated with Post-COVID Condition
o General principles and approaches for managing symptoms
Bring your questions as there will be a live Q&A!
Participants who complete the session evaluation will be entered into a draw to win a 50$ gift card.
Register today!