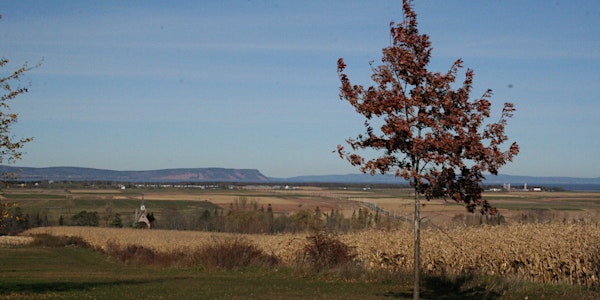 Post-event ICOMOS Canada tours
Refund Policy
Contact the organizer to request a refund.
Description
The ICOMOS Canada post-event tours are a great opportunity to discover some of the gems of Nova Scotia and continue the discussion on Connection to Place through visits that will stimulate the senses and the mind. A choice of three visits are offered.
The agricultural and memorial experiences of the Landscape of Grand Pré - This visit offers you the opportunity to discover some of the values associated with the World Heritage site and taste one of the richest culinary destinations in Nova Scotia. The tour includes a visit to Grand-Pré National Historic Site, an introduction to the World Heritage site, lunch at one of the wineries, and a wine tasting experience at the internationally acclaimed Benjamin Bridge winery.
The architecture and traditions of Lunenburg - One of the earlier European settlements in Nova Scotia, it became Nova Scotia's first World Heritage site for its architecture, site plan, and the traditions associated with the once thriving fisheries. This tour includes a walking visit of the townsite, access to the Fisheries Museum, a sneak peak at the Bluenose, lunch, and the Ironworks Distillery.
The changing face of Halifax's North End - Associated with tragedy since the early 1900s, the North End is synonymous with a dynamic social, architectural, and cultural community. This walking tour will introduce you to the stories behind the famed Halifax explosion of 1917 in the Hydrostone neighbourhood as well as to the forced relocation of Africville and its residents. The tour includes a guided visit of the Hydrostone, lunch, and admission to the Africville Museum.
*******
Les tournées post-événement d'ICOMOS Canada sont une excellente occasion de découvrir quelques trésors cachés de la Nouvelle-Écosse et de continuer la discussion sur la connexion au lieu à travers des visites qui stimuleront les sens et l'esprit. Un choix de trois visites est offert.
Les expériences agricoles et commémoratives du Paysage de Grand-Pré - Cette visite vous offre la possibilité de découvrir certaines des valeurs associées au site du patrimoine mondial et de goûter l'une des plus riches destinations culinaires de la Nouvelle-Écosse. La visite comprend une visite au lieu historique national de Grand-Pré, une introduction au site du patrimoine mondial, un déjeuner dans l'un des vignobles et une expérience de dégustation de vins au vignoble Benjamin Bridge, l'un des plus primés à l'international de la province.
L'architecture et les traditions de Lunenburg - L'un des premiers établissements européens en Nouvelle-Écosse, est devenu le premier site du patrimoine mondial de la Nouvelle-Écosse pour son architecture, son plan d'implantation et les traditions associées aux pêcheries autrefois prospères. Cette visite comprend une promenade guidée de la ville, l'accès au Musée des pêches, un aperçu du Bluenose, un déjeuner et un accès à la distillerie Ironworks.
Le visage changeant de North End de Halifax - Associé à une tragédie depuis le début des années 1900, le North End est synonyme d'une communauté sociale, architecturale et culturelle dynamique. Cette visite à pied vous présentera les histoires derrière la célèbre explosion d'Halifax de 1917 dans le quartier d'Hydrostone ainsi que la relocalisation forcée d'Africville et de ses habitants. La visite comprend une visite guidée de l'Hydrostone, un déjeuner et l'entrée au musée Africville.