You asked, we answered! After over a year of mostly virtual programming, we are excited to welcome clients to gather in our space.
About this event
PLEASE NOTE THIS PROGRAM IS CURRENTLY VIRTUAL ONLY.
Welcome to Birth Mark's drop-in group for postpartum parents.
We've heard from many of our clients that their postpartum experience would benefit from participating in a support group. Our Postpartum Parent Drop-In is a space where clients can come with their new baby and connect with other new parents. We will be discussing realistic ways to get parents' needs met, while creating a space for sharing stories and experiences.
This group is open to Birth Mark clients and participants of our partner organization's programs who are postpartum parents.
This drop in program will run from January 21st to April 1st, 2022. Please join us live over Zoom.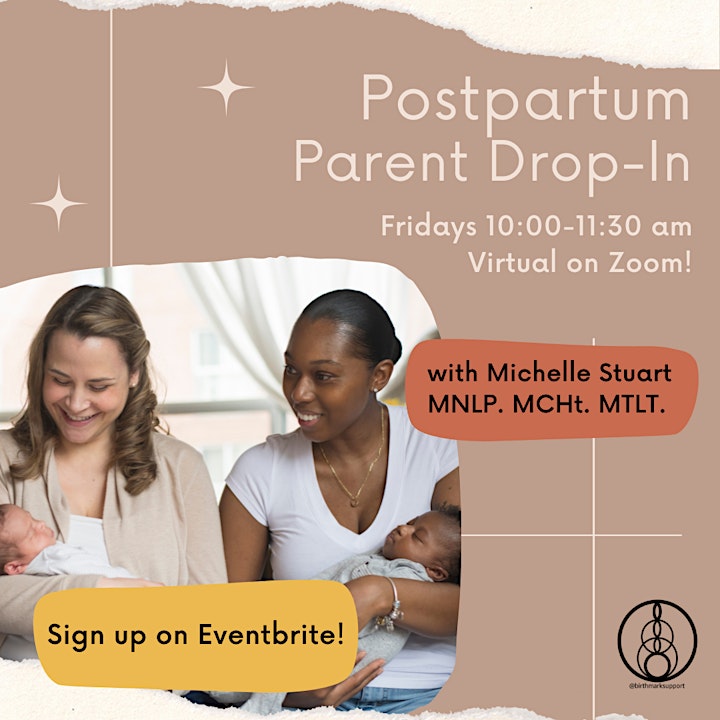 All participants will receive raffle tickets to be entered in a prize draw in April.
This group will be led and facilitated by Michelle Stuart, MNLP. MCHt. MTLT. (Master NLP Coach and spiritual guide). Each week our group will be supported by one of our many professional doulas and team members.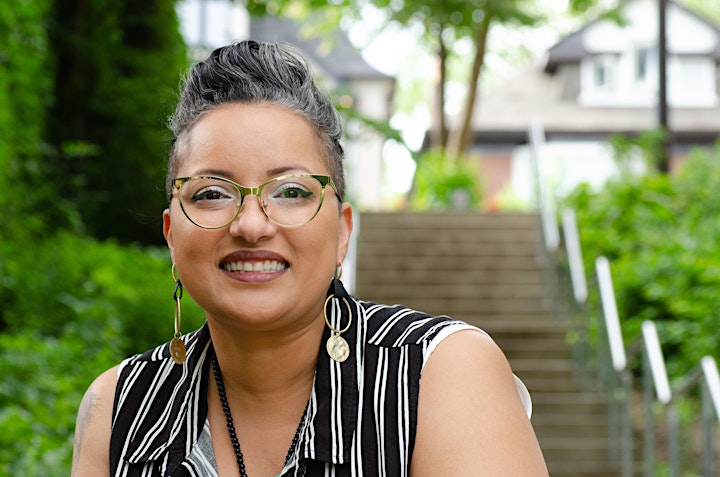 About your facilitator:
Michelle Stuart (she/her) sits on the board of Directors at Birthmark Doula Support and holds the seat of Director of Equity Diversity and Inclusion. She is a Master level Neurolinguistic Coach and Hypnotherapist as well as a Mentor and Spiritual Guidance facilitator. She was born and raised in Southern Africa (Zimbabwe and Botswana specifically) and was the first of her family to immigrate to Canada in 2001. She has dedicated her entrepreneurial life to making empowerment and mentorship accessible to the people who want and need them. She lives in the heart of Toronto with her partner, the lovely Maria. When she's not hosting workshops, coaching, or continuing her education in the human transformation field, she lets loose with her lovable puppy Wolfred, who you may meet from time to time as he is also the Chief Happiness Officer of Ellevate Empowerment, Michelle's Coaching Practice.
Organizer of Postpartum Parent Drop-In (VIRTUAL)
Birth Mark is a charity providing a safe, compassionate, non-judgmental space for women, pregnant people and families to feel empowered, supported and informed.
Welcome to Birth Mark! We are a registered charity providing reproductive doula support to folks in Toronto. Our role is non-medical and provides continuous care in the form of emotional, physical, and informational support. We are a source of knowledge and comfort to our clients as they navigate pregnancy, childbirth, and early parenting while dealing with the obstacles often faced by our focus population in today's society. There is no cost to our clients to access our services.
Birth Mark doulas pursue social change by assisting at-risk and marginalized individuals and their families in the navigation of the systems of sexual health, reproductive health & infant care in Toronto. The doulas' efforts in relation to social change are focused primarily on helping clients find their own voice to advocate for the care that they want and deserve from the public medical system. Through this work, the obstacles to receiving care faced by marginalized individuals are mitigated. These issues include but are not limited to: poverty, discrimination, citizenship status, race, gender, sexual orientation, etc. Our activities seek to promote access to information, services, and resources that these individuals may need; equality of opportunity; and meaningful participation in decision making for themselves, their babies and their families.