Awaken your sense of wonder and curiosity by making a book with nature!
About this event
Spend the day creating a journal that connects you to the land. In the first half of the day, participants will explore the Leighton Art Centre property to gather materials, and will learn mixed media techniques for working on unique surfaces, including birch bark, poplar fibre, wasp nests, leaf skeletons, sticks, cattail spikes and more. The second half of the day participants will turn their creations into the pages of a handcrafted book.
This workshop is part of our Earth Art Series – come for one or come for them all!
Audience: This workshop is suitable for adults who are interested in discovering the creative possibilities of nature-based art! All levels of experience are welcome.
Weather: In case of rain, activities will be performed inside the museum or one of the art studios of the Leighton Art Centre. Extremely poor weather may result in cancellation. For our cancellation & refund policy, please see below.
Supplies: Please bring the following supplies to the workshop.
• A water bottle, bagged lunch, and any snacks you may need to enjoy your day!
• Weather appropriate clothing and good footwear
• Optionally, you may want to bring a foldable, portable lawn chair to sit on!
• Optionally, you may want to bring your own natural materials – sticks, flowers, bark, beads, and feathers may be a wonderful addition to your handmade books! Participants will also spend time gathering materials on the Leighton Centre property during the workshop.
• Optionally, if you have experience carving (especially if you have taken our "basic knife skills" workshop) you may want to bring your fixed-blade carving knife along with you!
Registration cost:   $115 plus GST & Eventbrite Fees* 
* Or register by phone: 403-931-3633, Mon-Fri, 10 am – 4 pm to avoid Eventbrite fees 
Did you know that Members of the Leighton Art Centre get 10% off the registration cost of all workshops and kids' summer camps? Please visit  https://leightoncentre.org/join-us/become-a-member/.
All participants must sign our Covid-19 Liability waiver prior to their participation in a workshop. You can view our Covid-19 liability waiver here: https://leightoncentre.org/workshop-covid-19-liability-release-waiver/
Cancellation and Refund Policy: Please note there is a NO REFUND policy on all Leighton Art Centre workshops. A refund will be only be issued to participants if the workshop is cancelled by the workshop coordinator due to insufficient enrollment, extreme weather conditions, or Covid-19 restrictions. Workshops may be cancelled prior to the start date and participants will be notified via email and/or phone, and a full refund will be processed.
Withdrawal from workshops for medical reasons must be accompanied by a doctor's medical note and must be received by the Leighton workshop coordinator prior to the workshop start date to be qualified for a full refund.
Artist Biography
Andrea is inspired by the changing seasons and the colours and textures of the natural world. When she's not wandering around the forest making Land Art, she's in her studio making wooden jewelry and mixed media art. She feels lucky to have grown up surrounded by people who made beautiful things. As a child, she spent a lot of time exploring different art forms and started making wooden jewelry when she was a teenager. She spent the next decade going to University, working to protect the environment and making Earth Art.
It wasn't until she became a mom and moved to Calgary that she was able to focus on her art full time. For the past 12 years, she's been selling her jewelry and mixed media art at local galleries, art markets and online. She also regularly offers Earth Art workshops for adults, youth and children at her home studio and in the forest.
You can find her Earth Jewelry collection at The Leighton Art Centre Gallery Shop and on her website. You can find her mixed media art on her website or follow her daily practice on Instagram @andreamerredew
To learn more about Andrea and her art, please visit her website: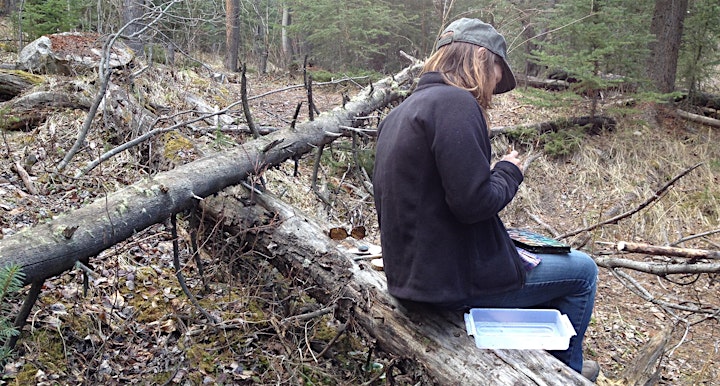 Organizer of POSTPONED Adult Earth Art Series: Eco Art Journaling with Andrea Merredew
The Leighton Art Centre is located on 80-acres of spectacular foothills landscape 20 minutes SW of Calgary. As a museum, art gallery and education space, the Leighton Art Centre offer visuals art exhibitions, festivals and sales, education programs and hands-on workshops for artists of all levels.   
The Leighton Art Centre is a not-for-profit organization, we encourage admission by donation.