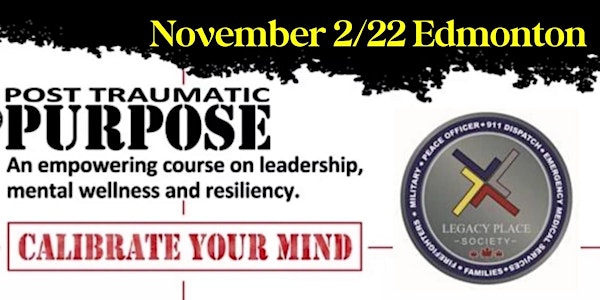 Postponed Edmonton Nov 2/22 First Responder Suicide Awareness Conference
Compelling, relatable, motivating message - with respect & humor from lived experience in the world of first responders & military.
When and where
Location
Italian Cultural Centre 14230 133 Ave NW Edmonton, AB T5L 4W4 Canada
About this event
Hi participants - we are disappointed, however unfortunately due to circumstances beyond our control this conference needs to be postponed. We will reschedule in April 2023. Those registered have been notified and orders are being refunded.
Diana Festejo Executive Director Legacy Place Society
About the speaker:Travis Howze is an international touring speaker, author, and motivational wellness educator who spent 14 years in the military and emergency services as a U.S. Marine, Police Officer and Firefighter. https://www.travishowze.com/From taking human life to being assigned to the body recover team of 9 brother firefighters, including one of his best friends, Travis was plagued with extreme Post Traumatic Stress dating back to early childhood. With little to no resources available during his recovery, he decided to become a resource by developing "Post Traumatic Purpose - an empowering, educational course and keynote presentation on Leadership, Mental Wellness and Resiliency."
Authentically raw and uncensored, Post Traumatic Purpose gives a realistic view of the mental health epidemic that plagues our first responders and their families. Travis' transparent approach builds a relatability that not only connects with the individual responder but their families; including spouses who are always encouraged to attend in hopes of promoting career and family longevity.
His motivational message focuses on mental health; targeting in on signs and symptoms affected personnel may be displaying through various behavioral patterns and changes, ways of coping with trauma as it applies to the individual, the family and the team. Travis provides a holistic talk by covering various available resources, the culture and why many never seek help. He is the author of the Best Selling book and top ranked Podcast both titled, "Create Your Own Light."
For over a decade, he has had the pleasure of speaking and teaching to departments nationwide and countless emergency services and mental health conferences, including law enforcement, firefighters, clinicians, the FBI, SWAT teams, private mental health organizations, and the top nationally ranked university student veterans' program.
Since 2017, Legacy Place Society has collaborated with the local Alberta first responder
agencies and military personnel, in presenting annual Suicide Awareness Conferences in
both Calgary and Edmonton AB. Over 4000 attendee's, including spouses, partners, and friends from the home front along with those from within the workplaces of Law Enforcement, Emergency Medical/Fire Services, 911 Dispatch, Veterans, and the Canadian Armed Forces have benefited from attending.
The reshaped conversations have brought hope, awareness, validation, practical insights, sharing of resources and networking opportunities around the subject of suicide and mental health and wellness.
ABOUT LEGACY PLACE SOCIETY
Law Enforcement, Emergency Medical/Fire Services, 911 Dispatch, Health Care Providers, Veterans and Military Personnel face horrific, personal, complicated and devastating situations on the work front and often find themselves working hard to find a balanced life perspective on the home front.
Legacy Place Society exists to build family resiliency and legacies of hope to withstand the unique challenges of the sights, sounds and carnage these professions are constantly exposed to. The very nature of their daily work within these professions can create emotional and physical havoc. The vicarious trauma, PTSD, operational or occupational stress injuries and the psychological and physiological demands of the profession can become major stressors on the individual and their family.
Legacy Place Society promotes a shared responsibility approach that encourages the individuals and their families to steer themselves through the everyday adversity, reframe the difficult realities of the profession and to encourage daily behaviors that are conducive to recharge and re-engage with themselves, their family and work place.
Our objectives focus on:
Confidential Help Line (403-201-9945) to facilitate the call to professional and peer support resources.
Legacy Place Houses – home away from home during times of personal crisis (located in Calgary, Edmonton and Red Deer).
Education Partnerships including a broad range of workshops, conferences, family camp and webinars that support mental health/suicide awareness, peer support, relationships and family outreach.
Legacy Place Society is a not for profit registered charity #891549420