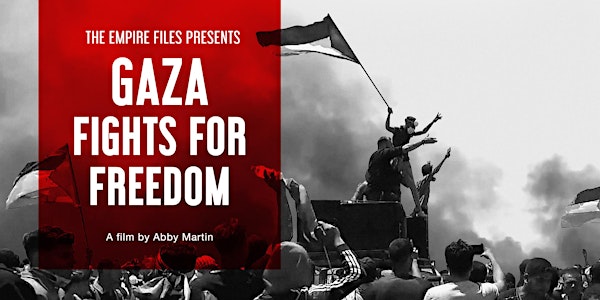 POSTPONED - Film: Gaza Fights for Freedom with Abby Martin (director)
Documentary: Gaza Fights for Freedom featuring the director, Abby Martin (via skype)
When and where
Location
Bahen Centre for Information Technology 40 Saint George Street Room 1190 Toronto, ON M5S 2E4 Canada
Refund Policy
Contact the organizer to request a refund.
Eventbrite's fee is nonrefundable.
About this event
16th annual Israeli Apartheid Week 2020: United Against Racism
Documentary: Gaza Fights for Freedom featuring the director, Abby Martin (via skype)
Childminding & accessibility requests welcome by Feb 25, 2020: saia.opirg.uoft@gmail.com!
The University of Toronto's Students Against Israeli Apartheid and UofT's Independent Jewish Voices welcomes you to a viewing of the documentary, Gaza Fights for Freedom followed by discussion with the director, Abby Martin (via skype). The documentary reveals the Israeli military shoot-to-kill policy against protestors in Gaza, Palestine who are seeking to challenge the blockade and return to the homes they were expelled from. The majority of the inhabitants of Gaza are refugees that have been ethnically cleansed by the Israeli state and its military from their lands and homes in other parts of Palestine.
Abby Martin is a groundbreaking and renowned journalist, TV presenter and filmmaker based in the U.S. In 2015, Abby launched The Empire Files, an independent documentary & interview series reporting on war & inequality from the heart of Empire. Abby Martin will reflect on the collective experience of producing the documentary, and the importance of military divestment. She will also talk about the recent lawsuit she filed against the state of Georgia's (U.S.) anti-BDS legislation, and ways to push back against the criminalization of the Boycott, Divestment & Sanctions movement.
Gaza Fights for Freedom is a debut feature film by Abby Martin began while reporting in Palestine, where she was denied entry into Gaza by the Israeli government on the accusation she was a "propagandist." So Abby connected with a team of journalists in Gaza to produce the film through the blockaded border. This collaboration shows you Gaza's protest movement like you've never seen before. Filmed during the height of the Great March Of Return protests, it features riveting exclusive footage of demonstrations. The documentary tells the story of Gaza past and present, showing rare archival footage that explains the history never acknowledged by mass media. You hear from victims of the ongoing massacre, including journalists, medics and the family of internationally-acclaimed paramedic, Razan al-Najjar. At its core, 'Gaza Fights For Freedom' is a thorough indictment of the Israeli military for war crimes, and a stunning cinematic portrayal of Palestinians' heroic resistance.
Watch the trailer here!
About Israeli Apartheid Week 2020: United Against Racism
The Boycott, Divestment & Sanctions (BDS) movement at the University of Toronto welcomes you to join us for the 16th annual Israeli Apartheid Week (IAW) 2020 under the banner of United Against Racism. We are deeply honoured and overjoyed to host legendary freedom fighter and renowned intellectual, Dr. Angela Davis, for the opening keynote of IAW on International Women's Day, Sunday, March 8 at 6pm on the theme, Justice Is Indivisible.
IAW2020 also features the radical visionaries and anti-prison activists, Yafa Jarrar (via skype) and Devyn Springer on Thursday, March 12 at 6:30pm on Break the Empire's Chains: Free Gaza & All Political Prisoners. On Tuesday, March 17 at 6:30pm, join us for a viewing of the documentary, Gaza Fights for Freedom featuring the groundbreaking director, Abby Martin (via skype).
IAW 2020 calls on progressive movements, groups and organizations fighting all forms of racism, racial discrimination, marginalization and oppression to join forces. It advocates for Palestinian rights in the context of global struggles against racial oppression. It is more urgent than ever to join together our struggles for freedom, justice, equality and dignity and to recognize that Israel's far-right regime is a key partner of authoritarian and even genocidal regimes worldwide, supplying them with deadly military and security technologies.
The BDS movement at UofT dedicates IAW2020 with profound love and admiration to the people of Gaza, Palestine for their courage and steadfastness (summoud, الصمود). IAW2020 at UofT interrupts the prevalent silence on the Israeli blockade that has turned this tiny seaside strip into the world's largest and most populated open-air prison. It brings attention to the atrocious human rights situation and routine violences facing the Palestinians daily under Israeli apartheid.
Calling all volunteers! Join the IAW2020 team here! People of all experiences are welcome Training and support will be provided.
Endorse IAW2020 by email: saia.opirg.uoft@gmail.com.
Organizers & Partners:
UofT's Graduate Student Union's BDS Caucus
UofT's Students Against Israeli Apartheid
CUPE 3902's BDS Committee
CUPE 3902's Racialised Workers Caucus
UofT's Independent Jewish Voices
Sponsored by:
CUPE Local 1281
OPIRG Toronto
Endorsed by:
Palestine Youth Movement
CUPE Ontario District Council - Toronto, Local 9103
Caribbean Solidarity Network
Casa Salvador Allende
Latin American & Caribbean Solidarity Network (LACSN)
Women's Coordinating Committee for a Free Wallmapu
Coalition Against Israeli Apartheid
CUPE Local 1281
OPIRG Toronto
Faculty for Palestine (F4P, University of Toronto)
Students for Justice in Palestine, Ryerson University
Palestine Solidarity Collective, York University
No One Is Illegal
UofT Leap
Upping the Anti
Vegans for BDS
International Jewish Anti-Zionist Network-Canada (IJAN-Canada)
Women in Solidarity with Palestine (WSP)