Description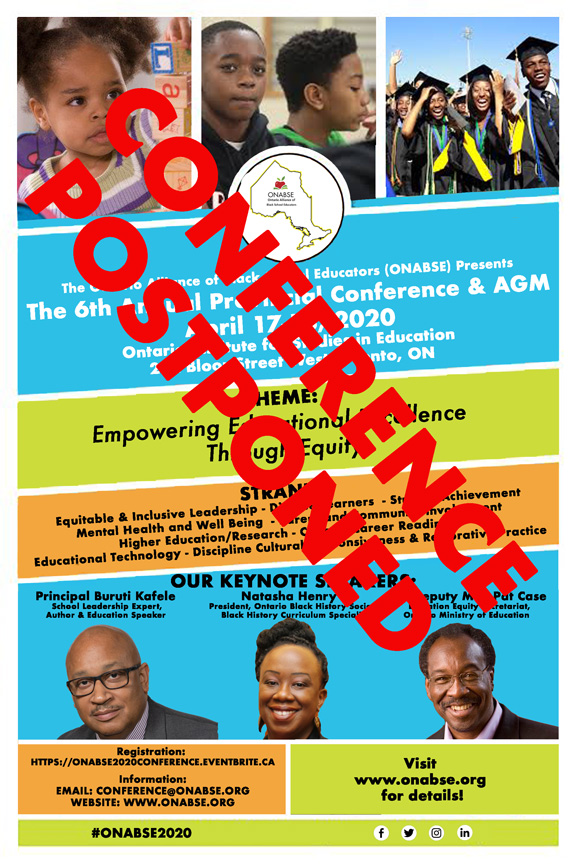 Dear ONABSE Members, 2020 Conference Participants, Colleagues, Community Partners and Friends:
We are writing to inform you that the Ontario Alliance of Black School Educators (ONABSE) will not be holding our annual Conference in Toronto, on April 17 and 18, 2020, due to the COVID-19 pandemic. This decision was reached through an unanimous resolution by ONABSE Board members on March 12, 2020.
Our thoughts and prayers are with those affected by this infectious disease.
For over a year, we have been organizing a physical convening in Toronto.
As an organization, we value our face-to-face meetings—the formal and informal opportunities to share and discuss our work and the special moments when we discover in the most unexpected ways new possibilities to work together, network, and the opportunities to value and applaud our colleagues for their commitment and accomplishments in building and creating communities to improve the educational outcomes for Black students, families, educators, and administrators.
Sadly, the presence and spread of the coronavirus internationally, makes it impossible to hold a conference that could potentially expose attendees
to a communicable disease.
It is important that we adhere to the realities and the facts involved, including heeding precautions limiting travel and remaining within one's community, except under the most urgent and extraordinary of circumstances.
We have been closely monitoring the situation for the past few days and while this decision was not taken lightly, we believe this is in the best interests of those attending and the general public. We take the health and safety of our guests and participants very seriously and want to ensure the well-being of the community.
We will keep you updated with details of a new date as soon as possible, as we are currently exploring the possibility of hosting a Virtual Conference or rescheduling the face-to-face Conference.
Thank you for your interest in ONABSE and for your understanding and support as we consider the best way to move forward.
Ontario Alliance
of Black School Educators