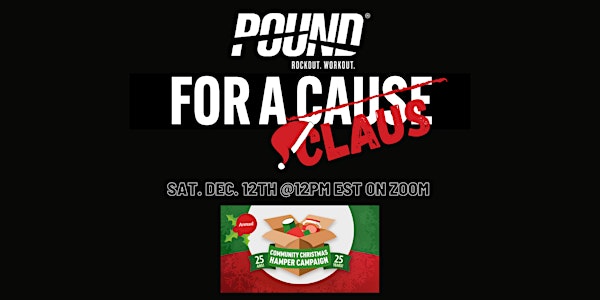 POUND for a Claus: Jeffery Hale Community Partners' Christmas Hampers
Virtual POUND fitness class to raise money for Greater Quebec City's English-speaking community's Christmas Hamper Campaign
About this event
Break a sweat for a good cause!
By participating in this virtual POUND fitness class, not only will you give your body and your mind some love, but you'll also help to deliver some goodness to Greater Quebec City's English-speaking community. All proceeds will be donated to Jeffery Hale Community Partners' Christmas Hamper Campaign, so that they can distribute hampers to over 200 homes that need help during the holiday season, which is an enormous challenge with a most heart-warming outcome.
Your three rockin' POUND Pros for this event are Melanie-Anne Bousquet, Vivian Yatabe and Jennie Bouchard. Designed for all fitness levels, POUND® provides the perfect atmosphere for letting loose, getting energized, toning up and rockin' out! The workout is easily modifiable and the alternative vibe and welcoming philosophy appeals to men and women of all ages and abilities.
No Ripstix? No problem! You can easily participate in a virtual POUND class by using other creative substitutes (wooden kitchen utensils, paint mixing sticks, etc.) or simply clap your hands. Learn more about POUND below.
ROCKOUT WORKOUT
Channel your inner rockstar with this full body cardio-jam session inspired by the infectious, energizing, and sweat-dripping fun of playing the drums.
Instead of listening to music, you become the music in this exhilarating full-body workout that combines cardio, conditioning, and strength training with yoga and pilates-inspired movements. Using Ripstix®, lightly weighted drumsticks engineered specifically for exercising, POUND transforms drumming into an incredibly effective way of working out.