POVC 14th Town Hall Meeting & PHABC Public Forum - Building Safe and Inclus...
Description
Please consider joining the Public Health Association of British Columbia on November 14th, 2018 from 7:00pm to 9:00pm for Prevention of Violence Canada's 14th National Town Hall, Building Safe and Inclusive Communities: The Public Health Approach, at the Fletcher Challenge Theatre (Room 1900) in SFU's Harbour Centre in downtown Vancouver, 515 West Hastings Street. This event is co-hosted by PHABC, Prevention of Violence Canada and the Canadian Red Cross and will serve as the unofficial opening of the PHABC conference.
We are excited to welcome a number of speakers from POVC's partner organizations and members of the World Health Organization's Global Violence Prevention Alliance to Vancouver for this event. Speakers will include; Dr. Irvin Waller from the University of Ottawa, Finn Kjærulf from the Dignity Institute in Denmark, Rachel Davies, executive director for the Prevention Institute in California, Sarah Burke from the Canadian Red Cross, Shannon Turner, executive director for PHABC, Dr. Arturo Cervantes from Anahuac University in Mexico, and Dr. Gord Miller from the University of Victoria. They will discuss their work on preventing violence and building safe, inclusive communities locally, nationally and internationally. Special guests include Carol Todd from the Amanda Todd Legacy Society, Judi Fairholm from the Canadian Red Cross and Blake Havard will be performing.
This event is free to attend and open to the public; coffee, tea and water will be served. Doors are at 6:30pm, the panel will begin at 7:00pm and finish at 8:30pm with the final half hour, until 9pm, reserved for networking.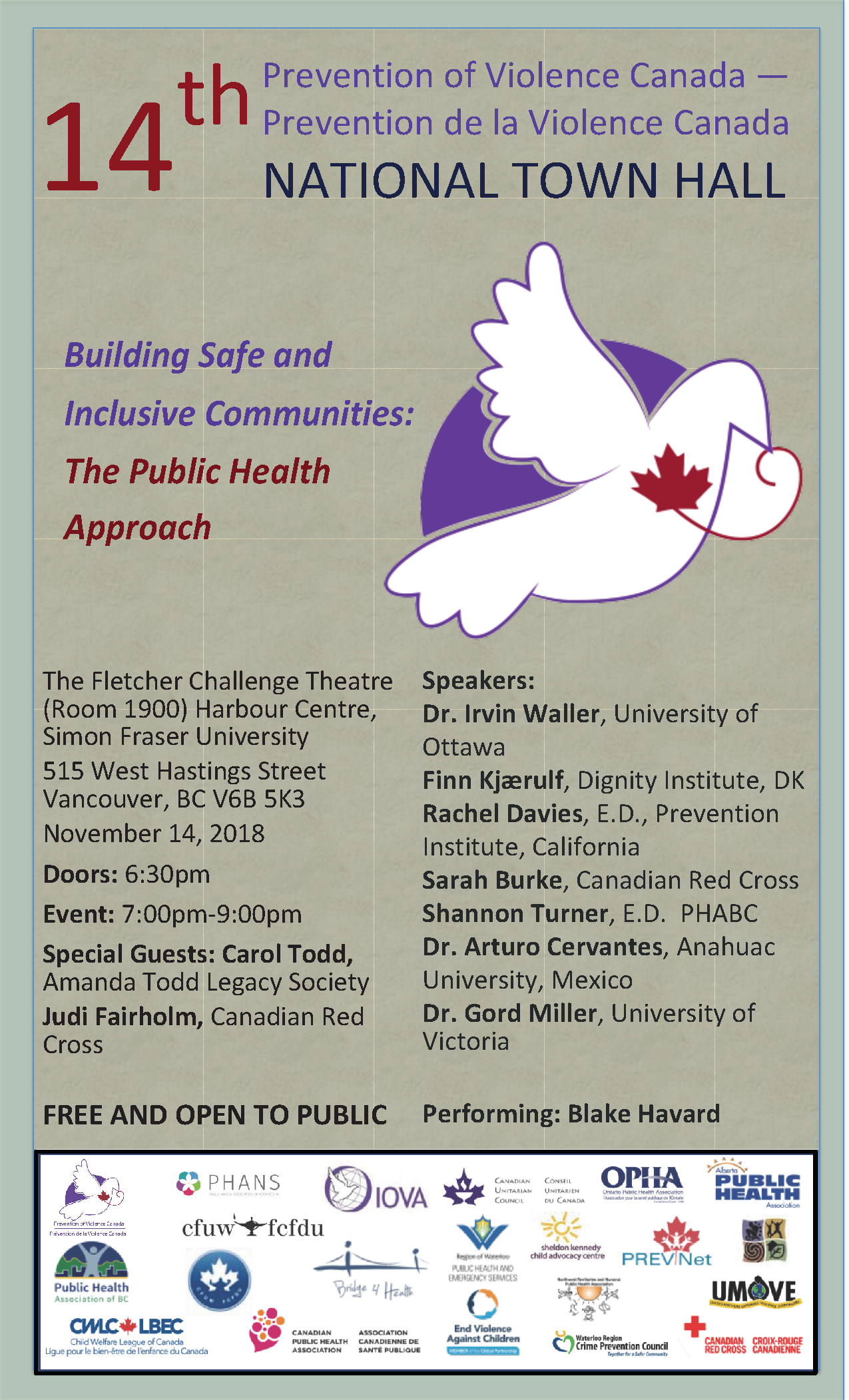 Please RSVP to reserve your FREE seat today!