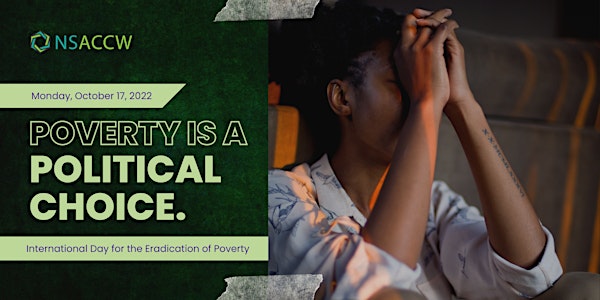 Poverty is a Political Choice
Poverty has been legislated into existence through chosen policy approaches to social welfare followed by a refusal to fix social programs.
When and where
Location
Paul O'Regan Hall Halifax Central Library - Available Online 5440 Spring Garden Road Halifax, NS B3J 1E9 Canada
About this event
Presented by:
Nova Scotia Coalition for Community Well-Being
Canadian Centre for Policy Alternatives Nova Scotia
Nova Scotia College of Social Workers
Educators for Social Justice
Nova Scotia Parents for Public Education
Child Welfare Advocacy Coalition
Halifax Public Library
The Canadian Centre for Policy Alternatives - Nova Scotia branch in their Child and Family Report Card states that between1989 and 2019 child poverty rates decreased in every province and territory. However, Nova Scotia has performed the worst in reducing child poverty from 1989 levels. Nova Scotia has the highest rate in Atlantic Canada and the third-highest provincial child poverty rate in Canada, a consistent ranking over the last several years and rising costs of living and lack of government action are making this worse
Nova Scotia's child poverty rate in 2019 was 24.3%, down from 24.6% in 2018 (a 1.2% decrease).
41,230 children are living in poverty in Nova Scotia
Almost 1 in 4 children in Nova Scotia live in poverty.
24.4% was the child poverty rate in 1989, when the promise was made to eradicate child poverty by the year 2000, which means poverty has only been reduced by 0.1 of a percentage point in Nova Scotia over 30 years.
27.8% was the child poverty rate in Nova Scotia in the year 2000, when it was supposed to be eradicated.
Behind these numbers are real people, parents choosing between paying rent, buying groceries, and heating homes; precarious employment that puts stress on families; the inability to engage in community life through opportunities that make life worthwhile.
Poverty has been legislated into existence through chosen policy approaches to social welfare followed by a refusal to fix social programs we know are inadequate to bring families and people above the poverty line.
This panel discussion will:
Identify the connection between the crisis in all sectors of health and social service delivery and government choices to maintain poverty.
Examine the action that is needed to hold government accountable for its choices.
Develop momentum for action to call decision-makers towards policy choices that eliminate poverty.
Speakers:
Dr. Christine Saulnier – Provincial Director of the Canadian Centre for Policy Alternatives
Christine Saulnier is Director of the Canadian Centre for Policy Alternatives-Nova Scotia. She has a doctorate in Political Science from York University. She leads the living wage calculations for communities across Atlantic Canada and serves as a co-author of the annual child and family poverty report cards for Nova Scotia. She has written extensively, and given commentary on a range of other public policy issues including fiscal policy, labour markets, and child care policy. She serves on the Steering Committee of Child Care Now Nova Scotia, and Campaign 2000 (national coalition to end child and family poverty), and is an active member of the Child Welfare Advocacy Coalition. She served on the Board of the NS Health Coalition and Adsum for 10 years.
Dr. Martha Paynter RN, PhD
Dr. Martha Paynter is the author of Abortion to Abolition: Reproductive Health and Justice in Canada. She is an Assistant Professor at the University of New Brunswick, where her research examines the intersection of reproductive health and the justice system. She is a faculty member of the Contraception and Abortion Research Team based out of the Faculty of Medicine at the University of British Columbia, and with the Health Law Institute at the Schulich School of Law at Dalhousie University.
Dr. Monika Dutt
Monika Dutt is a settler on Unama'ki, the daughter of immigrant parents, and mother . She is a public health medicine specialist and a family doctor at the Ally Centre of Cape Breton. She is also part of Canadian Doctors for Medicare, the Cape Breton YMCA Board, and the Decent Work and Health Network.
Ben Sichel
Ben Sichel (he/him) is a 17-year public school educator in HRM and a founding member of Educators for Social Justice-Nova Scotia. His 20 years of activism have focused on racial justice, education, workers' rights, anti-poverty, and gender equity. He has presented on a variety of topics to a variety of audiences, most importantly his students.
Lana McClean MSW, RSW
Lana is a registered practicing clinical social worker with over 30 years of experience. Working in the fields of addiction, mental health and trauma settings. She enjoys working with various patient populations but has spent the majority of her career working in the ABC and New Canadian communities. Lana holds a BA in Community Studies from UCCB and a Bachelor and Masters in Social Work from Dalhousie University. Lana is an expert witness in Family and Criminal Court matters in the area of race and culturally responsive assessment and clinical care. Presently, Lana has been hired as a consultant with Mi'kmaq Right Initiative- Maw-Kleyu'kik Knijannaq (MKK) providing consultation on emerging best practices in the area of culturally responsive assessments for Mi' Kmaq families.
Jackie Barkley MSW, RSW
Jackie is a community activist who has worked in front-line social work and therapy for over 40 years, including at the Nova Scotia Hospital, and IWK. She was a founding member of Solidarity Kjipuktuk, as well as the Metro Coalition for a Non -Racist Society and the Child Welfare Advocacy Coalition. "
Morgan Manzer
Morgan Manzer (he/him) is a Staff Lawyer for Nova Scotia Legal Aid (NSLA) practising child protection and family law. Within Nova Scotia Legal Aid he is an active member of the Equity & Racial Diversity Committee. Morgan is presently obtaining his Master of Laws in Dispute Resolution with a focus on culture, equity, and power at Osgoode Hall Law School. Morgan is a council member for the Nova Scotia Barristers' Society and serves on their racial equity and fitness to practices committees. In early 2021 Morgan concluded four and a half years as Chair of Halifax Pride's board of directors. He continues to support their policy and governance committee. Morgan also presently serves as Vice-Chair of the Mental Health Foundation of Nova Scotia and Policy Chair of the Liberal Party. In November 2019, he was presented the Zöe Odei Young Lawyers Award from the Canadian Bar Association (CBA), Nova Scotia branch, for his work within the 2SLGBTQIA+ community.
Amy Moonshadow
BIo:
Addtional events for International Day for the Eradication of Poverty-
The Face of Poverty Consultation is hosting a webinar that will introduce the SDOH and concentrate on two determinants , food security and income. Speakers for the event are:
Robert S. Wright, MSW, RSW will introduce the social determinants of health. Mr. Wright is a Social Worker and Sociologist whose 31 year career has spanned the fields of education, child welfare, forensic mental health, trauma, sexual violence, and cultural competence.
Karen Theriault is a Director, Development & Communications at Feed Nova Scotia and will speak on food security as a determinant of health. Food insecurity can be devastating. People who are food insecure are more likely to experience poorer mental and physical health outcomes.
For more details visit: https://www.eventbrite.ca/e/poverty-through-the-lens-of-the-social-determinants-of-health-tickets-391624297817