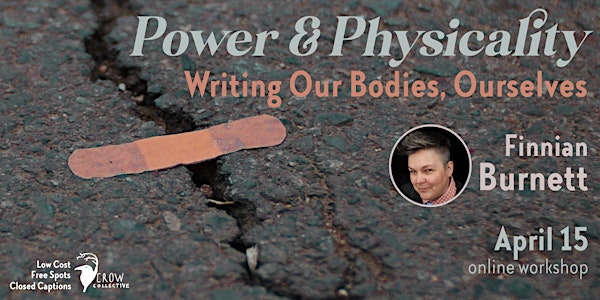 Multiple dates
Power and Physicality: Writing Our Bodies, Ourselves
A generative writing workshop on embodied metaphor and physical writing.
By Sage Tyrtle, Crow Collective Workshops
Date and time
Sat, Apr 15, 2023 7:00 AM - 6:00 PM PDT
About this event
What will be covered in this workshop?
A generative workshop on embodied metaphor and physical writing.
Humans may feel out of control of our bodies sometimes. In healthcare, we may feel doctors tell us to take medicine we don't want to take or have surgeries we don't feel we need. In life, we face aging, illnesses, injuries, assault, trauma, pregnancy, abortion, joy, chronic pain, deep belly laughter.
Our bodies tell stories about our lives, and they allow other people to tell stories about us. People often make judgements about us by the things our bodies have been through. They have sometimes controlled our narratives by causing us pain.
By diving deeply into the scars, traumas, joys, and pain of our physical bodies, we can take back the power from people who have told their own stories about our bodies. This generative workshop will guide participants through embracing one's own body through writing by discussing physicality, the visceral reaction a reader can have to sensory imagery, and guided discussions about body-centered short fiction and poetry.
What Participants Will Take Away
How to create imagery with sensory feelings.
2-4 ideas for stories or poems.
Understanding how our bodies relate to our feelings of self-worth and power.
Suitable for all levels.
Who is teaching this workshop?
Finnian Burnett is a college instructor and creative writer. Their work has appeared or is forthcoming in Reflex Press, Bath Flash, Ekphrastic Review, The Flare anthology of chronic illness, and more. When not working too much or watching Star Trek, Finn spend their time catering to the needs of Lord Gordo the cat.
When does this workshop happen?
There are two dates to choose from:
Saturday, April 15, 2023: 7 AM PDT / 10 AM EDT / 3 PM BST / 7:30 PM IST
Saturday, April 15, 2023: 4 PM PDT / 7 PM EDT / 8 AM JST / 9 AM AEST
Scroll down for time zone maps for both dates.
How long is this workshop?
Two hours.
How is this workshop presented?
Online, live, interactive.
Participants are encouraged (but not required) to keep their cameras on.
Run on Zoom.
Has built-in closed captioning.
How will I access my workshop?
To access the online event page, do any of the following:
Go to the confirmation email and click View the event.
Visit the event page and click Access the event.
Log into Eventbrite and go to Tickets. Find your order and click Go to online event page.
Will this workshop be recorded?
No, this workshop will not be recorded.
Are there more workshops?
You bet! Just click here to see the Crow Collective workshops open for registration.
Do you have a mailing list?
Yes - click here to sign up for my free, biweekly mailing list.
Do you have a podcast?
Yes - your favourite writing game is now a daily podcast. I'll give you a word every thirty seconds, and you include that word in the sentence you're writing. It's that simple. Click here to come play!
What is the Crow Collective?
Crow Collective workshops are by the writing community, for the writing community. The prices are low so they are more accessible, and there are two free spots (if needed).
Why can't I access the ticket button using the Apple Eventbrite app?
This is a decision on Eventbrite's part. You should be able to access the ticket button using the website instead. If you're still having troubles, feel free to get in touch.
About the organizer
Sage Tyrtle's work is available or upcoming in New Delta Review, The Offing, and Apex among others. She's told stories on stages all over the world and her words have been featured on NPR, CBC, and PBS. She runs a low cost online writing workshop collective.